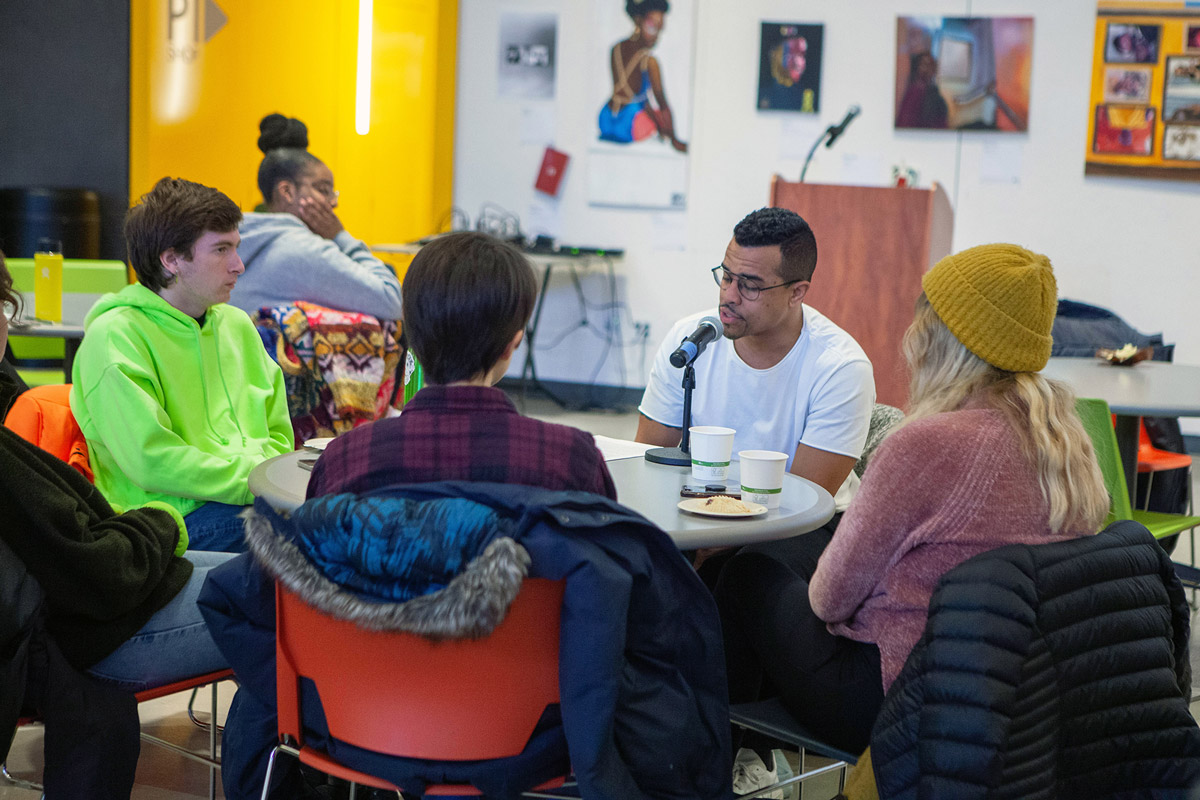 Artist Shaun Leonardo opening the Black Lives Matter Pratt Teach-In with his talk "I am an Invisible Man" (courtesy Black Lives Matter Pratt)
Pratt Visual Arts Fellow Shaun Leonardo opened the Black Lives Matter Pratt 2020 Teach-In by reading from Ralph Ellison's 1952 novel Invisible Man: "I am an invisible man. No, I am not a spook like those that haunted Edgar Allan Poe; nor am I one of your Hollywood ectoplasms … I am invisible, understand, simply because people refuse to see me."
Throughout the day the question of how Black people navigate being simultaneously hypervisible and invisible and the complexities this presents was examined. Organized by Black Lives Matter Pratt, the theme of this year's Teach-In was "In/Visibility." The fifth annual edition of the open-to-the-public event was held on Friday, February 21 at Pratt Manhattan and the Brooklyn campus. Faculty, staff, alumni, students, and guest speakers participated in the conference, which reflected how over half a century later Ellison's words on visibility still resonate.
"Ultimately, invisibility is not a choice," Leonardo said in his talk. "As our nameless narrator clarified at the beginning, it is painfully imposed on certain bodies, not simply as a refusal to acknowledge them, but also as a negation of their humanity." He then engaged attendees in a group exercise on creating connections that revealed how chasms of invisibility, including in terms of safety and humanity, are embedded in many people's daily lives.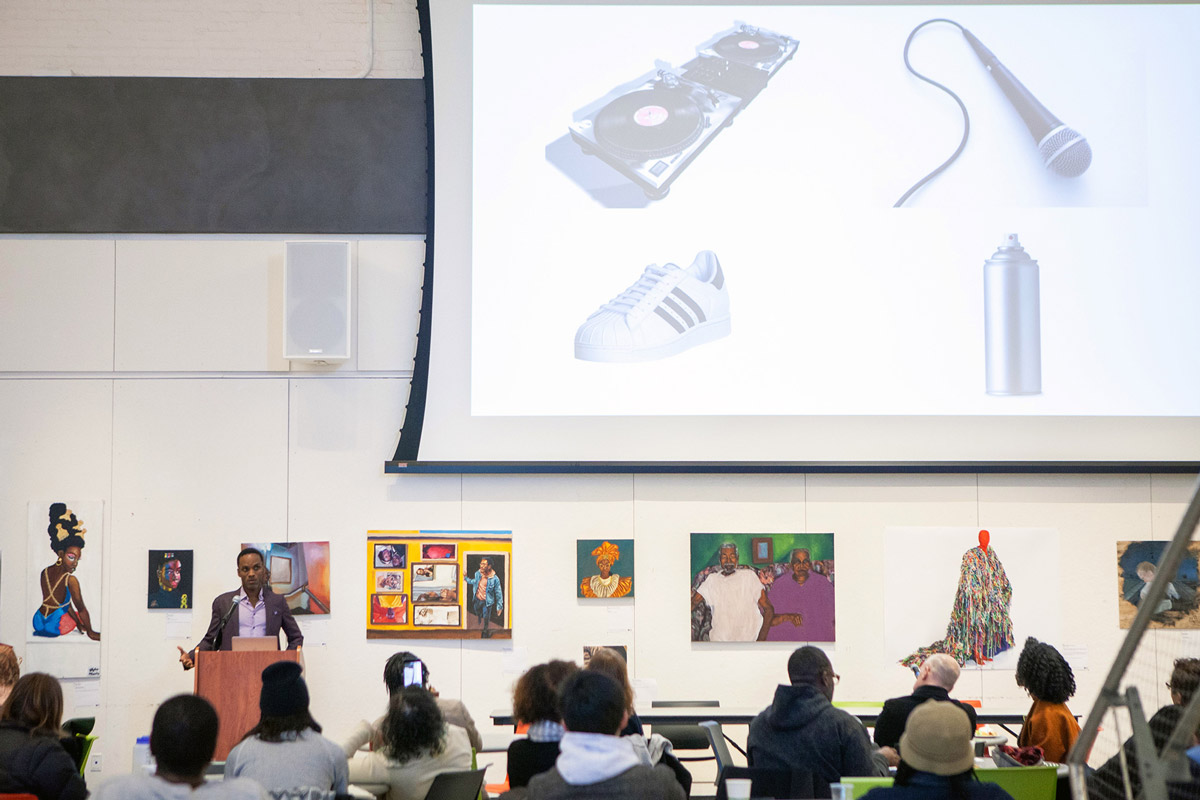 Architectural practitioner and educator Sekou Cooke presenting on "In/visibility of Blackness in Architecture" at the Teach-In (courtesy Black Lives Matter Pratt)
The morning workshop sessions featured the screening of 16mm shorts in the Pratt Library and a presentation by architectural practitioner and educator Sekou Cooke on the emerging Hip-Hop Architecture movement. Cooke uses the lens of hip-hop culture to elevate how its energy is expressed in the design of buildings and environments, places where Black perspectives are largely underrepresented. Scott Ruff, Visiting Associate Professor of Architecture, joined Cooke in a conversation on these issues.
The lunchtime keynote was given by visual and performance artist Taja Lindley, who began by screening her short film "This Ain't A Eulogy: A Ritual for Re-Membering." In movement and music, it responds to the rage and grief for Black lives lost due to police violence. She explained that "it's re-membering with a dash between 're' and 'membering' because it's about that piecing back together." As the "bag lady," she wears trash bags and is surrounded by heaps of bags painted with the names of the dead.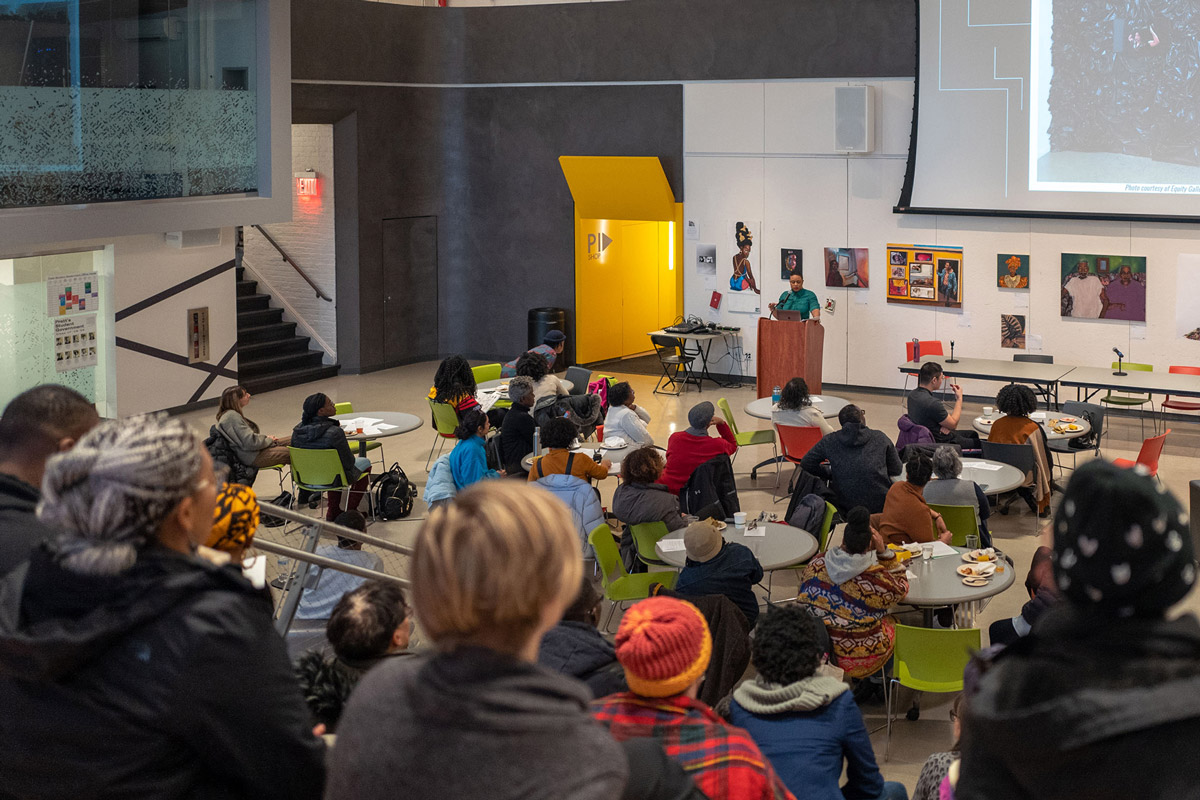 Artist Taja Lindley speaking on "Re-Membering is the Responsibility of the Living" at the Teach-In (photo by Armon Burton)
"I'm concerned with creating beauty out of pain and transforming what is considered disposable into something sacred," Lindley said. "Creating something beautiful out of trash bags is me honoring the dead and it's also the call to action of the bag lady. It is taking a look at something that has been discarded, abandoned, erased in silence, and transforming it."
There were several opportunities for attendees to come together to investigate ideas of memory, inclusivity, and visibility on campus and beyond. At Pratt Manhattan, the Pratt Library hosted a Wikipedia Edit-a-thon in honor of Black History Month. It featured a discussion with AfroCROWD, an initiative started in 2015 by Alice Backer to enhance the presence of Black culture on Wikipedia. In the Student Union on the Brooklyn campus, the "We See You" creative workshop had participants collaborating on inclusive design through drawing, model making, and discussions. The interactive session was led by Peter Robinson of BlackSpace, an interdisciplinary collective that fosters Black voices in planning and shaping social and spatial environments.
The Pratt Library hosted a conversation between OlaRonke Akinmowo, Founder of the Free Black Women's Library, and Cyrée Jarelle Johnson, Chair of Black Lives Matter Pratt and Diversity, Equity, and Inclusion Librarian for Pratt Libraries. Their discussion explored how Black librarians are making the library a safer place for inclusive learning. Throughout the day, the Free Black Women's Library was set up in the Alumni Reading Room, inviting anyone to stop by to peruse the mobile library or exchange books authored by Black women.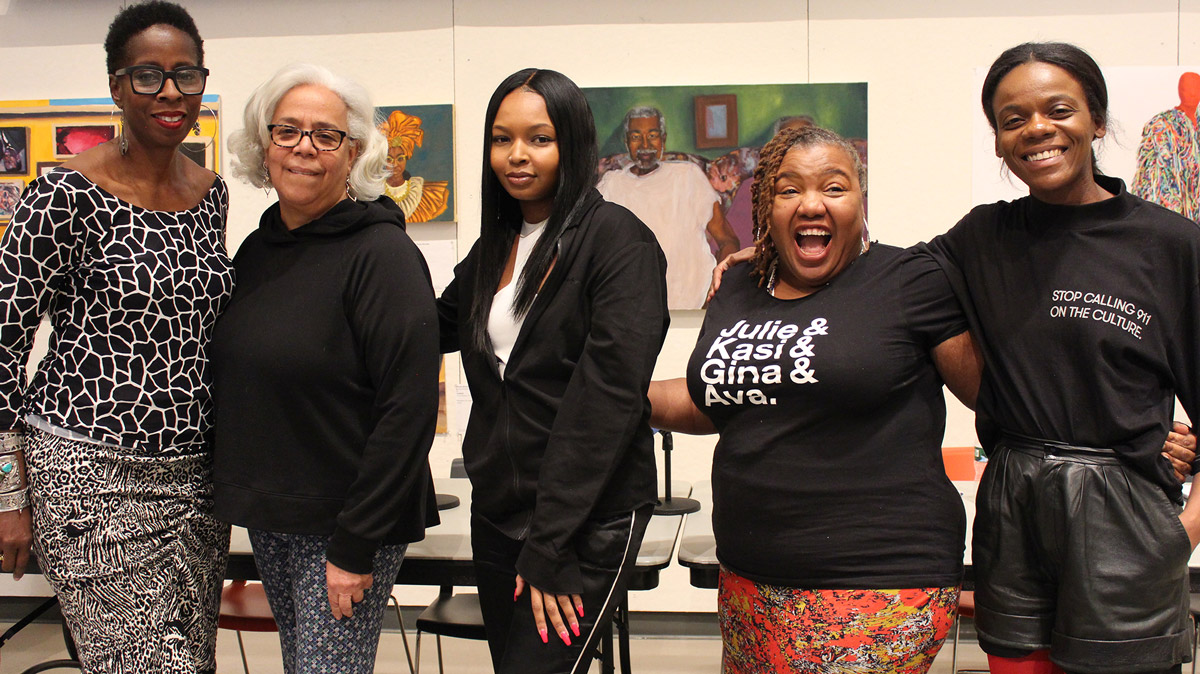 The "Amplifying the Black Experience: In/Visibility in NYC's Fashion Industry" panelists: Adrienne Jones, Janet Rodriguez, Aliyah Jacobs, Sue Rock, and Ibada Wadud (courtesy Made in NYC)
The Teach-In concluded with "Amplifying the Black Experience: In/Visibility in NYC's Fashion Industry," a collaboration between Made in NYC and the Pratt Center for Community Development. The panel was moderated by Adrienne Jones, Professor of Fashion, and included Aliyah Jacobs, BFA Fashion '17, and Founder of Skinns The Label lingerie brand; Sue Rock, Founder of the sustainable brand Sue Rock Originals; Janet Rodriguez, Founder and Executive Director of SoHarlem which incubates Harlem fashion enterprises; and Ibada Wadud, Founder and Chief Executive Officer for LULAH, a handbag brand that employs formerly incarcerated women. The discussion centered on the recent controversy over a Fashion Institute of Technology fashion show in which the presentation of a student's work echoed racist caricatures. Their dialogue highlighted how there is still a significant need for representation not just in the fashion industry, where everything from positions of power to funding is often out of reach for Black designers, but also in academia.
"It begins with how we are educating the next generation of designers, when we are not contextualizing history with culture and placing those issues at the center of conversations as much as we are centering the technical and design aspects," Wadud said. "We must question what the purpose of the educational institution and the academic institution is and how knowledge is being defined and how it's being passed along."
The panelists and the student attendees affirmed that there are major issues of visibility and a need for better sensitivity in teaching environments, yet these spaces of learning can be reinforced as ones of support and inclusion. An archived livestream of the panel is available on the Made in NYC Facebook page. The discussions held at the Teach-In will continue to inform the year-round advocacy of Black Lives Matter Pratt, which works towards a more equitable society where every member of it feels safe, empowered, and inspired.