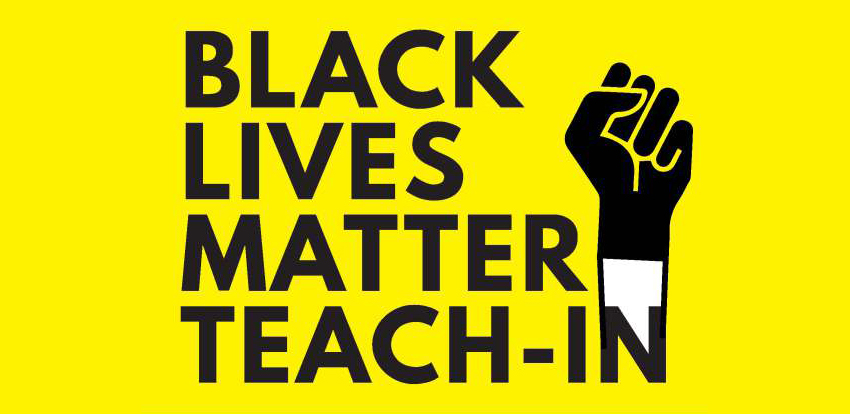 Black Lives Matter Pratt (BLM Pratt) presented a teach-in, "Shut Em Down," on Pratt Institute's Brooklyn campus from February 23-25. The conference aimed to bring the community together for open discussions of race and inclusion on campus and beyond. It included a full program of workshops, panel discussions and presentations, readings and performances, and film screenings by students, faculty, and community members. Established in 2016, Black Lives Matter Pratt is a group of faculty, staff, alumni, and students at Pratt working together to ensure that Black Lives Matter—a national movement that values black life and recognizes the ways in which it is imperiled—is an integral part of the Institute's campus culture.
This year's teach-in events, which were curated and organized by alumna Mahogany L. Browne (M.F.A. Writing '16), drew roughly 400 event attendees from the Pratt community as well as the public. The conference expanded on the first BLM Pratt two-day teach-in held last year, and included more than a dozen breakout sessions focused on specific issues of activism and racial justice.
Sessions included the Empowerment Summit to promote racial well-being on the Pratt campus, focusing on artistic practice and self-care; a graduate student-led workshop on racial and social injustices inherent in urban environments sponsored by Programs for Sustainable Planning and Development in the School of Architecture; and a performance by Brotherhood Dance company that presented stories of creative activism. Other featured speakers and presenters included writer-director Shola Lynch, activist and artist Amin Husain, and poets Camonghne Felix and Clint Smith.
The teach-in was co-sponsored by several departments and offices on campus including the School of Liberal Arts and Sciences, Pratt Center for Community Development, Student Affairs, Communications Design, and Human Resources.
Read more about the Black Lives Matter Pratt teach-in.