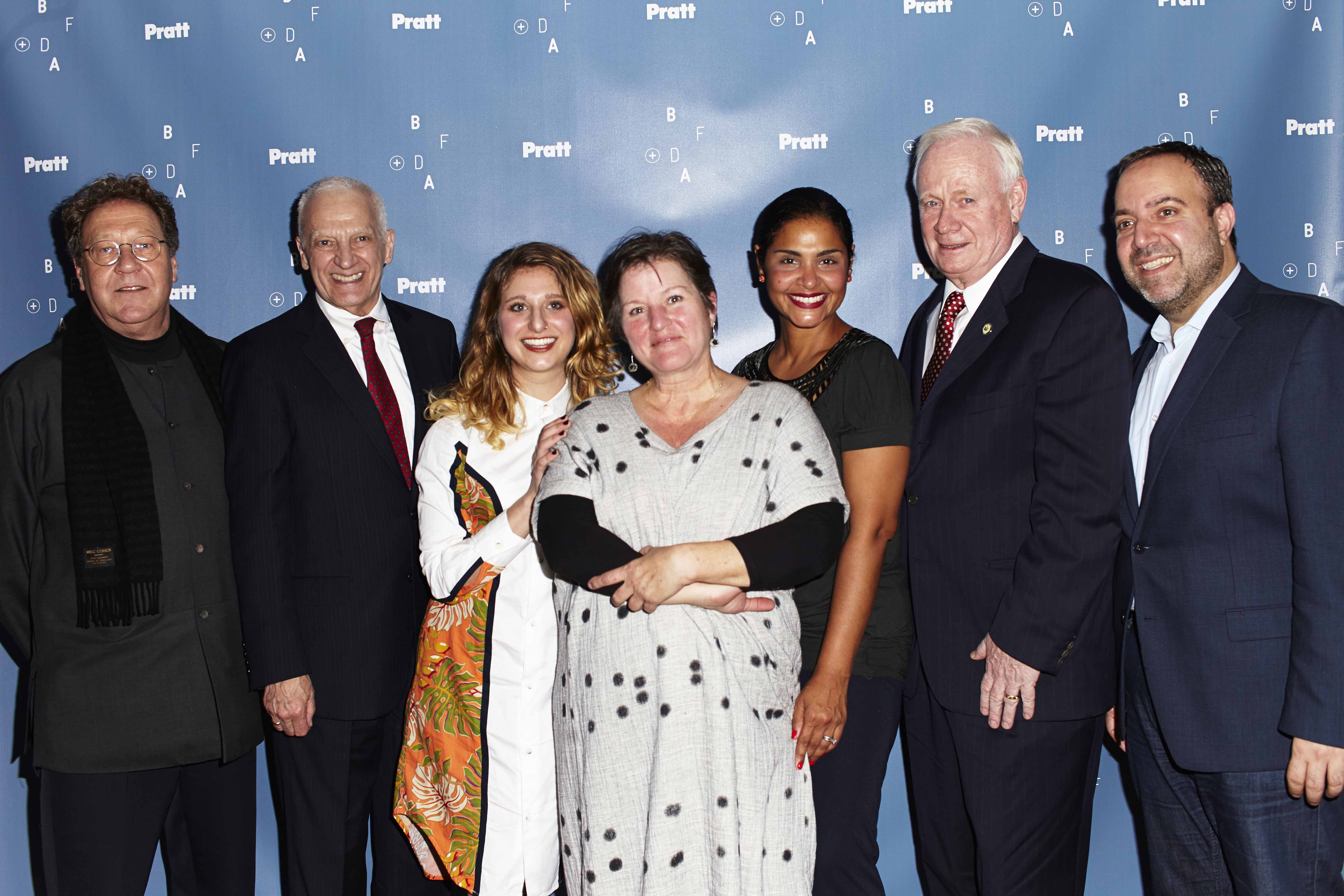 On November 11, a crowd of more than 500 people celebrated the opening of Pratt Institute's Brooklyn Fashion + Design Accelerator (BF+DA), a 21,000 square-foot facility in the Pfizer Building in South Williamsburg, at an opening reception attended by government and industry leaders and other invited guests.
The BF+DA was launched last year with the goal of providing high-potential design start-ups with the resources necessary to establish viable businesses, and is supported by funding from Pratt Institute, the State of New York, and the Borough of Brooklyn. The BF+DA facility provides workspace for 30 design-oriented start-ups, and offers companies resources ranging from traditional apparel production to computerized knitting, high-tech digital fabrication, and business-development mentoring.
"We're thrilled to have the Pratt Institute BF+DA up and running in its new space and serving as a vital resource for New York City's local creative economy," said Pratt Institute President Thomas F. Schutte. "At Pratt, we see the Accelerator as an extension of our mission to educate young designers, and we look forward to seeing BF+DA businesses grow and flourish," he added.
Speakers at the event included President Schutte, Pratt Institute Provost Peter Barna, BF+DA Executive Director Debera Johnson, New York State Senator Martin J. Golden, Brooklyn Deputy Borough President Diana Reyna, and Brooklyn Chamber of Commerce President and CEO Carlo A. Scissura.
The BF+DA currently houses 16 Venture Fellow companies, two Junior Venture Fellows, and five Research Fellows, with plans to expand its occupancy in the coming months. Among the high-potential Venture Fellow companies are a multidisciplinary digital design and fabrication studio, and a natural textile dyeing company.
According to BF+DA Executive Director Debera Johnson, "We envision BF+DA to show young entrepreneurs a pathway to success and provide the full spectrum of product design resources all under one roof."
At the opening celebration, attendees had the opportunity to meet Venture Fellows, tour the workspaces, and view the resources available in the facility, which include an apparel lab with a sample development studio and small-run manufacturing capabilities, and a 3D fabrication lab with 3D printing and laser-cutting services.
Image (L-R): Pratt Institute Provost Peter Barna; Pratt Institute President Thomas F. Schutte; BF+DA Venture Fellow and entrepreneur Nina Zilka who is co-founder of Alder New York; BF+DA Executive Director Debera Johnson; Brooklyn Deputy Borough President Diana Reyna; New York State Senator Martin J. Golden; Brooklyn Chamber of Commerce President and CEO Carlo A. Scissura (photo: Barbara Anastacio for Pratt Institute)