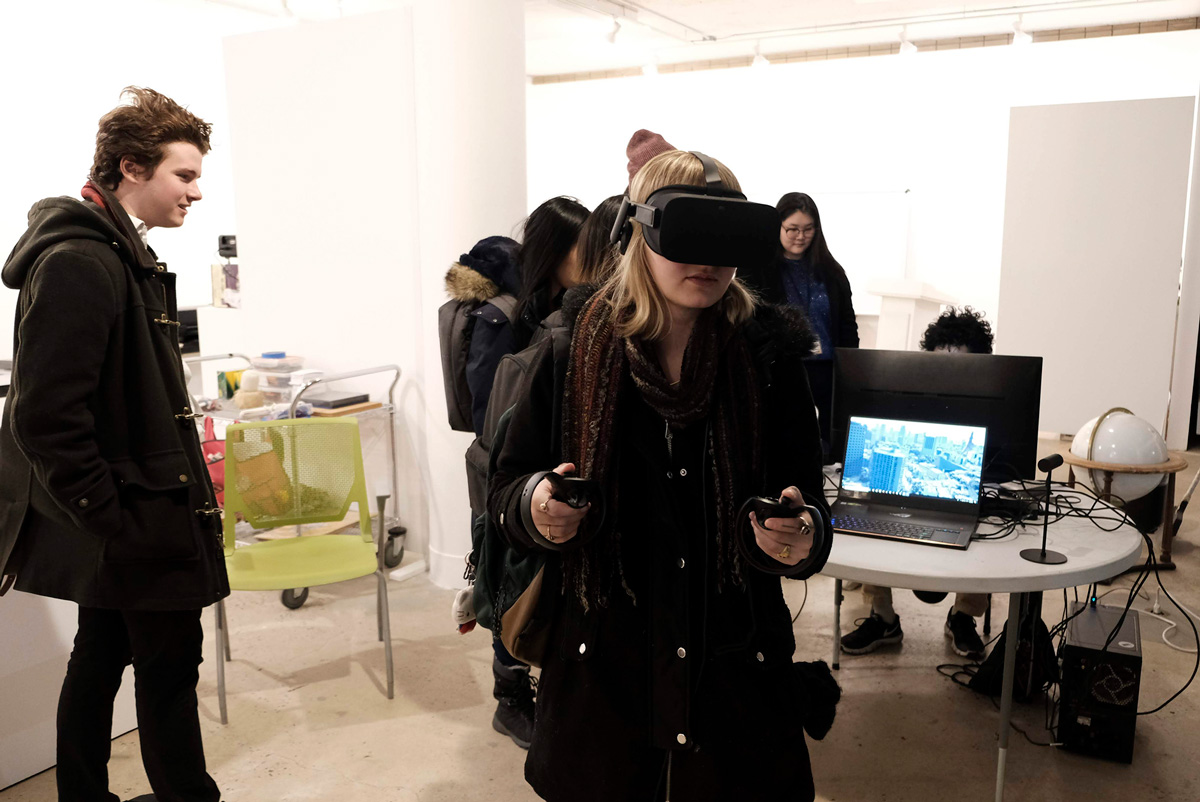 Students exploring VR technology in BetaSpace
On one recent afternoon, School of Art students stopped by to learn about extended reality (XR) combining the technology of virtual reality (VR) with real-world interactions; on another, an Industrial Design class investigated how they could use technology to design responsive objects. Open through March 6 in DeKalb Gallery on Pratt Institute's Brooklyn campus, BetaSpace is offering a hub for these experiences with new technology and encouraging students to engage in interdisciplinary collaboration. The pop-up is a partnership involving Interactive Services, Fine Arts, the School of Liberal Arts and Sciences, the School of Design, and the Department of Mathematics and Science.
"It's been an exhilarating time setting up and making sure the BetaSpace is open and inclusive for all students regardless of major or level of expertise," said Basem Aly, Associate Director of Research and Strategic Projects. "I think having a combination of games, VR, as well as digital and analog design components really helped attract student interest as much as hosting classes, clubs, and lunchtime workshops. We've encouraged students to use the space as a collaborative art-making studio."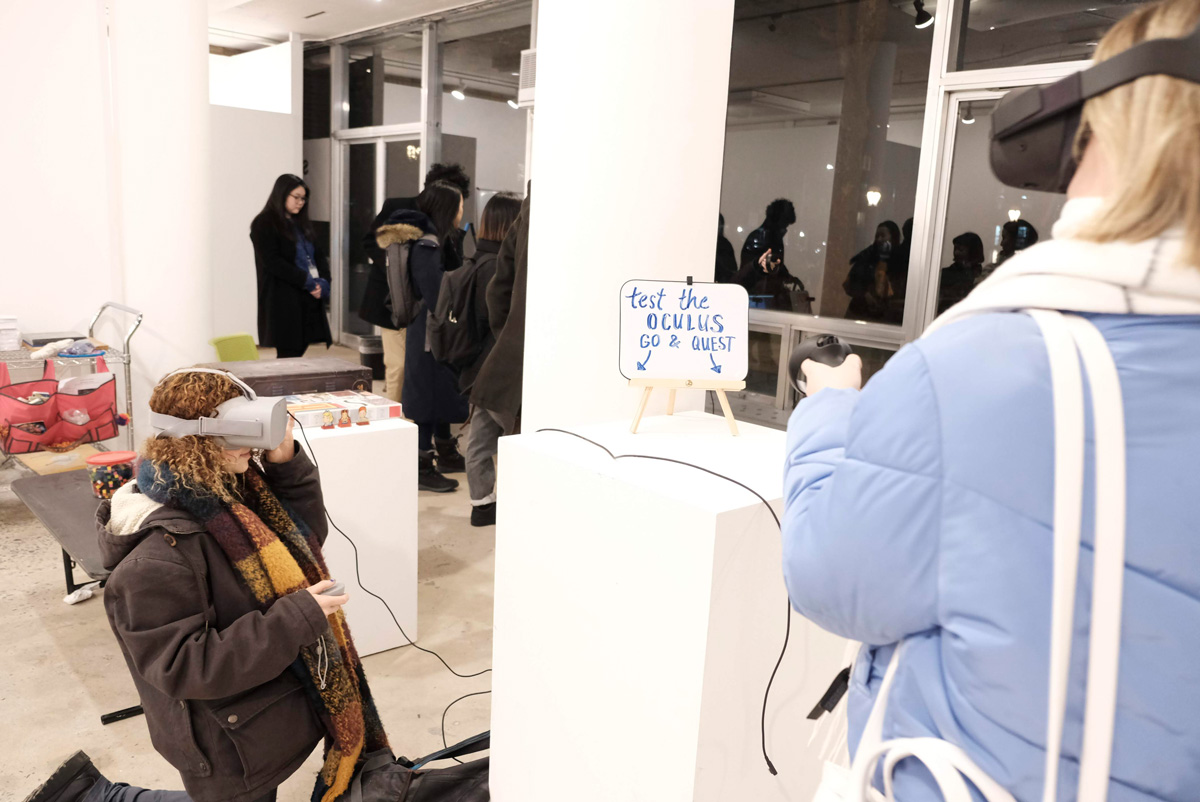 Students trying out the Oculus Go and Quest VR headsets
A goal of creating a relaxed space for play and inquiry is to promote connections between students who might not cross paths in their regular coursework. The variety of technologies also allows them to rethink the expected materials of their practices. For instance, a Fine Arts student may not consider a 3D scanner from the Math and Science lab to be part of their toolset, but encountering it in this informal context can break down those barriers.
"It has been a pleasure to watch students thrive in this environment and it's evident that they are thirsty for more collaboration," said Mary Lempres, Lab Technician in Math and Science. "Our students are trained in such an incredible, specialized array of disciplines. By providing an interdisciplinary space where ideas can be harvested, explored, and adapted, we are starting a discussion between students that bridges disciplines and departments."

Associate Professor in the School of Information Monica Maceli's Micro:bit Workshop at BetaSpace
Its evolving facilities include digital microscopes, AV equipment, 3D printers, a holographic display, tools for working with electronics and code, and VR headsets that are activated by daily programming. Students can stop by during open hours to interact with BetaSpace, with monitors available to help troubleshoot projects and offer guidance for the diverse technologies. Some students have visited to try out the VR headsets or 3D printers, others have arrived as part of a class or a workshop. Longer "mini residencies" have invited students to use BetaSpace as both a studio and gallery.
"As an artist working with electronic and digital media, I try to get students to experiment with electronics, coding, and software," said Joseph Morris, Visiting Assistant Professor and Form & Technology Labs Manager for the School of Design. "Engaging with physical material practices like sculpture and 3D design allows you to create work that has weight and presence. When you integrate electronics and coding and the object can respond to you, your gestures, or its environment, it changes your relationship to objects and making."
Colette Bernard, BFA Sculpture and Integrated Practices '21, explained that the access to technology at BetaSpace made her most recent sculpture and performance—involving a climbing wall of hearts—possible. "Having free reign over a 3D printer gave me the opportunity to experiment," Bernard said. "I finally got to teach myself how to use the machine rather than dropping off my file and not knowing what happens when the piece is printed."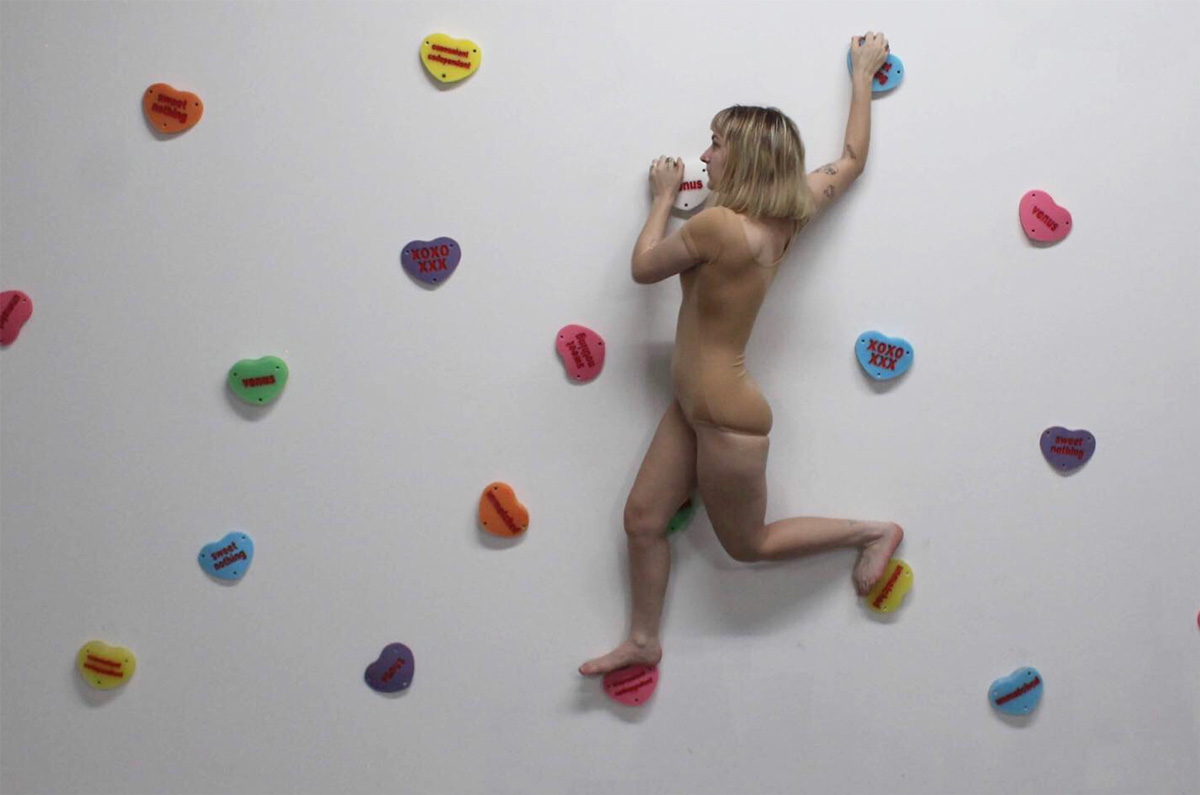 Climbing wall of hearts made by Colette Bernard, BFA Sculpture and Integrated Practices '21, through BetaSpace
With the 3D printer, she created sculptures that appear like oversized Sweetheart candies, replacing the sappy messages on the pastel Valentine's Day favorites with phrases like "unmatched" and "sweet nothing." Using these digitally designed and fabricated pieces, she made silicone molds that were cast into plastic for a functional rock wall, on which she performed a choreographed climb.
A range of events aimed at this inquisitive thinking have been organized at BetaSpace. The Department of Mathematics and Science is hosting a series of lunchtime talks with faculty, such as a light and optics lecture with Helio Takai, Interim Dean of the School of Liberal Arts and Sciences, as well as guest speakers, including artist and mathematician Goran Konjevod, who led a series of origami workshops examining the art and science of folded sculpture. Visiting artist talks, a roundtable on DIY podcasting, and presentations by innovative local nonprofits like Brooklyn Research and GenSpace, have furthered the dialogue on technologically-driven thinking across disciplines.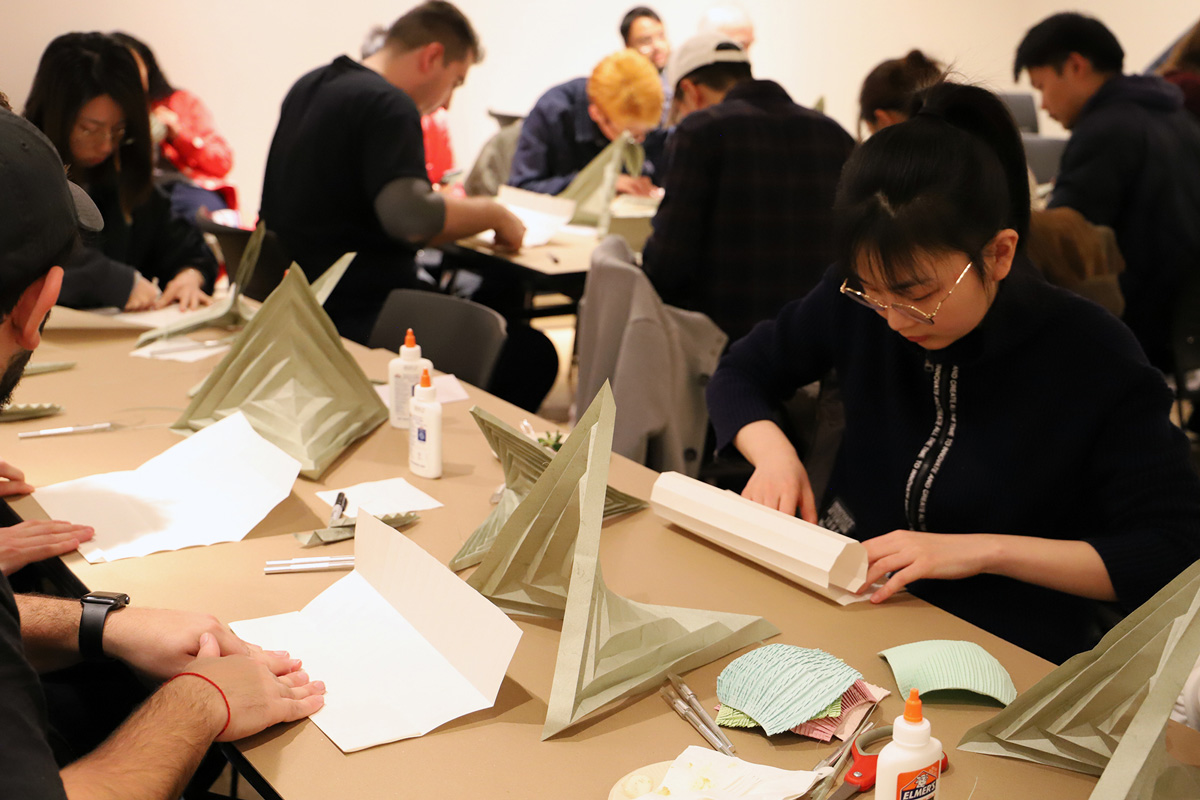 Students participating in the Organic Origami workshop led by Goran Konjevod
"I think the more students can learn about what other departments are exploring, the more they recognize the same problem-solving and curiosity as they experience in their own practices," said Harriet Salmon, Fine Arts Operations Manager in the School of Art. "After graduation, there is less delineation between concentrations—a designer can make sculpture and a filmmaker can be a programmer—so it's good to share ideas unilaterally to see what sparks your interest now."
Images: All photographs courtesy BetaSpace.​