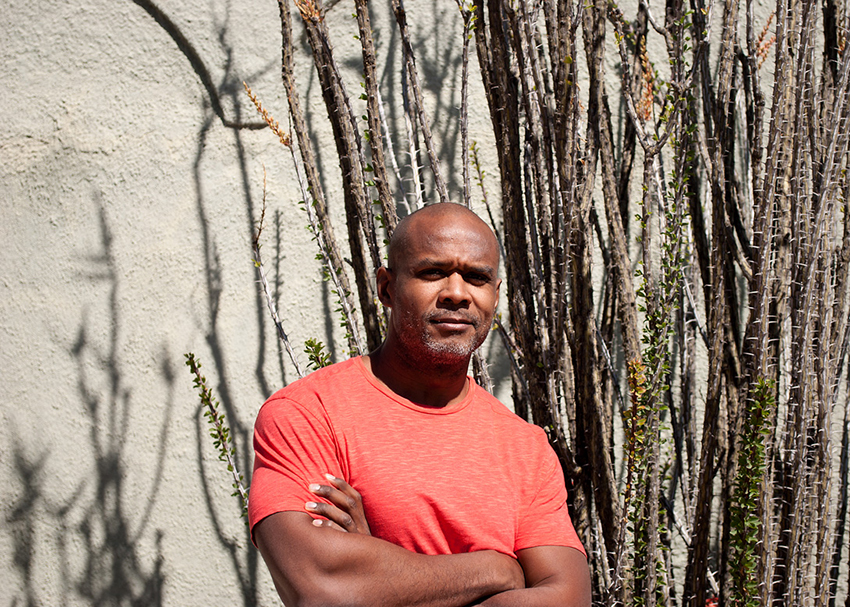 James Hannaham, associate professor of humanities and media studies in Pratt's School of Liberal Arts and Sciences, is the 2016 winner of the PEN/Faulkner Award for his novel, Delicious Foods, which was published in 2015. Hannaham is a core faculty member in Pratt's new M.F.A. in Writing program, which will graduate its first class this May, and previously taught in the undergraduate Writing program.
The award, now in its 36th year, is the country's largest peer-reviewed prize, and is administered by the PEN/Faulkner Foundation to honor the best published works of fiction by American citizens in a calendar year. The judges considered nearly 500 works of fiction published by American authors during the year 2015, narrowing the pool to five finalists before naming Hannaham as the winner of the $15,000 award. The announcement has received widespread press coverage in media outlets including The New York Times, The Washington Post, The Guardian, and Newsday. Hannaham and the other finalists will read from their work at an awards ceremony at the Folger Theatre in Washington, D.C. on May 14.
Delicious Foods explores discrimination and exploitation in the United States through the gripping story of a young man's efforts to gain freedom for his widowed and drug-addicted mother, who is held in modern slavery on a produce farm in Louisiana. The novel was named a 2015 Notable Book by The New York Times and The Washington Post and received positive reviews in The New York Times Sunday Book Review and other publications. Hannaham was also interviewed on National Public Radio's All Things Considered last year.
Hannaham commented on both the serious and lighter side of receiving the award. "I'm really happy and grateful that the book has continued to get attention at all, let alone prizes—partially because I hope that Delicious Foods will help raise awareness about modern slavery and hopefully change the conversation around human trafficking as well as old time chattel slavery, and partially because it'll be awesome to have one of those little medal stickers on the book cover," he said.
He is the author of the novel God Says No (2009), which was honored by the American Library Association's Stonewall Book Awards, and his fiction has appeared in One Story, Open City, The Literary Review, Nerve.com, and other publications. He has written criticism and profiles for The Village Voice, Spin, Vibe, Us, Out, Interview, and Salon.com, where he was a staff writer.
More information about the 2016 PEN/Faulkner Award winners can be found here.
Image: James Hannaham (photo: Hannah Ensor)