Artist Pinar Yolacan will speak at Pratt Institute about her influences, artwork, and career as part of the 2010-2011 Visiting Artists Lecture Series, from 12:45 p.m. to 1:45 p.m., Tuesday, September 28, in the Engineering Building, Room 371, on Pratt's Brooklyn Campus. The lecture is free and open to the public.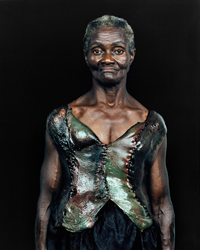 The Pratt Visiting Artists Lecture Series is an annual year-long series organized by the Department of Fine Arts in the School of Art and Design at Pratt Institute to welcome nationally and internationally recognized fine artists to share their experiences with the Pratt community.
Brooklyn-based Yolacan will speak about the methods, craft, and influences behind her photography.
Yolacan has held solo shows at Rivington Arms, New York, and Yapi Kredi Kazim Ta?kent Art Gallery, Istanbul. She has exhibited works in international exhibitions at the International Centre for Photography, New York; Helsinki Museum of Contemporary Art, Finland; 2nd Johannesburg Art Fair, South Africa; and Fotografie Forum Frankfurt, Germany. Her photography series have been featured in Art Review and on Style.com.
Yolacan received her bachelor of fine arts degree from Cooper Union School of Art, New York.
Yolacan is the second artist of 12 invited to speak as part of the 2010-2011 Visiting Artists Lecture Series. The fall program of the series continues with David Levine on October 19, John Kelly on November 2, and Erin Shirreff on November 16. VALS is coordinated by graduate students Biljana Djokanovic and Ryan Gilmartin under the supervision of Professor Dominique Nahas in the Department of Fine Arts.
Visitors can enter Pratt Institute's campus on DeKalb Avenue or on Willoughby Avenue between Hall Street and Classon Avenue. The closest subway stop is the Clinton-Washington station on the G line. For directions to campus or parking information, visit www.pratt.edu/directions.