Artist Mary Mattingly will speak at Pratt Institute about her influences, artwork, and career as part of the 2010-2011 Visiting Artists Lecture Series (VALS), from 12:45 p.m. to 1:45 p.m., Tuesday, February 8, in the Engineering Building, Room 371, on Pratt's Brooklyn Campus. The lecture is free and open to the public.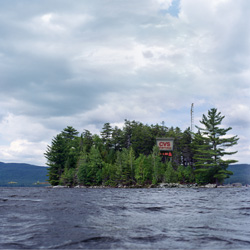 The Pratt Visiting Artists Lecture Series is an annual year-long series organized by the Department of Fine Arts in the School of Art and Design at Pratt Institute to welcome nationally and internationally recognized fine artists to share their experiences with the Pratt community.

New York City-based Mattingly will speak about the methods, craft, and influences behind her work in photography and sculpture.

Mattingly has held solo shows at Galerie Adler in Frankfurt, Germany and at the New York Public Library, White Box, and Robert Mann Gallery in New York. She has shown works in international exhibitions at the Occurrence Espace d'art et d'essai Contemporains, Montreal; International Center for Photography, New York; Palais de Tokyo in Paris, France; and Eindhoven University of Technology, The Netherlands. Mattingly's upcoming installation Flock House will appear at 33 Flatbush Rooftop in Brooklyn. Her photography and sculpture series have been featured in The New York Times, The New Yorker, and Artforum.

Mattingly received her bachelor of fine arts degree from Pacific Northwest College of Art in Portland, Oregon. She is the recipient of a Yale University School of Art Fellowship.

Mattingly is the second artist of five invited to speak as part of the Spring 2011 Visiting Artists Lecture Series. The series continues with Ursula von Rydingsvard on February 15, David Diao on March 8, and Josephine Meckseper on April 19. VALS is coordinated by graduate students Biljana Djokanovic and Ryan Gilmartin under the supervision of Professor Dominique Nahas in the Department of Fine Arts.

Visitors can enter Pratt Institute's campus on DeKalb Avenue or on Willoughby Avenue between Hall Street and Classon Avenue. The closest subway stop is the Clinton-Washington station on the G line. For directions to campus or parking information, visit www.pratt.edu/directions.