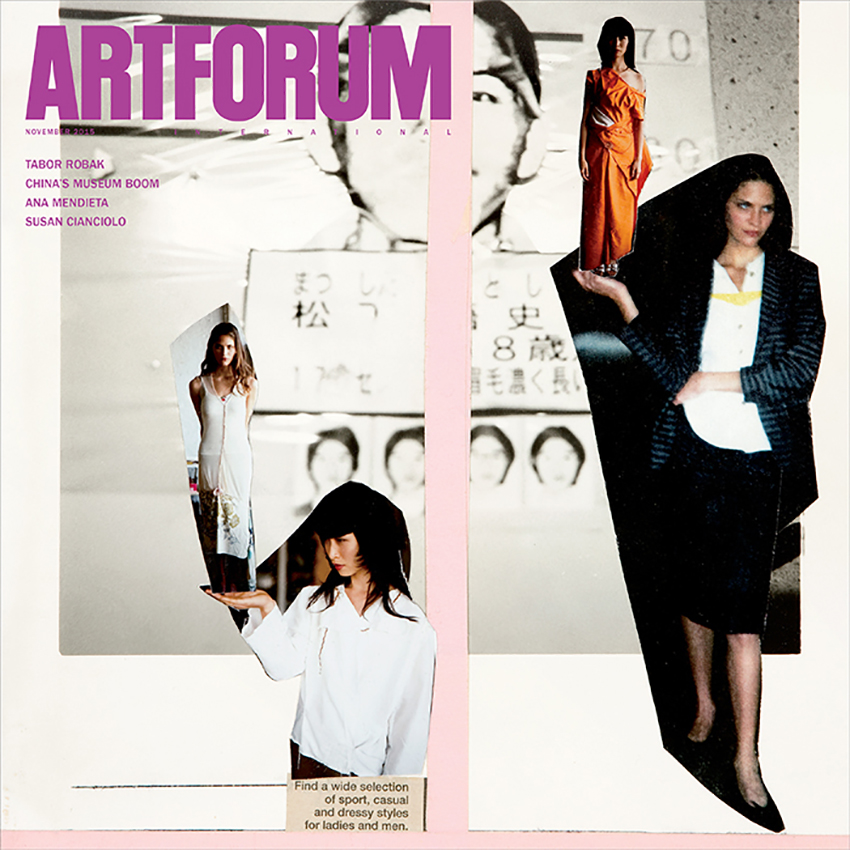 Artist and designer Susan Cianciolo, assistant professor of fashion in the School of Design, is the focus of a major Artforum cover story written by artist Nick Mauss. The article, which is about Cianciolo's career and artistic practice, appears in the magazine's November 2015 issue and features her work on the cover.
Titled "Radical Chic: Nick Mauss on the Art of Susan Cianciolo," the international contemporary art magazine's special 14-page feature presents images of Cianciolo's multidisciplinary work, including film stills and photographs of her fashion and costume designs. The article explores how Cianciolo's collaborative methods, use of improvisation and performance, and deconstructed clothing formed a radical challenge to the corporatization of the fashion world in the 1990s. Mauss writes that "Cianciolo's clothes were designed, assembled, and adorned in a punk-constructivist reimagining of the production line," as her collections often involved a highly collaborative process utilizing other artists, family, and friends.
Tracing her artistic career from her acclaimed RUN clothing label of 1995-2001 through her later films and her recent multimedia archival "kits" featuring found objects, Mauss writes that Cianciolo's innovative creations have "explored and activated the dissolution of cultural categories."
Cianciolo, who teaches courses in drawing, fashion illustration, and fashion design at Pratt, introduced her new home accessories collection RUN II last year. Six of Cianciolo's moving-image projects and a selection of her costumes and other works are on view as part of the exhibition Greater New York at MoMA PS1 through March 7, 2016. The Artforum story can be viewed here.
Image: Artforum cover (November 2015): Susan Cianciolo, Four-Page Advert for Dune Magazine #3 (detail), 1998, C-prints, collage, newsprint, and tape on gelatin silver print, 14 x 11 inches.