Pratt Institute alumni and Undergraduate Architecture department faculty members Ajmal Aqtash (B. Arch '01) and Richard Sarrach (B. Arch '01), along with their partner and Pratt alumnus Tamaki Uchikawa (B. Arch '01), received the 30th annual Architectural League Prize for Young Architects + Designers for their firm Form-ula's innovative design work. They were one of six firms or individuals who participated in the annual competition to be acknowledged for their work with the prize.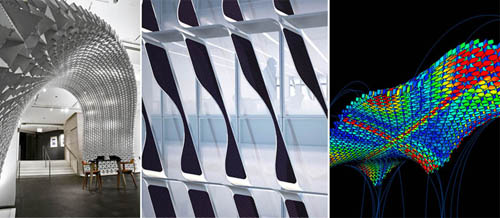 The Architectural League Prize for Young Architects is an annual competition and series of lectures and exhibitions organized by the Architectural League and its Young Architects and Designers Committee. Open to designers 10 years or less out of college, the competition draws entrants from around North America. Participants in the program are chosen through a portfolio competition juried by distinguished architects, artists, and critics, and the Young Architects and Designers Committee. The committee, a group selected each year from past winners of the League Prize, is responsible for developing the program's theme and selecting competition jurors.
"The work of Ajmal Aqtash and Richard Sarrach represents architectural research of the highest order," said Thomas Hanrahan, dean of Pratt's School of Architecture. "Using digital technologies to investigate structure and material, their research has produced new and innovative forms that address complex, contemporary problems in a completely original manner," he added.
This year's competition, titled "It's Different," asked architects and designers to consider the new role of the designer and to provide new strategies of addressing existing and entrenched problems, proactive definitions of practice, and a rethinking of the design discipline in relation to new economic, political, social, and cultural paradigms.
Aqtash is currently an adjunct assistant professor at Pratt and is research director at the Center for Experimental Structures at Pratt. Additionally, he serves as the creative art director for Milgo-Bufkin's Design Series, where he collaborates with artists and designers. Sarrach is an adjunct assistant professor at Pratt. He also directs Pratt's digital futures program, which complements the design studio environment by providing students in the undergraduate architecture program with access to the most cutting-edge resources in digital design, digital representation, and digital 3-D output.
Aqtash, Sarrach, and Uchikawa founded Form-ula in New York in 2009. The firm is a multidisciplinary design practice that seeks to understand the intersection of design and engineering and its collaborative possibilities to produce culturally rich and high performance architecture for large- and small-scale projects. Work includes Arch XXX, an art installation in Chicago; F.A.T. (face lift) in New York; and Clay Sutures: The Flats, an apartment complex in Louisville, Ky. The three are also co-founders of Core.Form-ula, the research and development wing of Form-ula, which seeks to capture cultural content related to design, engineering, science, technology, and art and organize it into an online repository.
Pratt's Undergraduate Architecture department is part of the Institute's School of Architecture and is ranked ninth in the nation by monthly architecture and design journal DesignIntelligence. The department, which is a five-year bachelor of architecture degree program, offers a thorough foundation in architecture that integrates critical thinking, design, technology, building, representation, and social responsibility. Students at Pratt learn that architecture is a meaningful cultural contribution that requires both imagination and material realization within a larger social and ethical context.
The Architectural League Prize is made possible with support from Dornbracht, Susan Grant Lewin Associates, and Tischler und Sohn.
Examples of work by Pratt alumni and undergraduate architecture department faculty members Ajmal Aqtash and Richard Serrach and Pratt alumnus Tamaki Uchikawa. Photo (L): Dhanraj Emanuel. Renderings (C and R): courtesy of Form-ula.