Architectural Digest named Pratt Institute among the top 10 colleges nationwide with the best architecture, making it the only campus in New York City and the only specialty college of art, design, and architecture to make the list. The magazine announced the publication of the list in its September 2011 issue and encourages readers to visit archdigest.com to view their top-ten list of "the most architecturally significant college campuses across the country." Others on the list include University of Virginia, Harvard University, Yale University, Cornell University, Brown University, Bennington College, Florida Southern College, Illinois Institute of Technology, and Massachusetts Institute of Technology.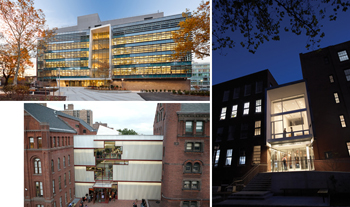 According to Architectural Digest, Pratt was featured for its contemporary architecture including Steven Holl's 2005 addition to Higgins Hall and its Leo J. Pantas residence hall designed by Skidmore, Owings & Merrill as well as for the "dozens of campus structures built between 1885 and World War II that put Pratt on the National Register of Historic Places."
"We are thrilled and delighted that Pratt's campus has been recognized for its architectural significance," said Pratt President Thomas F. Schutte. "Pratt takes great pride in its historic campus and in recent years has added a number of modern structures by some of today's leading architects that complement its late-19th and early-20th century buildings. Together these buildings create a magnificent and inspirational educational environment on a campus that is unlike any other in New York City."
Pratt recently opened a 120,000-square-foot green academic and administrative building named Myrtle Hall at 536 Myrtle Avenue between Grand Avenue and Steuben Street that houses the college's Department of Digital Arts as well as several administrative offices. Designed by NYC architecture firm WASA/Studio A, the building has met United States Green Building Council standards for LEED-gold certification. It is the first higher education building project in Brooklyn to receive any LEED certification and the first academic building to receive a LEED-gold certification in Brooklyn. Since opening earlier this year, Myrtle Hall has attracted significant attention, including a write-up in the New York Times that noted the building's "sleek design," and "environmentally-friendly features," while adding that "over time it may prove to be most notable for its effect on the neighborhood."
Another recent addition to Pratt's Brooklyn Campus is the Juliana Curran Terian Design Center, which opened in 2007 and was designed by hanrahan Meyers architects to bring together two older loft buildings with a contemporary bridging structure to create a 200,000-square-foot complex. The Center brings together Pratt's design disciplines — interior design, fashion design, industrial design, and communications design — under one roof that allows Pratt designers to better develop their creative processes. Thomas Hanrahan, one of the principals of hanrahan Meyers architects, is the dean of Pratt's School of Architecture.
Myrtle Hall, the Juliana Curran Terian Design Center, and Higgins Hall have received numerous awards including Building Brooklyn Awards from the Brooklyn Chamber of Commerce, which recognize construction projects that enrich Brooklyn's neighborhoods and economy.
Please click here to view Architectural Digest's online slideshow featuring Pratt.
Clockwise from L: Myrtle Hall (opened in 2010) by WASA/Studio A, The Juliana Curran Terian Design Center (opened in 2007) by hanrahan Meyers architects, and Higgins Hall Center Section (opened in 2005) by Steven Holl Architects on Pratt's Brooklyn Campus. Photo Credits (Clockwise from Left): Alexander Severin/RAZUMMEDIA, Bob Handelman, Rene Perez.