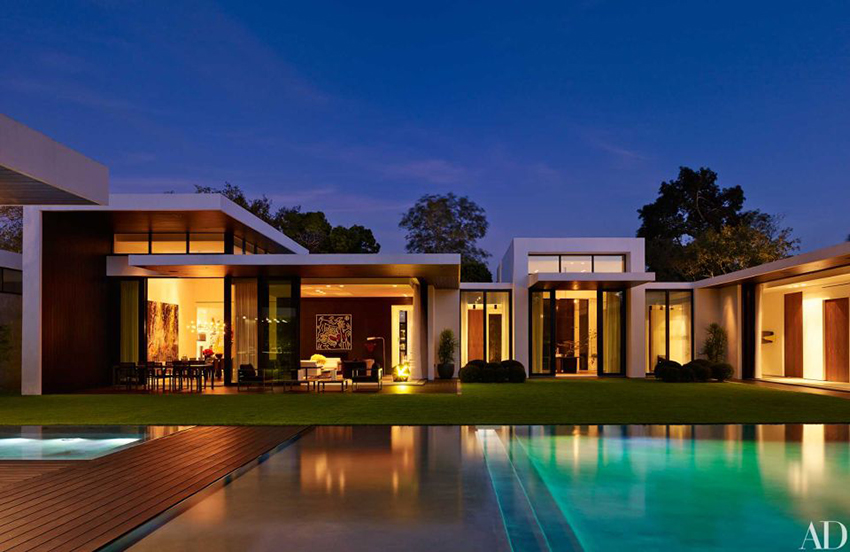 The cover story of Architectural Digest magazine's June 2016 issue features a Miami, Florida home designed by Pratt alumnus Ralph Choeff (B.Arch. '78) for professional baseball player Alex Rodriguez. The Architectural Digest story has been picked up by USA Today, People magazine, the New York Post, Good Morning America, and other outlets.
The eight-page Architectural Digest feature written by Sam Cochran calls the home "a design triumph." Illustrated with interior and exterior photographs, it tells the story behind the project and gives insights into the design and finishes of the 11,000-square-foot residence, which was designed in the tropical modern architectural style, with elements of mid-century modernism. The article includes a comment from Choeff about the feel of the design, and shares Rodriguez's thoughts on the project. "This house was the collaboration of a dream team," Rodriguez is quoted as saying.
Choeff, a partner in the Miami-based architecture and interior design firm Choeff Levy Fischman, is known for his modern and tropical modern custom residential projects in Miami Beach.
Choeff's time at Pratt has continued to influence him. "My education and years at Pratt were invaluable. The education I received, as well as my experiences and interactions in the school have stayed with me throughout my life. I have always used this as inspiration," he explained. Last summer, Choeff visited Pratt for the first time since his graduation. "I was overwhelmed by all the positive change that had taken place not only at the college, but also in the surrounding neighborhood," he said.
Click here to read the Architectural Digest article and find related coverage in USA Today, People magazine, the New York Post, and Good Morning America.
Image: Bjorn Wallander | Architectural Digest