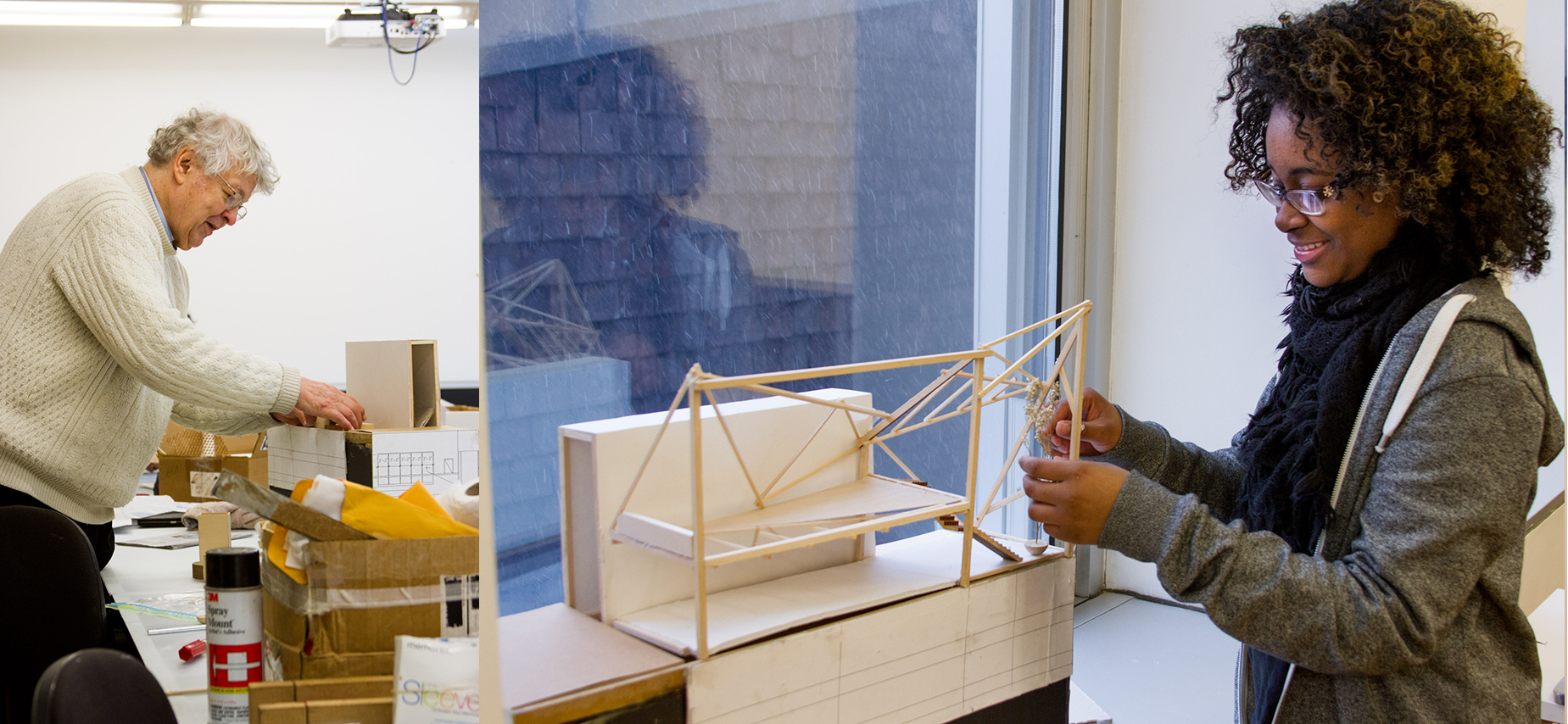 There is one thing that a building design and a practicing architect both need in order to be successful: a strong foundation.
For twenty years, Professor Brent Porter has devoted his Saturday afternoons to teaching the Institute's pre-college "Architectural Design Studio" class, giving countless high-school students essential basic skills that they need to enroll in a college architecture program and prepare for a professional career in the field.
For many of the students, the pre-college program on the Manhattan campus becomes just the first step in their education at Pratt Institute. "25 to 33 percent of our Saturday students enroll in the School of Architecture, choosing Pratt Institute over several other programs," Porter says.
If the pre-college "Introduction to Architecture" class is where students learn to "speak" architecture, as Porter explains it, the "Design Studio" class is where they learn to "do" architecture by using hand drawings and physical models to solve design problems.
One typical project is to design a greenhouse for the penthouse of the building across the street from the Pratt Manhattan Center. Porter tries to simulate a real-world experience as much as possible. He gives students an actual plan of the penthouse roof and encourages them to do work in class as if they were associates in an actual design studio. He takes the students on a field trip to the Brooklyn campus, where they can test their models in the lighting lab to simulate lighting at different times of the day or year.
Students leave the class with a fully developed architectural model and material that they can use in their portfolio when they apply for college.
Porter, who teaches in the School of Architecture and is now in his 41st year at Pratt, has seen a number of changes in his students and their work over the years. "Students are more sophisticated now. Young people have traveled more and they have experienced more architecture than in the past," he explains.
When asked what motivates him to keep teaching the "Design Studio" class, Porter doesn't hesitate. "The designs just keep getting better and better," he says with a smile.
Text: Marion Hammon
Photos: Nika DeCarlo
Caption: (L–R) Professor Brent Porter in the Architectural Design Studio class; High-school student Ciara Long-Corley works on her greenhouse model