Artist David Diao will speak at Pratt Institute about his influences, artwork, and career as part of the 2010-2011 Visiting Artists Lecture Series (VALS), from 12:45 p.m. to 1:45 p.m., Tuesday, March 8, in the Engineering Building, Room 371, on Pratt's Brooklyn Campus. The lecture is free and open to the public.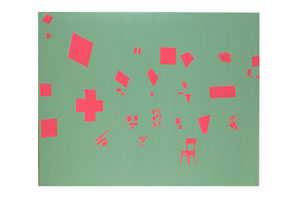 The Pratt Visiting Artists Lecture Series is an annual year-long series organized by the Department of Fine Arts in the School of Art and Design at Pratt Institute to welcome nationally and internationally recognized fine artists to share their experiences with the Pratt community.
Diao will speak about the methods, craft, and influences behind his paintings.
New York-based Diao was born in 1943 in Chengdu, Sichuan, China. He moved to Hong Kong with his grandparents when he was six and joined his father in New York six years later. Diao first attracted attention with his show at Paula Cooper Gallery in New York in 1969. Two-person shows with Peter Young followed the same year at Leo Castelli Gallery in New York and at Carmen Lamanna Gallery in Toronto with Brice Marden, and three years later with Cy Twombly at Hampshire College in Amherst, Mass. His work was included in Konrad Fischer's show "Prospect '73" at Städtische Kunsthalle, Düsseldorf. He presented work in "High Times Hard Times, New York Painting 1967-1975" at ZKM, Karlsruhe and at various other international venues.
Major shows by Diao have been mounted in Paris, Dijon, Rennes, Toronto, Vancouver, Warsaw, Rotterdam, Taipei, Hong Kong, and Beijing. His most recent New York show, "2009" at Postmasters Gallery, revolved around his attempt to recreate his childhood home, which he left under duress at the time of the Communist takeover in October 1949. Last October, he held a personal show at Office Baroque Gallery in Antwerp. In May 2011, he will mount a solo show at In Situ, Paris.
Diao's work is featured in the collections of The Museum of Modern Art; Whitney Museum of American Art; Brooklyn Museum; High Museum, Atlanta, Ga.; Albright-Knox Art Gallery, Buffalo, N.Y.; Akron Museum, Akron, Ohio; SFMOMA, San Francisco; Blanton Museum, University of Texas, Austin; Museum of Modern Art of Saint–Etienne, France; Ontario Art Gallery, Toronto; and Vancouver Art Gallery, Canada, among others. Diao has shown regularly with Postmasters since the opening of the New York gallery in 1985.
Diao is the fourth artist of five invited to speak as part of the Spring 2011 Visiting Artists Lecture Series. The series continues with Josephine Meckseper on April 19. VALS is coordinated by graduate students Biljana Djokanovic and Ryan Gilmartin under the supervision of Professor Dominique Nahas in the Department of Fine Arts.
Visitors can enter Pratt Institute's campus on DeKalb Avenue or on Willoughby Avenue between Hall Street and Classon Avenue. The closest subway stop is the Clinton-Washington station on the G line. For directions to campus or parking information, visit www.pratt.edu/directions.