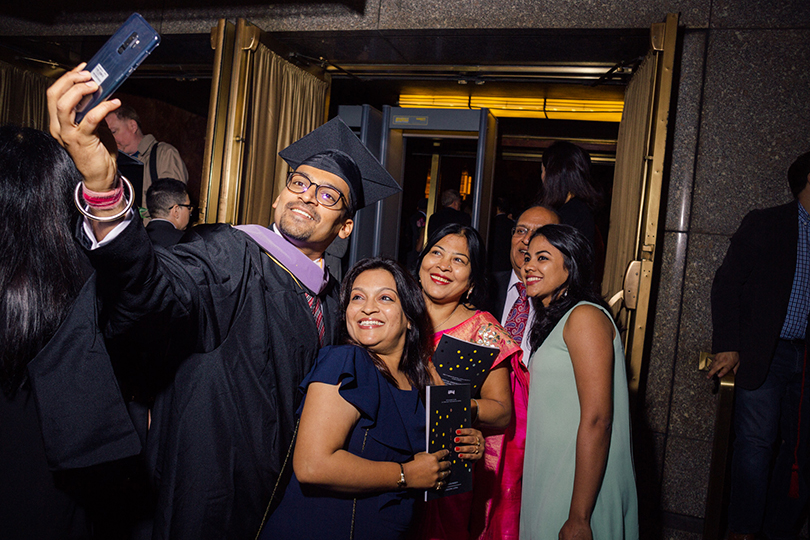 Anne Pasternak, Shelby White and Leon Levy Director of the Brooklyn Museum, urged graduates to "go do right" and "construct a better future for all" at Pratt Institute's 129th Commencement. The event was held on May 16 at Manhattan's iconic Radio City Music Hall, where more than 1,000 undergraduate and graduate students crossed the stage to become newly minted alumni of Pratt Institute. The 2018 celebration marked the first Commencement for the Institute's new president, Frances Bronet.
Honorary degrees were awarded to Pasternak (Doctor of Humane Letters), who was also the Commencement speaker; installation and conceptual artist Jenny Holzer (Doctor of Fine Arts); and jazz pianist and music educator Ellis Marsalis Jr. (Doctor of Fine Arts) at the ceremony.
During the opening declaration, President Bronet thanked the students and faculty for their hard work and dedication, and asked the students as well as their parents, friends, and other supporters to stand for a round of applause. "Enjoy this celebration. You have earned it," she said, and encouraged graduating students to keep in touch with the Pratt community as alumni.
In her speech, Pasternak offered a reminder of what she called a simple truth: "Art matters. Culture matters. Your creativity matters," she told the students. She spoke of how art and culture contribute to human dignity, justice, hope, and love—such as after September 11, when two beacons of light conceived by artists Julian Laverdiere and Paul Myoda illuminated the night and reclaimed the New York City skyline.
"No important political, economic, and social change can happen without changing people's hearts and minds—and it is culture that shapes public sentiment," she said. Turning to history for examples, she mentioned musicians such as Harry Belafonte, Bob Dylan, Aretha Franklin, and Nina Simone and advances in civil rights; and artists such as Keith Haring and Robert Mapplethorpe and advances in gay rights.
She urged the students to seize their opportunity and responsibility as "cultural producers" to fix the mistakes of our past and present, and change the course of history. "You are the designers of our shared future. So, design it well. Design it with intention. Design it with inclusiveness and humility. Design it for the common good. Above all, design it with love," she advised. "It won't always be easy, but it will matter. I promise."
Prior to Pasternak's address, Holzer was awarded her honorary degree. She inspired graduating students with a rousing call to action. "This is one of those times in history when creative solutions are required—so have at it!" she said.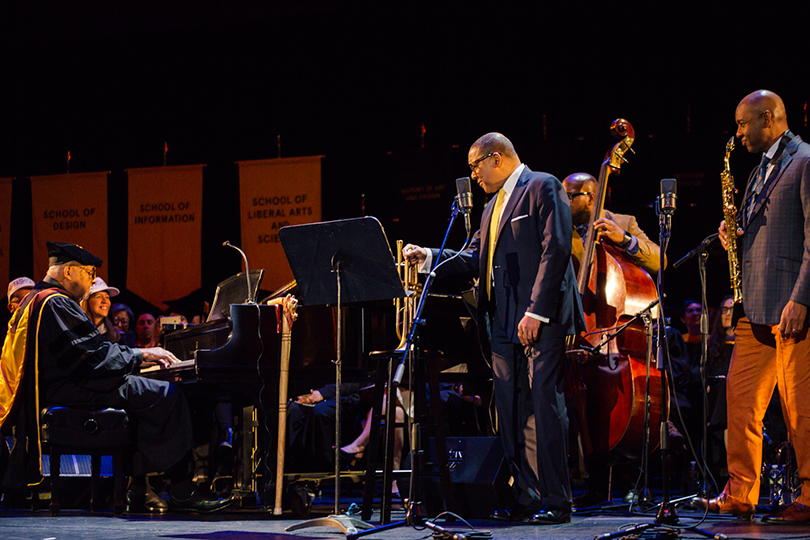 On receiving his honorary degree, Marsalis noted that the Institute's new graduates will go out into the world and "make the corrections that my generation of the '50s could not possibly do." He then headed for the piano onstage, where he was joined by his sons, the renowned jazz musicians Wynton Marsalis, Branford Marsalis, Delfeayo Marsalis, and Jason Marsalis, for a very special live performance of his piece "Nostalgic Impressions" that brought the audience to its feet for a standing ovation.
Graduation speakers also included Associate Professor, Mathematics and Science, Damon Chaky, who was named Distinguished Teacher (2018-19) and was honored with a medal designed by Mansoo Han, MArch '19; and elected student speakers Shaina Garfield, BID Industrial Design '18, and Natasha L. Seng, MS Art and Design Education '18.
To see more photos from Commencement 2018, please visit our Facebook album.