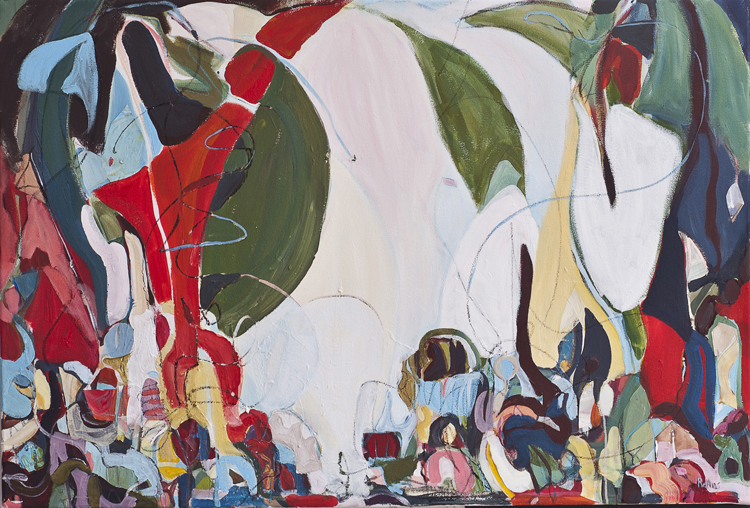 Beijing Memory: Nostalgia Paintings, a solo exhibition of paintings by Monique Rollins (M.S. History of Art and Design ' 06; M.F.A. Fine Arts '04) is on display at the American Embassy in Beijing through the end of November.
Curated by scholar Catherine Cheng and organized by the Embassy of the United States of America in China, Beijing Memory: Nostalgia Paintings features eleven brightly colored acrylic and paper collage paintings. Rollins created the works during her time last winter at the IU Artist Residence in Beijing, a program founded by the artist Cui Xiuwen. The paintings capture and express Rollins's experience of the city's vibrant atmosphere. The exhibition opened on August 28 with a panel discussion by distinguished curators, scholars, and critics, who explored her work and its relationship to contemporary Chinese and American painting.
"I was very touched by the neighborhood and Chinese community in Laiguangying East Road. I found the culture there very interesting and stimulating," Rollins said. "The pieces in the exhibition are the beginning exploration of this incredible culture and country."
Rollins has studied art in France, Italy, and Spain, and has been featured in solo and group exhibitions in the United States and around the world. She has served as an assistant in Pratt's study-abroad programs in Venice and Tuscany. Her work includes oil paintings, charcoal drawings, and multi-medium collages.
Image: Monique Rollins, Laiguangyingeast Road, 2015, acrylic on canvas, 33 x 49 inches. Courtesy of the artist.