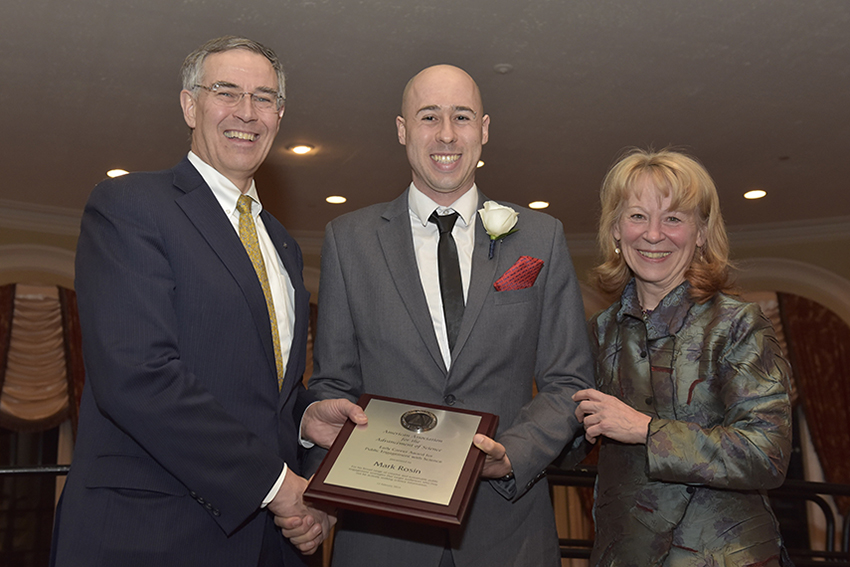 Mark Rosin, assistant professor of math and science in the School of Liberal Arts and Sciences, has received the 2015 Early Career Award for Public Engagement with Science from the American Association for the Advancement of Science (AAAS), the world's largest general scientific society. The Award recognizes early-career scientists and engineers who have made remarkable contributions to public engagement with science activities. Rosin was presented with the award at the 182nd AAAS Annual Meeting in Washington, D.C. on February 12.
The AAAS honored Rosin for "his broad range of creative and sustainable public engagement strategies that target audiences who may not be actively seeking science information."
Rosin, a physicist who works in the field of applied mathematics and plasma physics, is also the director and co-founder of Guerilla Science, an international organization that aims to engage public audiences with science through innovative public events and interactive installments. The organization mixes science with art, music, and play at venues ranging from museums to art and music festivals.
Guerilla Science projects have included the Intergalactic Travel Bureau, which allowed 4,000 members of the public to meet with an astronomer to plan a space vacation, and the implementation of math-based game shows and obstacle courses at the National Math Festival in Washington, D.C. Rosin also led the creation of the world's first multi-tube fire organ, an instrument that utilizes acoustic waves to cause fire to change size and shapes.
More information about the AAAS Awards can be found here.
Image: (L-R) Rush Holt, chief executive officer of the American Association for the Advancement of Science and executive publisher of the Science family of journals; Mark Rosin, assistant professor of math and science at Pratt Institute; and Geraldine Richmond, President of the American Association for the Advancement of Science, at the AAAS Annual Meeting in Washington, D.C. (photo: Boston Atlantic Photography)