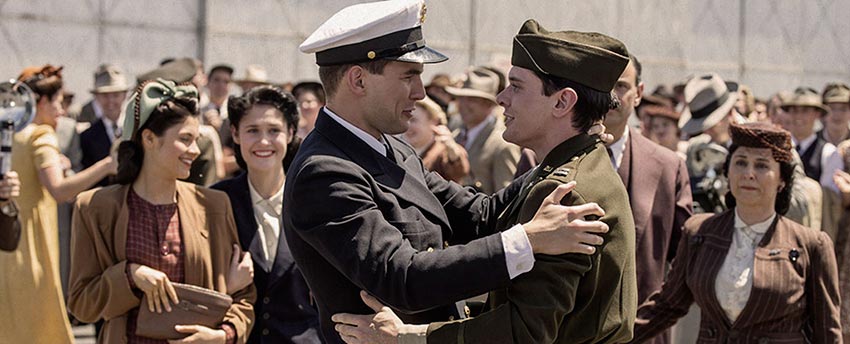 Stephen Douglas (B.F.A. Film/Video, '10) plays his grandfather in Unbroken, a new film directed by Angelina Jolie that was released in theaters around the country on December 25.
The film is adapted from the New York Times bestselling book Unbroken: A World War II Story of Survival, Resilience, and Redemption by Laura Hillenbrand. It is a biography of World War II hero Louis Zamperini, who survived 47 days at sea and more than two years in Japanese prisoner-of-war camps after his plane was shot down during a search-and-rescue mission in the South Pacific in 1943.
One of Zamperini's crew members was Douglas' grandfather, C.K. Douglas, who had helped save his crew members' lives earlier by shooting down the last of six Japanese Zeros that surrounded their B-24 plane during a bombing mission. Douglas, who survived but was badly wounded, was later awarded a Purple Heart medal.
The younger Douglas, whose work in the film industry normally takes place behind the camera, plays the part of his grandfather alongside actor Jack O'Connell, who portrays Zamperini.
Douglas walked the red carpet on December 15 at the Hollywood premiere of the film.
Photo: courtesy of Universal Pictures