A new program from the Office of Alumni Engagement is offering students the opportunity to gather in small groups with alumni in their fields for a conversation over a meal. Dinner with Six started in December 2022, inviting undergraduate students to network in an informal environment and ask questions about transitioning from studying a discipline to making it a career. Distinguished alumni are invited to share their experiences with students and how their time at Pratt influenced their practices.
"This program provides an incredible opportunity for alumni and current students to connect over their shared experiences and to learn from one another," said Jacob Korb, executive director of development. "We are looking forward to continuing to build upon the success of the program and partnering with additional members of our alumni community to foster the important relationship between them and our current students."
Each Dinner with Six will focus on a particular topic or discipline, with the discussion centering on insights into different industries. The first Dinner with Six was hosted by Vincent Celano, BArch '93, at Celano Design Studio Co., his interior design and architecture firm in Flatiron. His team of designers specializes in working with the hospitality industry on design, architecture, and branding for hotels, restaurants, and nightclubs.
"Participating was important to me as it was a chance to give back to these young, creative Pratt students who are looking for guidance on career choices as well as on the opportunities available in art, architecture, interior design, lighting design, and graphics and branding," Celano said. "Our studio was able to share our projects and process, covering all of these different aspects of the industry and giving a peek into career possibilities. It was exciting to hear about the diverse cultural backgrounds of these students, which inspired so many fresh, creative discussions at the dinner. Being in the hospitality industry, we know food always brings people together and encourages amazing conversation."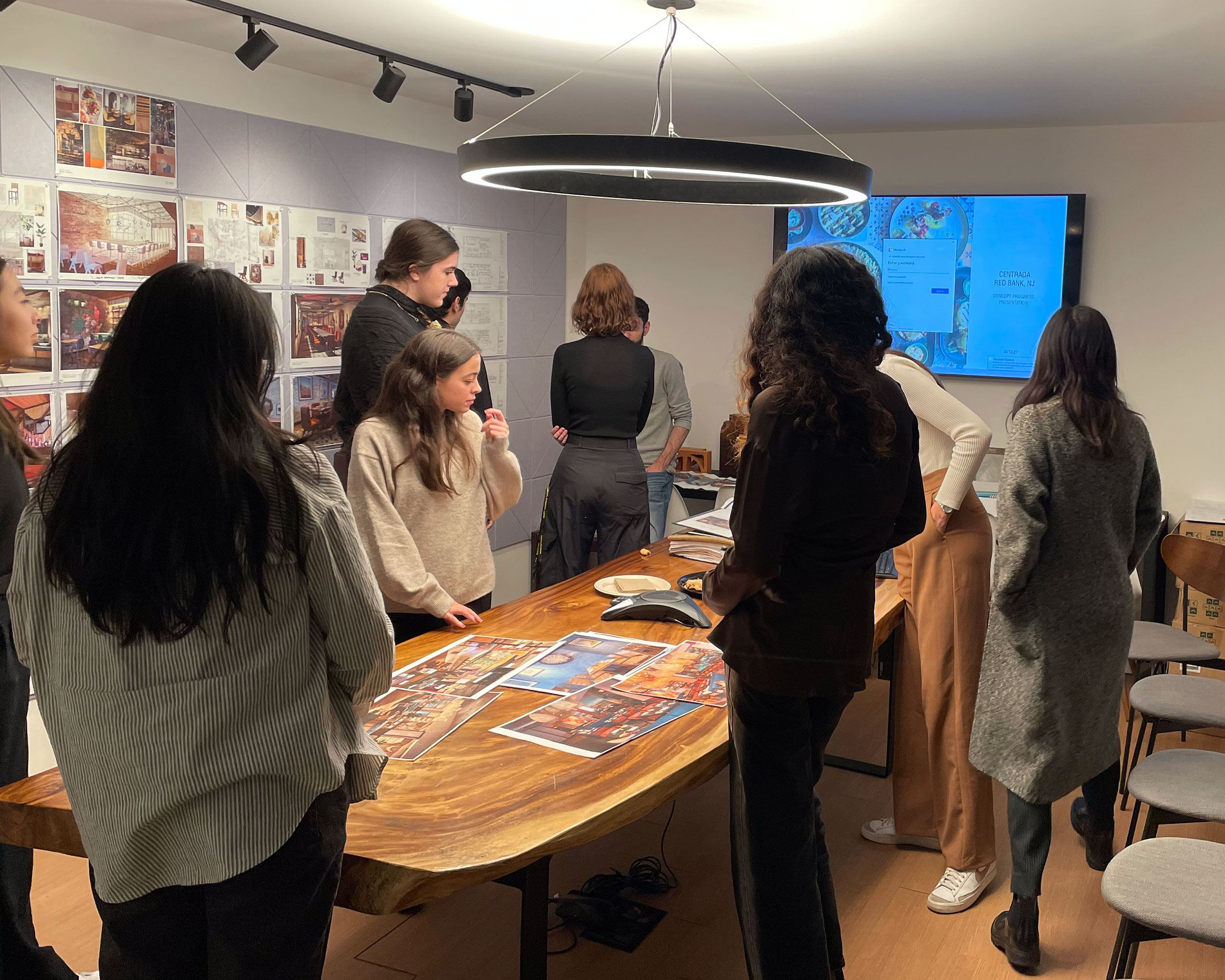 Six undergraduate architecture students joined for an evening that began with a tour of the office with Celano and his team, in which they were able to talk one-on-one about their work before they sat down together for a meal. The students engaged in a conversation on their experiences at Pratt and their host's time as a student, and how he made the transition from graduation to professional work in the New York design and architecture industry.
"I liked sitting around the table and talking back and forth for part of the night," said Qirui Fang, BArch '25. "That was a great, casual way to start exciting discussions about our industry. Everyone in the studio was so welcoming and showed us their workspace, and we also talked about things that are directly related to their scope of work. It was nice to see what is out there for us in the future."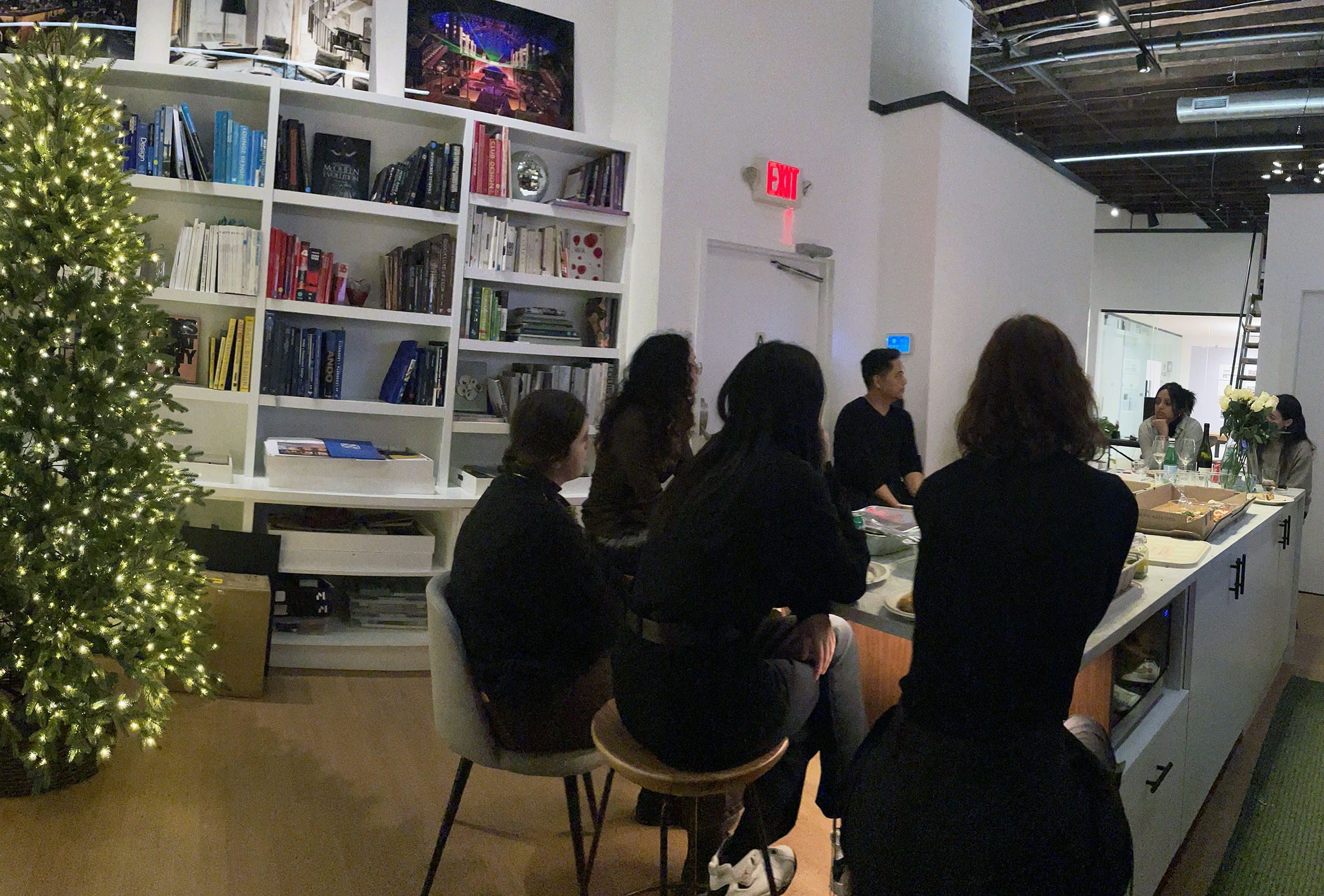 As preparation for the event, students submitted questionnaires on their interests, which informed the conversation.
"With this event, I wanted to learn about the process of switching from school to a job, how your passions and interests can follow or lead you, and how to get out of this slightly blurry period where we are doing projects for school, but also are applying for jobs and making a good portfolio," said Zeynep Akgol, BArch '24. "I loved to hear Vincent's experience as a Pratt graduate and his recommendations."
More Dinner with Six events are being planned in the New York City area to foster connections between current and future Pratt alumni that can lead to mentorship, professional contacts, and a supportive web of relationships that can grow into the future. Alumni interested in hosting a Dinner with Six are encouraged to email alumni@pratt.edu.