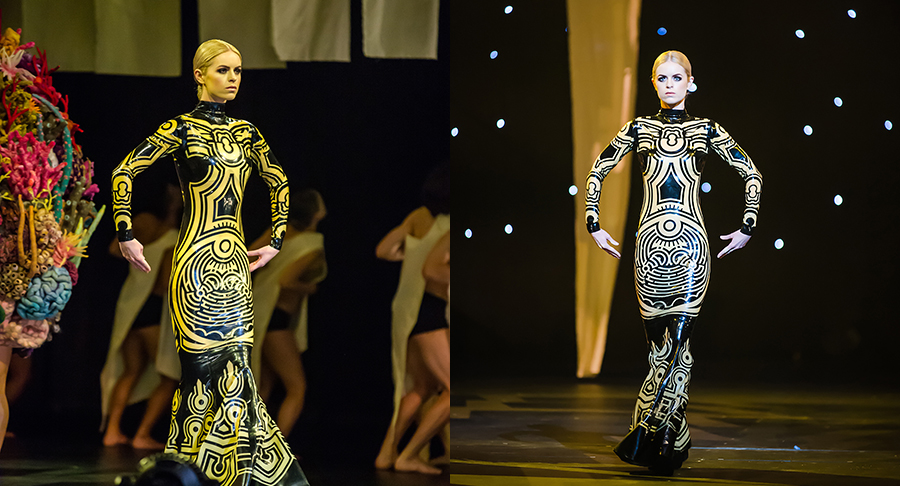 Ben Gould (B.I.D. '08) and Dawn Mostow (M.F.A. New Forms '08) won the Wearable Technology Award for their Labyrinth Gown at this year's 29th annual World of WearableArt (WOW) Awards, the world's leading wearable art design competition. Labyrinth Gown and other award-winning entries were on view at WOW 2017 in Wellington, New Zealand, from September 21 to October 8.
Labyrinth Gown was one of 104 finalist garments that were created by 122 designers from 13 countries, who competed for 37 awards for wearable designs that were original, innovative, and well-made. As an industrial designer, Gould adapted Mostow's garment pattern into a digital vector format, then created linear concentric designs within each panel. Each panel was individually laser cut and laminated onto transparent latex before being finished into a fully constructed gown.
The Messenger, a garment by Dawn Mostow and Lana Crooks, was also a finalist entry, earning third place in the WOW competition's Red Section.
Gould and Mostow, who met at Pratt, are the design team behind Dawnamatrix, a latex fashion company producing garments that are worn by the likes of Katy Perry and Beyonce, and featured in Vogue.
Learn more about the World of WearableArt and the 2017 WOW Award winners.
Images: Labyrinth Gown by Ben Gould (B.I.D. '08) and Dawn Mostow (M.F.A. New Forms '08) (photos courtesy World of WearableArt)