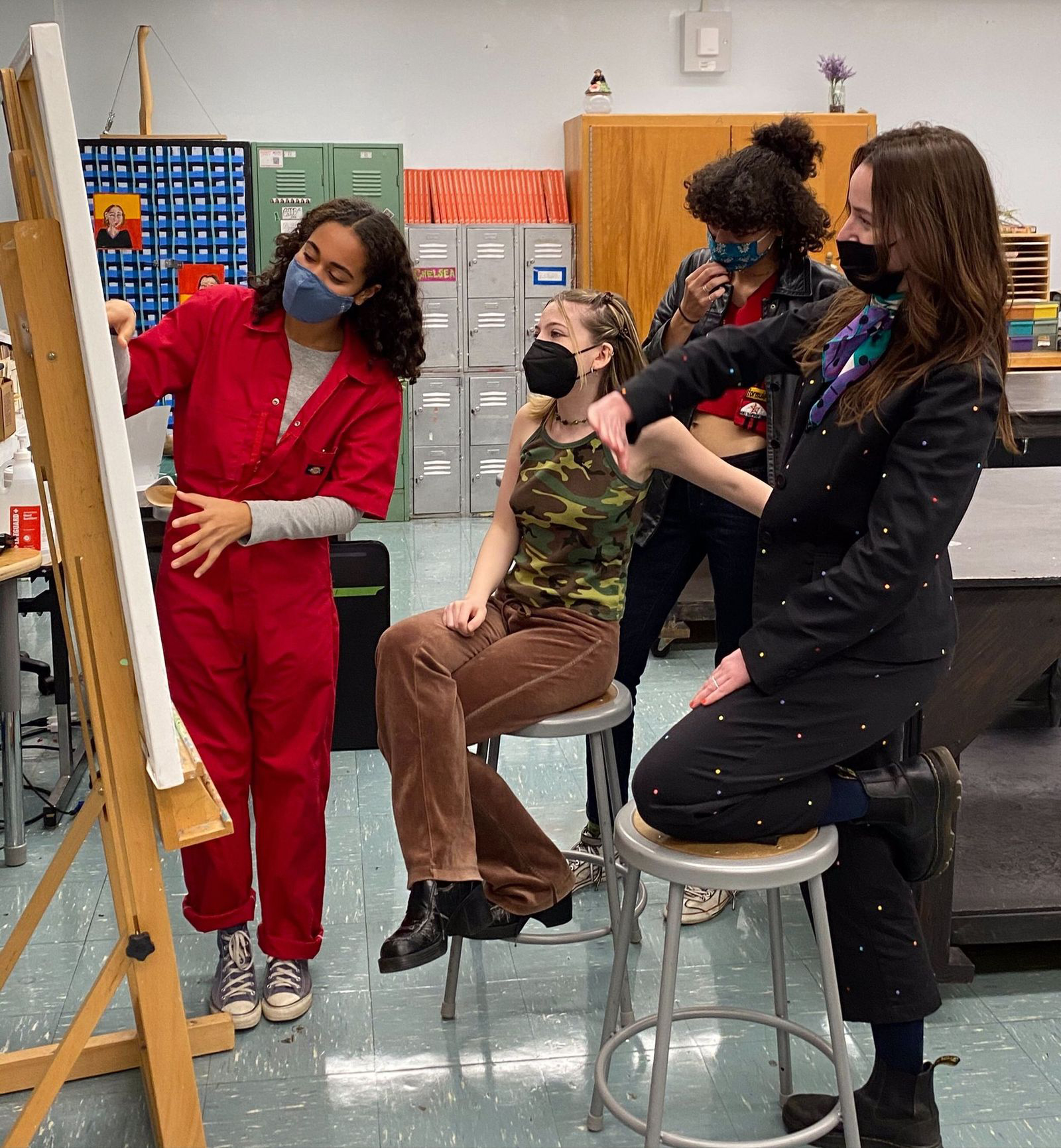 Brooklyn high school students Brianna Blue and Aleksandra Kwiecień, who have been recognized for their distinctive work with two of the highest honors in the 2021 Scholastic Art & Writing Awards, are students of the same teacher: alumna and former Pratt Institute faculty member Sarah Grace Holcomb, MS Art and Design Education '12. Blue, who won the Gold Medal Portfolio, is also a 2021 alumna of the Pratt Young Scholars (PYS) program and is planning to attend Pratt in the fall as one of the inaugural recipients of the four-year Pratt President's Wallace Augustus Rayfield Scholarship. Around 230,000 works from students in every state were entered into this year's awards and only eight students received Gold Medal Portfolio in Art.
The Scholastic Art & Writing Awards are presented by the Alliance for Young Artists & Writers and were started in 1923. The prestigious program has annually celebrated some of the most creative teens in the United States with over 100 literary and visual arts professionals serving as judges this year, basing their decisions on originality, technical skill, and the emergence of a personal voice or vision. A painting by Blue depicting a poignant scene of family turmoil and a colorful embroidered portrait by Kwiecień were among the works recently on view in the Scholastic Art & Writing Awards: New York City Regional Exhibition at the Metropolitan Museum of Art with their art still available to view online.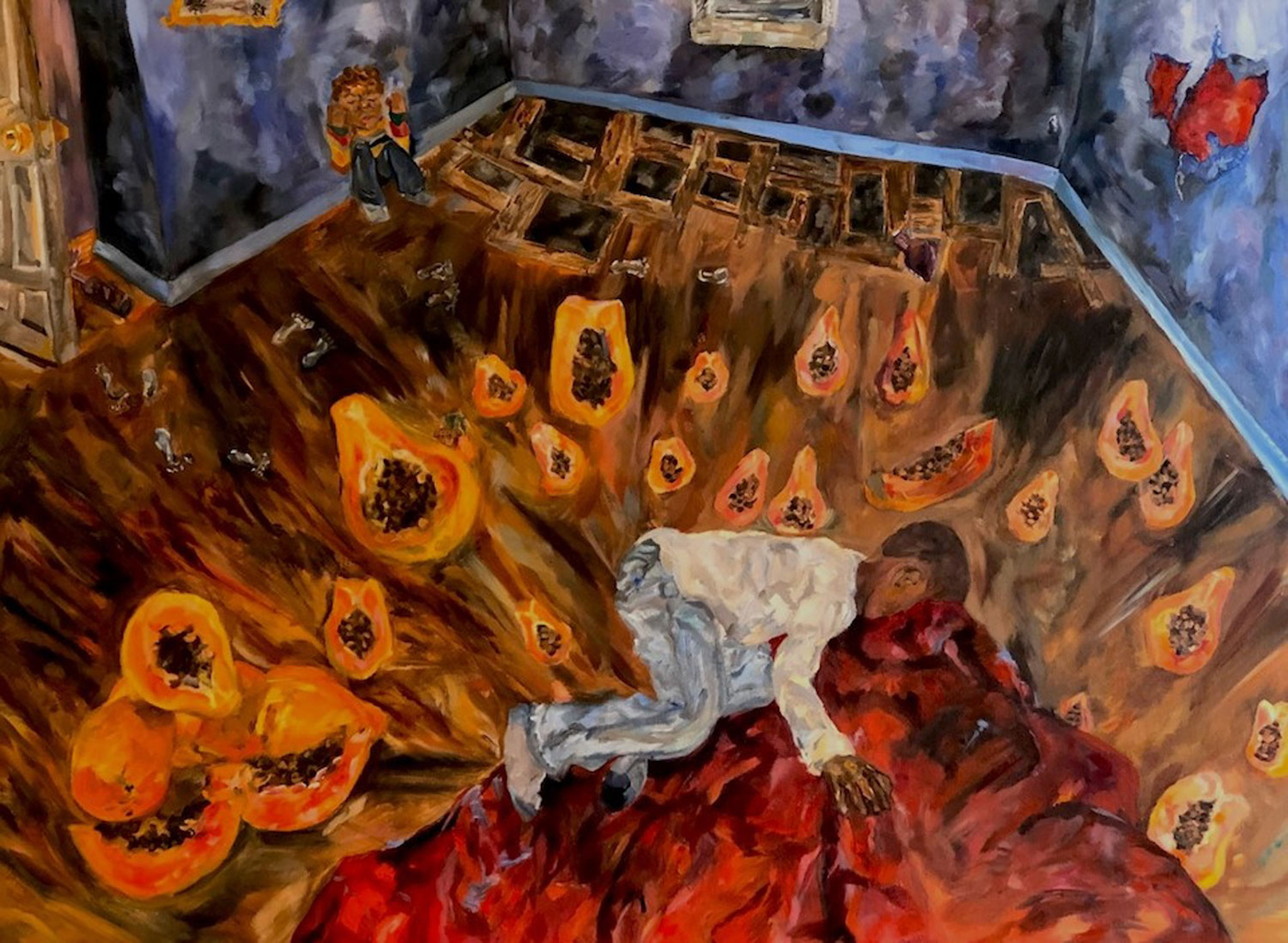 As reported by Bklyner, Blue and Kwiecień—who won the Silver Medal with Distinction Portfolio—were part of the same senior portfolio class led by Holcomb, a visual arts teacher at Edward R. Murrow High School in Midwood. Holcomb has been teaching at Edward R. Murrow High School since 2012, starting while she was still finishing her graduate degree at Pratt, and has worked at Pratt as an Art and Design Education (ADE) faculty member. She previously received the Scholastic Art & Writing National Gold Medal Excellence in Teaching award in 2013, 2014, 2015, and 2016. She was further recognized in the 2021 awards and is eligible for an artist's residency through the Alliance for Young Artists & Writers.
"By far my most meaningful experiences in the Pratt ADE program were those with faculty," Holcomb said. "The entire department is thoughtful, experienced, and empathetic. I learned so much from the way the faculty instructs their own classes and many are practicing artists. I try to replicate this experience for my high school students and I definitely think it has a huge impact on the way they approach their studio practice at such a young age."
The work of Holcomb and her students is just one example of how Pratt has fostered creative education through its ADE department as well as the Center for Art, Design, and Community Engagement K-12 which runs the three-year PYS program for highly motivated New York City public high school students.
"Pratt's Department of Art and Design Education has a long history of graduating teachers who go on to make a significant contribution to the quality of instruction in art and design in New York City public schools," said ADE Chair Aileen Wilson. "Sarah's achievements as an educator, her commitment to public education and to Murrow, and the impact she has on the young people she teaches is remarkable."
ADE has a dynamic network of graduates who are certified teachers in the visual arts. Many work in New York City public schools and actively engage with the Pratt campus community. Each year, ADE faculty work with these alumni to host student teachers in their schools so they can fulfill their student teaching requirements under their guidance. In turn, these alumni and student teachers encourage their K-12 students to see themselves in creative careers. Many go on to attend campus programs such as Pratt's Saturday Art School and PYS.
Brianna Blue is one of 17 students who completed the PYS program this year, all of whom will be going on to college in the fall, with Blue being one of 16 graduating PYS who were accepted to Pratt. Along with the 2021 ADE graduates now entering the professional stage of their careers as teachers, these members of the Pratt community demonstrate how sharing creative learning experiences from one generation to the next empowers the thinkers and makers who will shape the future.
"In collaboration with faculty from the School of Art, the School of Architecture, and Foundation, the Pratt Young Scholars program creates a robust pipeline for talented, motivated, creative youth to higher education," said Daniel Bergman, director of the Center for Art, Design and Community Engagement K-12. "We are especially proud that so many of the youth we serve have decided to further their education at Pratt. "We can't wait to see what accolades Brianna and her fellow PYS alumni collect in the years to come."