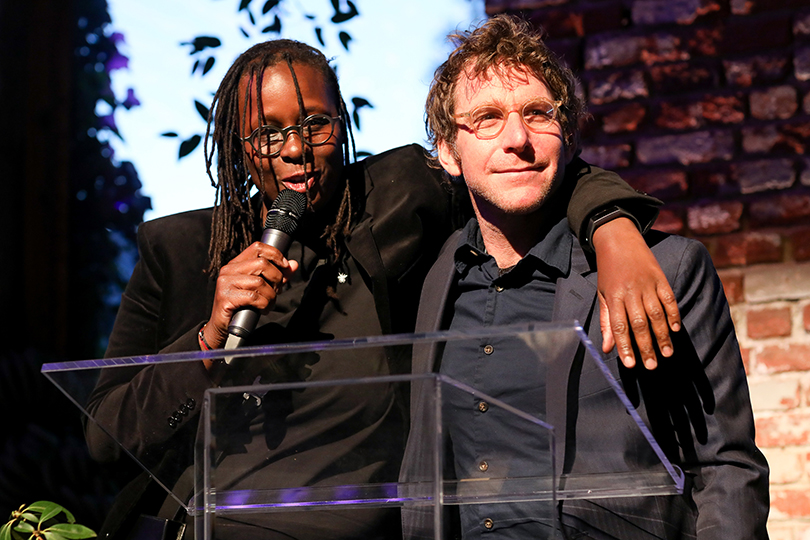 Renowned artist and Pratt alumna Mickalene Thomas, BFA '00, was honored with the Visionary Award in recognition of her influential work at the 2019 Village Fête at Pioneer Works.
Thomas' colossal mixed media portraits of Black women, constructed with such diverse materials as acrylic, enamel, and rhinestones, challenge prevalent art and pop culture portrayals of race and gender. Her recent solo shows include exhibitions at the Aspen Art Museum, Art Gallery of Ontario, and Wexner Center for the Arts at The Ohio State University, and her works are in the collections of the Museum of Modern Art, National Portrait Gallery, Smithsonian American Art Museum, Solomon R. Guggenheim Museum, Whitney Museum of American Art, and Studio Museum in Harlem.
The annual Village Fête supports programming at the Brooklyn-based Pioneer Works, which ranges from ambitious exhibitions to a newly announced public observatory. The sixth edition of the event was held on April 27 and featured a festive evening of dinner and live performances, including a Balinese gamelan orchestra in the Pioneer Works garden, and Maxwell performing a dynamic set inside the reclaimed industrial space. Attendees included Pratt President Frances Bronet, along with a host of prominent arts, cultural, and local government leaders and celebrities, such as New York City Mayor Bill de Blasio, Derrick Adams, Darren Aronofsky, Jake and Maggie Gyllenhaal, Bill T. Jones, and Carol Bove.
The gala was covered by ARTnews, Cultured Magazine, and Women's Wear Daily (WWD).
Mickalene Thomas and Racquel Chevremont will also be honored at the upcoming Aperture Gala on June 3.
Image: Mickalene Thomas and Dustin Yellin at the Pioneer Works Village Fête (courtesy BFA)