Alumna and longtime Pratt Institute donor Hiroko Nakamoto has committed significant funding for three gifts that will advance student diversity through interior design scholarships and improve spaces and landscapes on the Brooklyn and Manhattan campuses. A leading architectural interior designer and pioneer of interior design in Japan, Nakamoto studied at Pratt in 1955 and went on to establish the Hiroko Nakamoto Interior Design Studio in Tokyo in 1966. "We are deeply grateful to Hiroko Nakamoto for her long-standing support of Pratt over many years," said Pratt Institute President Frances Bronet. "These three incredible gifts will help foster a beautiful and welcoming campus environment for learning and inquiry as well as vital scholarship support that will have a lasting impact on generations to come."
This funding will cover three key initiatives, all enriching the Pratt experience. This includes the Pratt Manhattan campus lobby which will be named the Hiroko Nakamoto Pratt Manhattan Lobby from 2021 to 2036. Renovations are currently underway on Pratt Manhattan with the lobby an essential part of the building redesign. Acting as a bright and open gateway, the Hiroko Nakamoto Pratt Manhattan Lobby will welcome the Pratt community and visitors to classrooms, a new lecture hall, labs, and the Pratt Manhattan Gallery, which is now immediately accessible from the lobby after its relocation from the second to the ground floor. Projected for completion in spring 2021, the Pratt Manhattan renovations will facilitate learning for students in disciplines ranging from the School of Information and the Associate Degree Programs to Construction Management and the School of Continuing and Professional Studies.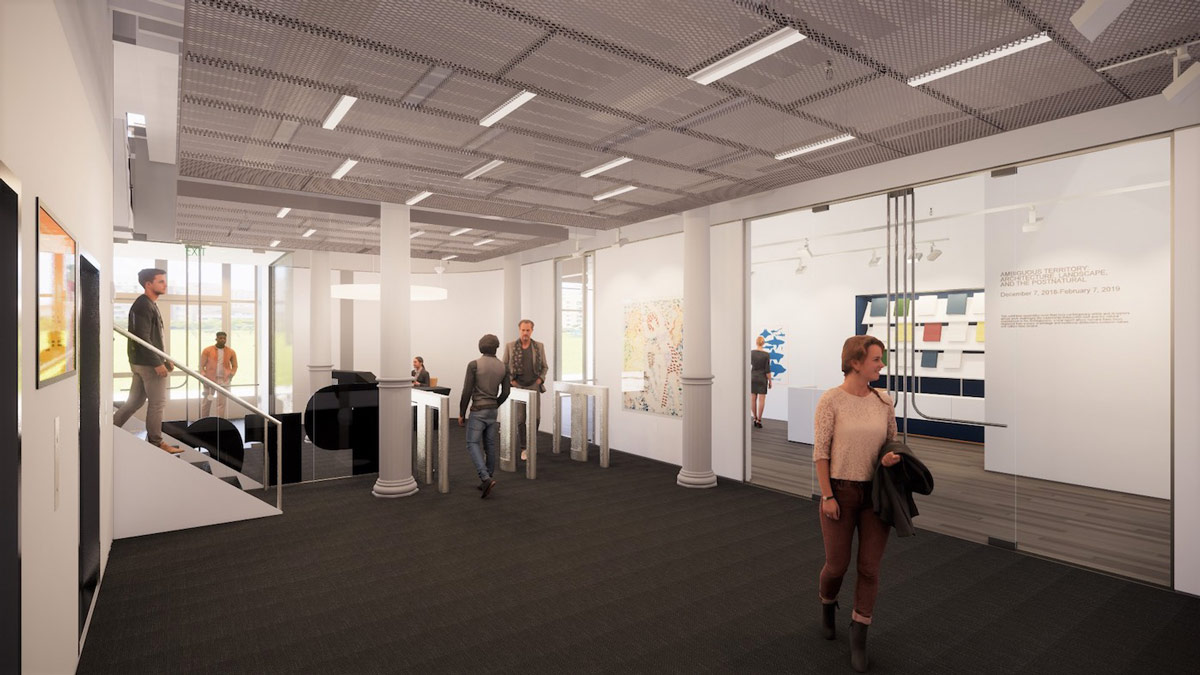 Nakamoto's support extends to the Brooklyn campus where the Arboriculture Fund will be named the Hiroko Nakamoto Arboriculture Fund in perpetuity. The Fund created through Nakamoto's support provides care for the campus trees, which include London plane, cherry, redbud, and other varieties all contributing to a canopy of shade and seasonal colors. With Nakamoto's support, the health and longevity of Pratt's 25-acre landscape of trees and its verdant gardens will be nurtured through regular maintenance, monitoring, and new plantings so they can be enjoyed by generations at Pratt as well as the extended Brooklyn community. While these trees beautify the campus lawns and walks, they also enhance local biodiversity and offer an educational resource as Pratt prepares for its inaugural class of architectural landscape graduate students in fall 2022.
Additionally, Nakamoto's support for the Interior Design Scholarship Fund—now named in perpetuity the Hiroko Nakamoto Interior Design Scholarship Fund—will provide renewable scholarships for one graduate student per year. These scholarships will be based on academic excellence and financial need and will support first-generation students and diverse talent that is often underrepresented in this field.
"The gift to Pratt is to express my gratitude for what I was taught not only at the Brooklyn campus but also outside the campus in practical training," Nakamoto said. "My Pratt education is at the root of all that I did in my professional life. Pratt prepared me for a position at B. Altman's at Fifth Avenue to learn merchandising. The other half of the practical training period was spent at William Stephenson, AIA's office in West Los Angeles who gave me a position immediately just because I had studied at Pratt. My professors at Pratt were doing their own work in the world and then coming to teach at Pratt and were always respectful and gracious, something I really appreciated."
Nakamoto's generosity to Pratt reflects a lifelong legacy of giving. As a child, Nakamoto survived the 1945 atomic bombing of Hiroshima as she walked on a narrow street in Zone No. 1—a mile from the impact site—by being blown into a house. She recounts this story in her book My Japan: 1930–1951 (1970) published by McGraw-Hill. Driven by her deep belief in the power of reflection, she founded the landmark Hiroshima Gateway to World Peace. The organization was created to establish a memorial complex for teaching and healing in the Japanese city featuring a tall, shining sculpture by Toshiharu Miki at the center of a green space. Located near the Hiroshima Railway Station beside the Enkoe River, the Gateway to World Peace includes ten glass panels containing words that express and reflect on our collective humanity and offers visitors a vision for a peaceful, compassionate future.
Nakamoto's current gift to Pratt thoughtfully echoes this dedication to shared moments of community with her emphasis on cultivating a harmonious campus with green space and trees as well as supporting the Pratt Manhattan Campus, located in the neighborhood where Nakamoto lived while a student at Pratt. Nakamoto believes that good fortune has followed her throughout her life and brought her to the Institute. Her previous support at Pratt includes the Hiroko Nakamoto Grand Walk project on the Brooklyn campus, including the Willoughby Public Safety Guard Booth, as well as Pratt Legends and the Ryerson Walk Renovation.
For more information on the impact of support at Pratt Institute, please contact Daphne Halpern, Vice President of Institutional Advancement, at 718.636.3448 or dhalpern@pratt.edu.