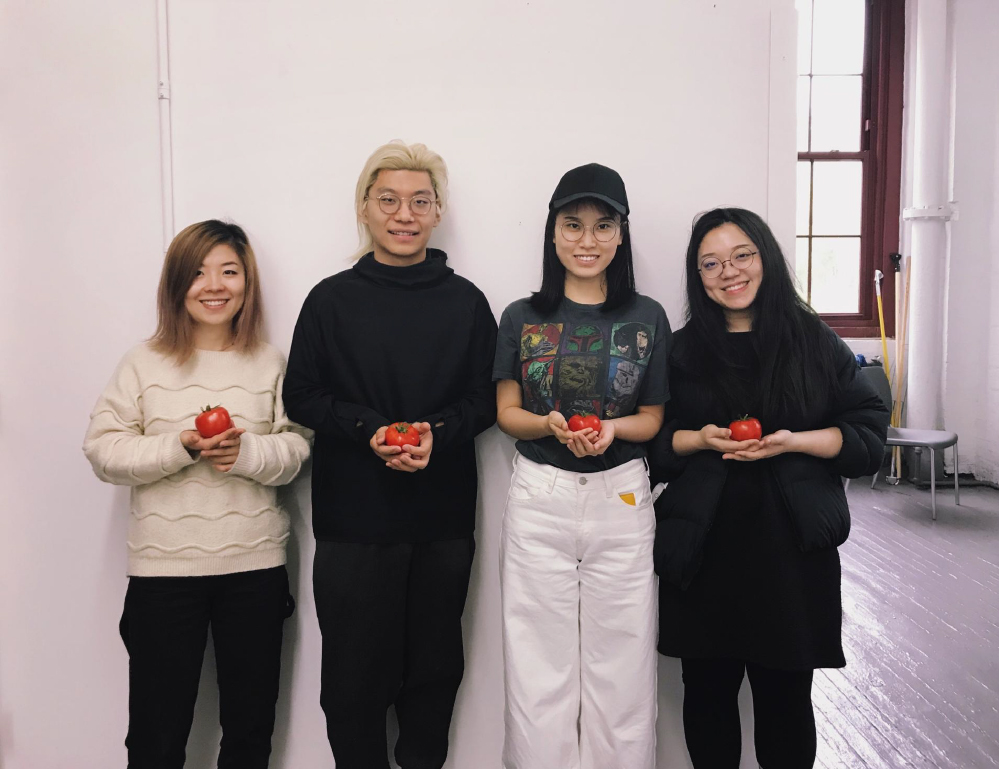 Could a solution to the international food waste crisis be in the respiratory system of a cricket or the ribs of a cactus? A team of Pratt Institute design students has been named as a finalist in the Biomimicry Global Design Challenge for a proposal to use these adaptations of the natural world to reduce the loss of perishable produce. The winners were selected from 100 teams representing 17 countries.
The team behind the project—called Tomato's Home—includes Xiaoke Li, MFA Interior Design '20; Jiajie Xu, BFA Fashion Design '21; Jiahan Yu, MFA Interior Design '19; and Fanjin Zhao, MFA Interior Design '21. The interdisciplinary group was part of a biomimicry design class led by Tetsu Ohara, Adjunct Associate Professor of Interior Design, who was also the faculty advisor on their project. Biomimicry is the process of emulating nature in design, such as Japan's bullet trains mimicking the streamlined beak of a kingfisher and burs from a burdock plant sparking the invention of Velcro.
"The problems we face today are already solved and long-tested by nature," Li said. "We just need to look at nature carefully and learn from it to cope with these problems."
The students designed a storage facility for tomatoes in the post-harvest stage of farming in Nigeria. Food waste is a global issue; the United States Department of Agriculture estimates that between 30 and 40 percent of the country's food supply is wasted. The students decided to focus on Nigeria's tomatoes because of the significant waste of this major food crop and the potential for design to improve the country's agricultural systems. According to PYXERA Global, Nigeria is the biggest tomato producer in sub-Saharan Africa and over 40 percent of its produce is annually lost post-harvest. This is due to several factors, including the difficulty for farmers in accessing markets, competition with imported produce, and harvesting and transit practices that expose tomatoes to direct sunlight in poorly ventilated, tightly packed containers. The result is that many tomatoes spoil before they have a chance to be sold.
"Tomatoes are Africa's most consumed fruit, eaten by millions of people across the continent," explained Zhao. "But more than 50 percent of tomatoes are wasted before they make it to the market due to spillage and degradation during handling, storage, and transportation between farms and distribution."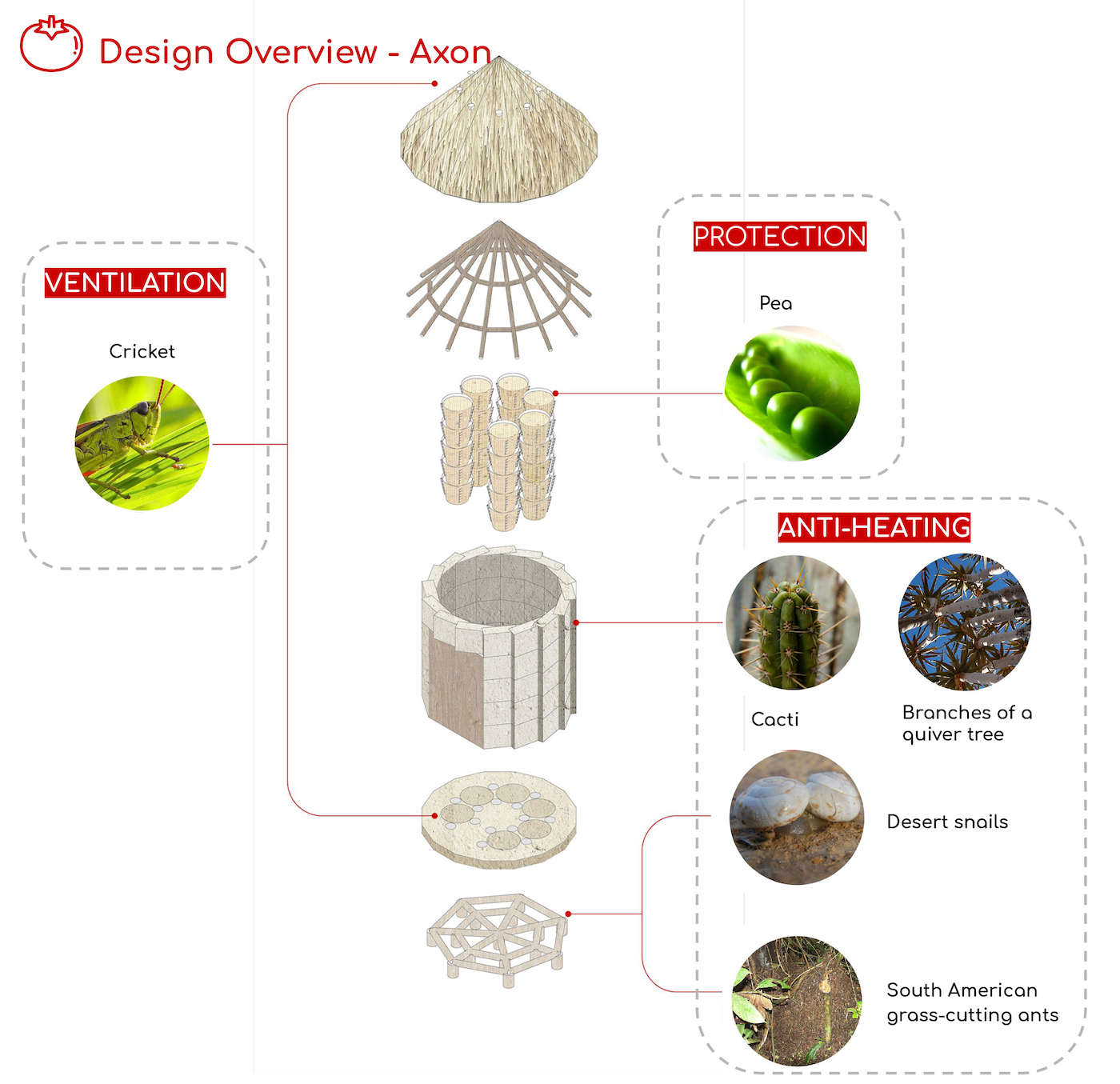 Tomato's Home was announced this June as the third place student team in the Biomimicry Global Design Challenge. The annual competition, hosted by nonprofit Biomimicry Institute in partnership with the Ray C. Anderson Foundation, is for designs inspired by nature addressing global issues. The theme of the 2019 challenge was climate change, with plastic pollution in the oceans and food waste as optional prompts. The Pratt team was advanced, along with other finalists, to the 2019-20 Biomimicry Launchpad, an accelerator program for early-stage entrepreneurs to prototype nature-influenced design solutions.
Tomato's Home is imagined for small farms in Kano, Nigeria, a major center for tomato agriculture. The storage system is energy-efficient, sustainable, and significantly reduces waste. Its eco-friendly design incorporates readily available local materials for an easy-to-build structure and containers that prolong the freshness of tomatoes by five to six days. Each component is inspired by a phenomenon in nature.
The façade of the storage structure involves clay bricks in a rib shape like the form of a cactus, the undulating design causing turbulence in the surrounding airflow to lower the interior temperature. A layer of white powder, inspired by the branches of quiver trees, reflects sunlight to further lessen heating, while inside the ventilation is similar to a cricket's respiratory system. Tomato's Home has a one-way airflow system—akin to how a cricket breathes using the opening and closing of its abdominal pores to expand and contract its abdomen—with cool air pulled in through bottom vents and the air pressure pushing open the top vents to let out hot air.

The floor of the structure has layers of thatch—a covering made from reeds or grass—to create a cushion of air, much like the shell of a desert snail. Meanwhile, the storage units gently hold the tomatoes inside layers of loofah like peas in a pod, with an exterior of woven teak protecting the delicate produce.
"Our design materials are all local; it doesn't require any electricity or extra energy to maintain," Li said. "The final product involves local aesthetics and can be made easily by local craftsmen. So, it is an economically-friendly, environmentally-friendly, and user-friendly design which could be easily adopted in other parts of the world."
Agricultural waste has major impacts on food access, labor, and the economy. By looking to nature for ideas, designers like the Pratt students can partner with farmers to reduce these losses and contribute to better systems for sustainable foodways.
Images: The Tomato's Home team; Design overview of Tomato's Home; Building a prototype of the Tomato's Home storage baskets