Acclaimed illustrator and Pratt Institute alumnus Kadir Nelson will speak at 7 p.m. on Wednesday, September 21, 2011, in Higgins Hall Auditorium on Pratt's Brooklyn Campus at 61 St. James Place. The event, which is being presented by Pratt's undergraduate communications design department, is free and open to the public, however, seating priority will be given to Pratt students and faculty members with valid ID at 6:30 p.m. Members of the public will be admitted at 6:50 p.m. if seating is available.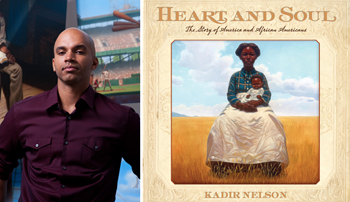 Nelson will speak about his latest work, a book titled "Heart and Soul: The Story of America and African Americans" (HarperCollins, 2011), which provides an introduction to the history of America and African Americans and tells the story of the men, women, and children who toiled in the hot sun, picking cotton for their masters; the America ripped in two by the Jim Crow Laws; and the brothers and sisters of all colors who rallied against those who would dare bar a child from an education. Touching on some of the great transformative events and small victories of American history, the book demonstrates that in gaining their freedom and equal rights, African Americans helped the United States to achieve its promise of liberty and justice.
Nelson is an award-winning American artist whose works have been exhibited in major national and international publications, institutions, art galleries, and museums. Nelson earned a bachelor's degree from Pratt and has since created paintings for a host of distinguished clients including Sports Illustrated, The Coca-Cola Company, The United States Postal Service, Major League Baseball, and Dreamworks SKG, where he worked as a visual development artist creating concept artwork for feature films, "Amistad,"and "Spirit: Stallion of the Cimarron."
Many of Nelson's paintings are in the collections of notable institutions and public collections, including the U.S. House of Representatives and the National Baseball Hall of Fame, as well as in the private collections of actors, professional athletes, and musicians. Nelson has also gained acclaim for the artwork he has contributed to several New York Times best-selling picture books including his authorial debut, "We Are the Ship: The Story of Negro League Baseball"(Hyperion Book CH, 2008), which was recognized withCoretta Scott King and Robert F. Sibert Awards. Nelson's cover artwork is featured on the album "MICHAEL," by the late pop singer icon Michael Jackson, Jackson's first posthumous album release.
Please visit www.kadirnelson.com for more.
Acclaimed illustrator and Pratt Institute alumnus Kadir Nelson and his latest work, a book titled Heart and Soul: The Story of America and African Americans (HarperCollins, 2011). Photo Credits: David Harrison and HarperCollins.