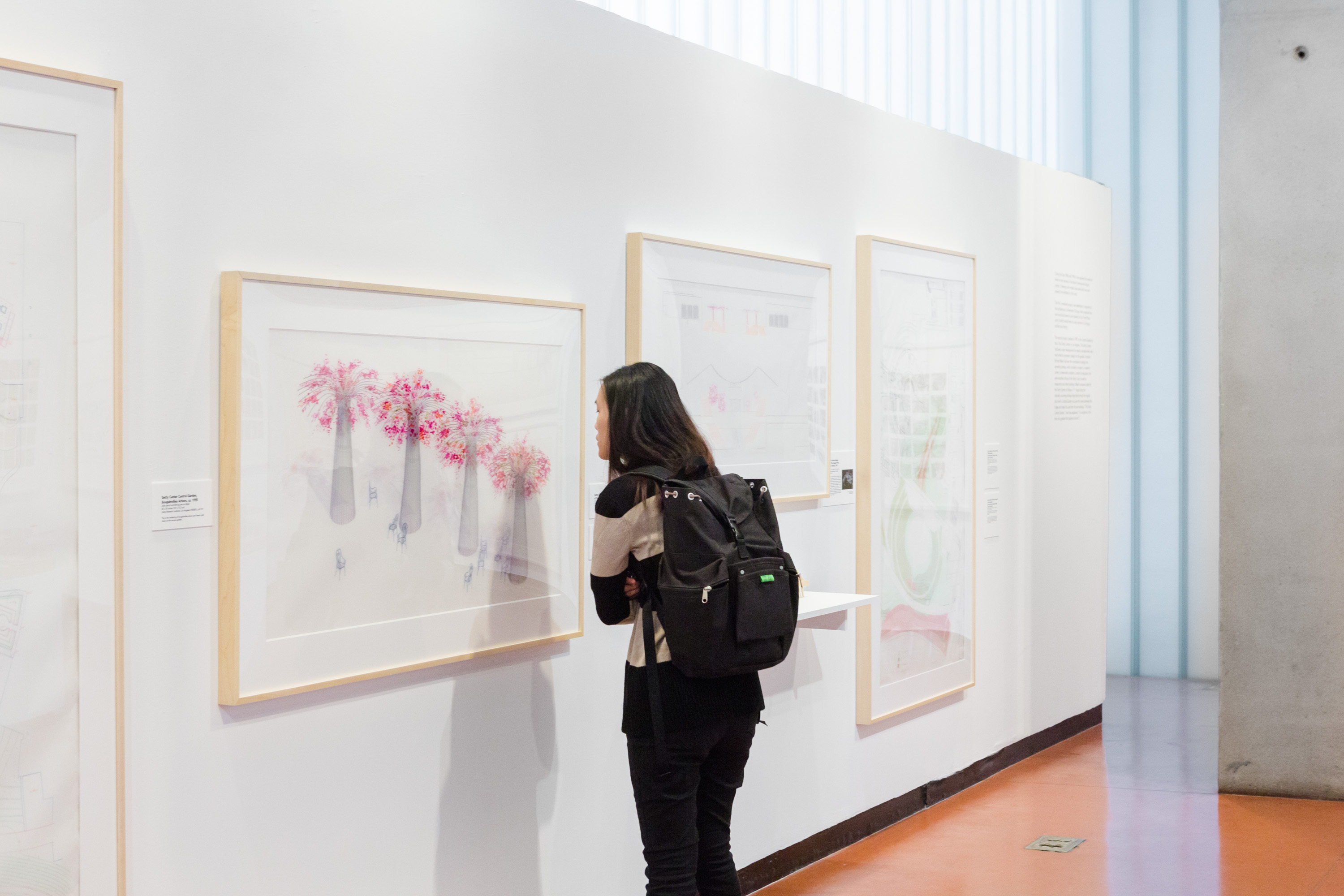 A rare exhibition featuring architectural drawings and models by celebrated artist Robert Irwin has come to Pratt's School of Architecture this fall, where it is attracting a wide range of visitors.
When Robert Irwin: Site Determined opened last year at the University Art Museum, California State University, Long Beach, it was the first museum exhibition dedicated to the creative process of one of the most significant American artists of the postwar generation. Now it has come to the East Coast for the first time, including a new work by Irwin, Belmont Shore, never shown before publicly.
"Robert Irwin is one of the most important contemporary artists to break through all of the disciplinary boundaries of painting, sculpture, and architecture by creating a new and unprecedented area of artistic research into the experience of light, space and site," said School of Architecture Dean Thomas Hanrahan. "In creating this trans-disciplinary territory, Irwin has transformed the ways in which all artists and designers now see and experience the spaces and places we inhabit and design. As Irwin has often said, beauty is all around us if we choose to recognize it and articulate it, and this is an important and timeless idea for all contemporary artists and designers."
Spanning four decades of Irwin's career, Robert Irwin: Site Determined highlights multiple projects—both built and unrealized—throughout the United States, including the Central Garden at the J. Paul Getty Center in Los Angeles and an Arts Enrichment Master Plan proposed for the Miami International Airport in the 1980's.
An entire room is devoted to Untitled (dawn to dusk), a reconstruction of a military hospital in Marfa, Texas. Tracing the development of Irwin's response to the site over 15 years, the drawings and models on display for Untitled (dawn to dusk) can be experienced as something of a case study, offering students and others the opportunity to gain insights into Irwin's approach by exploring a single project from early iterations to its final conception.
Robert Irwin: Site Determined opened on September 6 with a cross-disciplinary panel discussion in Higgins Hall featuring Agnieszka Kurant, artist; Ann Reynolds, professor, University of Texas at Austin; and Frida Escobedo, artist and architect; and moderated by Sanford Kwinter, Professor of Architecture at Pratt. The panelists discussed Irwin's tremendously influential work, and ways in which he has inspired or affected them in their own practice.
The exhibition has been covered by a range of media outlets, including Metropolis and World-Architects; and spotlighted in a number of publications, including being named an Editor's Pick by ArtNet News and Galerie Magazine.
Robert Irwin: Site Determined will be on view through November 28 in the Hazel and Robert H. Siegel Gallery, Higgins Hall, on the Brooklyn campus. Learn more about the exhibition and gallery hours.