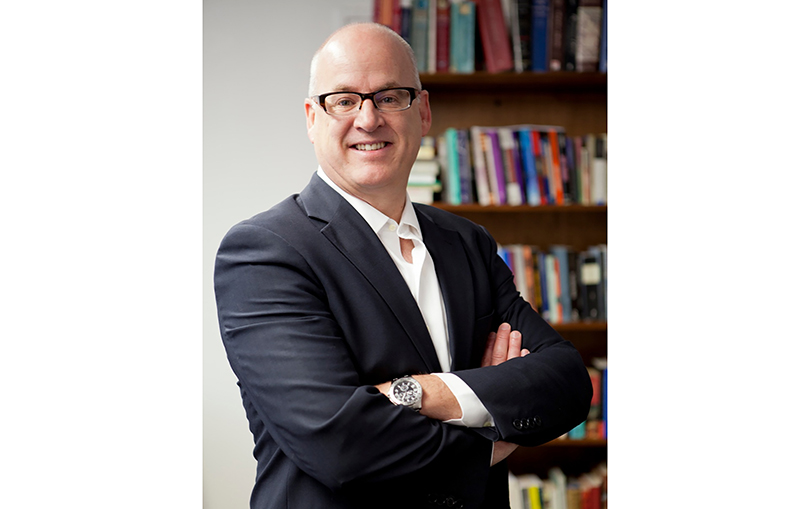 When Andrew W. Barnes was appointed Dean of Pratt Institute's School of Liberal Arts and Sciences (SLAS) in July 2011, he was inspired by its interdisciplinary spirit and its capacity for an enhanced presence on campus.
"I was attracted to the idea of a liberal arts school inside an art and design institute," Barnes said. "I saw in SLAS the tremendous amount of untapped potential."
Throughout his tenure, which ends at the conclusion of the 2018-19 academic year, Barnes spurred the expansion of SLAS's unique and competitive programs. This included several new degree programs across its five departments. Each innovatively approaches its respective field, with a shared concentration on social justice, interdisciplinary investigation, and the role of liberal arts in today's society. The master in media studies, started in fall 2013, was the first master of arts offered in SLAS's history. The master of fine arts in writing, launched in 2014, engages in the discipline's philosophical, cultural, and political context. The program is unique in the way it foregrounds social justice, and for its requirement that students engage their local, regional, or global communities. This emphasis on writing practice and community is also informing the revision of the undergraduate program, especially as the two degrees came to form the new department of writing in 2017.
The master of fine arts in performance and performance studies established in the fall of 2016 emphasizes both theory and practice. While most performance programs in the country privilege either theory or praxis, this program requires students to master both elements. In addition to creating this degree program, Barnes also brought the avant-garde performance institution Franklin Furnace to Pratt, including its digital and material archive. This archive is a major resource across disciplines, from the History of Art and Design to Media Studies to the School of Information.
"The SLAS faculty, department chairs, and Dean Barnes have been quite innovative with new program development in recent years," said Pratt Provost Kirk E. Pillow, "which has positioned SLAS as one of the most substantive liberal arts divisions at our peer art and design schools around the country."
These programs were strengthened by Barnes's bolstering of interdisciplinary dialogue on campus. Through his oversight of the BFA Writer-in-Residence, SLAS Scholar-in-Residence, and the Leslie Scalapino Lecture series, Barnes brought leading cultural figures like Kara Walker, Jacqueline Woodson, Laura Mulvey, Erica Hunt, and Hilton Als to Pratt. Additionally, his support and involvement in the STEAMplant, a research and social practice center overseen by SLAS which encourages interaction among science, technology, engineering, mathematics, and art, generated new platforms for collaboration. Complementing these initiatives, Barnes also considered how to improve representation in the campus community.
"I wanted to diversify the faculty, staff, and students, which I did through program development and faculty hires," Barnes stated.
Alongside these academic accomplishments, Barnes had a focus on social justice and its integration into the curriculum. For instance, he helped create the Global South Center, a humanities- and social science-based hub for faculty and students that focuses on research and its intersection with art practices in order to explore how the global south and transnational south-south relations, networks, and migrations impact the United States and beyond.
Long before he was Dean, Barnes's intellectual curiosity led him on an academic path that would harmonize with the interdisciplinary ethos at Pratt. He received a bachelor's degree in accounting from the University of Indianapolis in 1986, followed by a master's degree in humanities and social thought from New York University in 1997, and a doctorate in English language and literature from SUNY Stony Brook in 2002. While Dean of SLAS, he earned a master of fine art in creative writing from Bennington College in 2017. After years as a literary scholar, he's now concentrated on creative nonfiction. In 2018, Bucknell University Press—in collaboration with Rutgers University Press—published his book The Dark Eclipse: Reflections on Suicide and Absence, which Lambda Literary Review called "a lyric noir of family instability, personal revelation, and queer inheritance both genealogical and literary."
Following his departure as Dean, he will take a yearlong sabbatical to work on another book, tentatively titled My Father's Body, a book of reconciliation about fathers and gay sons and the possibility of reconciling their differences through the body and those genetic traits that connect them. He intends to return as a tenured professor in the writing department.