In celebration of The Black Alumni of Pratt's 30th anniversary, Pratt's news page is featuring several stories from this milestone year highlighting BAP's history, leadership, programs, and work with students and alumni. The first story in this series chronicled three decades of success advancing academic and professional opportunity and the second article looked at BAP's scholarships through the stories of five alumni. This third article spotlights the work of the 2021 Black Alumni of Pratt (BAP) PreCollege Summer Program Scholars.
In the three decades since it was established, The Black Alumni of Pratt (BAP) has actively supported the next generation of creative thinkers through programs and scholarships. The PreCollege Summer Program Scholarships are among these important initiatives, with the annual full scholarships funded by the BAP Endowed Fund awarded to Black and Latinx New York-area high school students based on the strength of their portfolios.
Jada Kiara Ducran, Nakia Fofana, Adriana Gambini, and Samantha Mae Nobles were this year's 2021 BAP PreCollege Summer Scholars. They joined over 200 high school students from 19 different countries in a rigorous virtual academic experience led by creative professionals. The annual PreCollege program invites emerging artists, designers, architects, writers, and more to get hands-on experience with college-level coursework. Ordinarily held on Pratt Institute's Brooklyn campus, PreCollege was held online for the second time due to the pandemic. Even with the shift, this year's PreCollege expanded its offerings through the addition of classes in 2D animation and film/video, both areas which engaged several of the BAP Scholars.
Ducran, for instance, has been interested in animation since middle school and she is now considering it as a future career. "I don't think there is any part of my life that doesn't in some way connect back to my art," she said. "It's the reason I have some of my closest friends, it inspires me to work harder in school." PreCollege was the first formal creative education Ducran had received and was an opportunity to try out animating her work for the first time as well as enrich her sketching skills.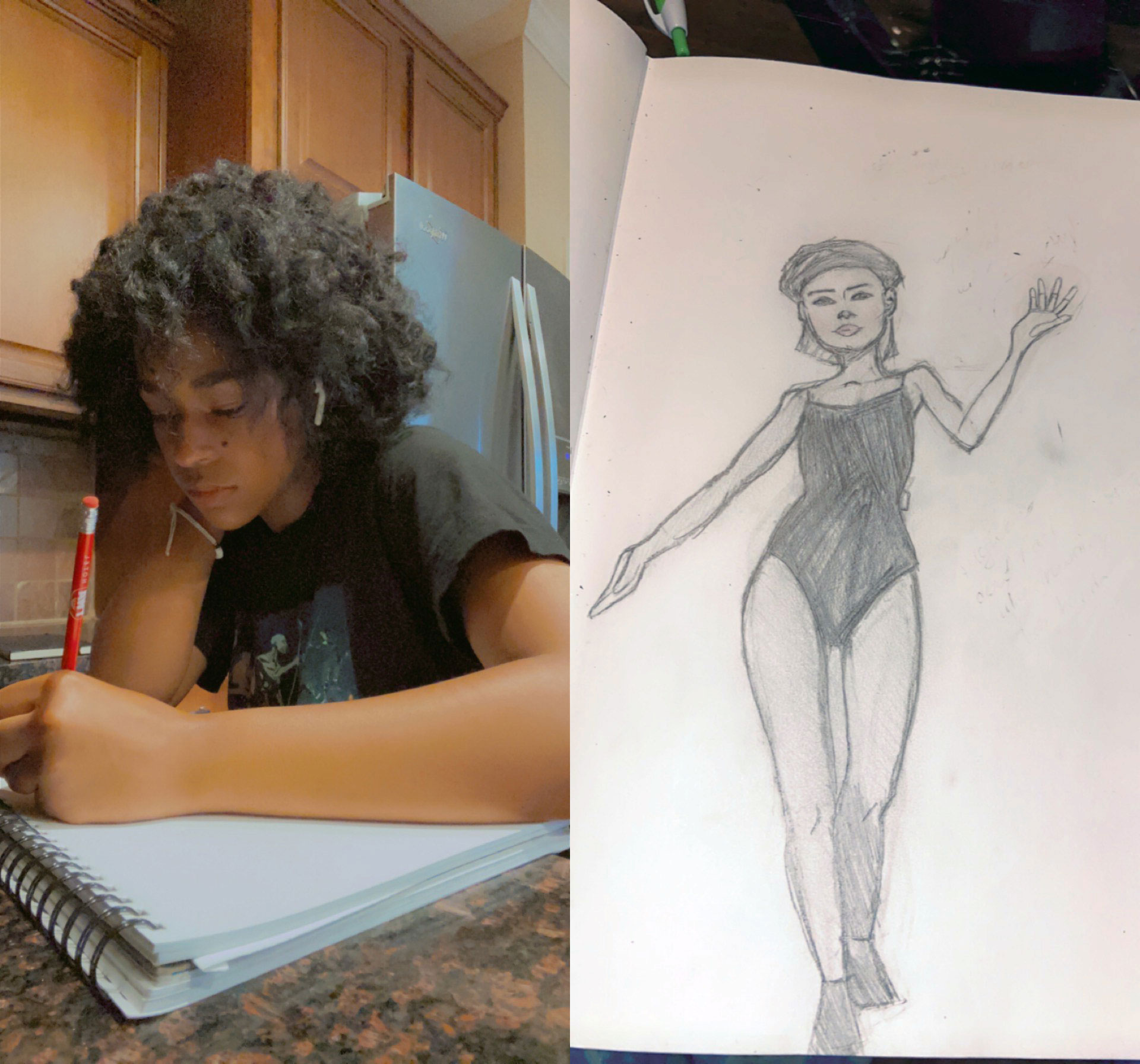 Ducran is now building a portfolio to submit to art colleges. "I realized that pursuing a future in art would be possible for me," Ducran said of receiving the BAP Scholarship for her studies at PreCollege. "I see myself offering the same kind of support to others in the future by encouraging them to take risks and put their art out for others to see. They'd never know what can happen unless they tried."
Through the BAP Scholarship, Adriana Gambini also had her first opportunity to formally study animation. Along with learning more about the industry and the various elements that go into animation, from storyboards to good character design, she deepened her connection to the world through art. "Since art is all about highlighting the interesting parts of a certain person, place, or thing, I've begun to notice the smallest details about something I usually wouldn't think twice about," she said. "For example, if I were on the train and I saw two people interacting, I would ask myself 'If I were to draw this, what would I want to capture for the viewer?' It makes my life more interesting."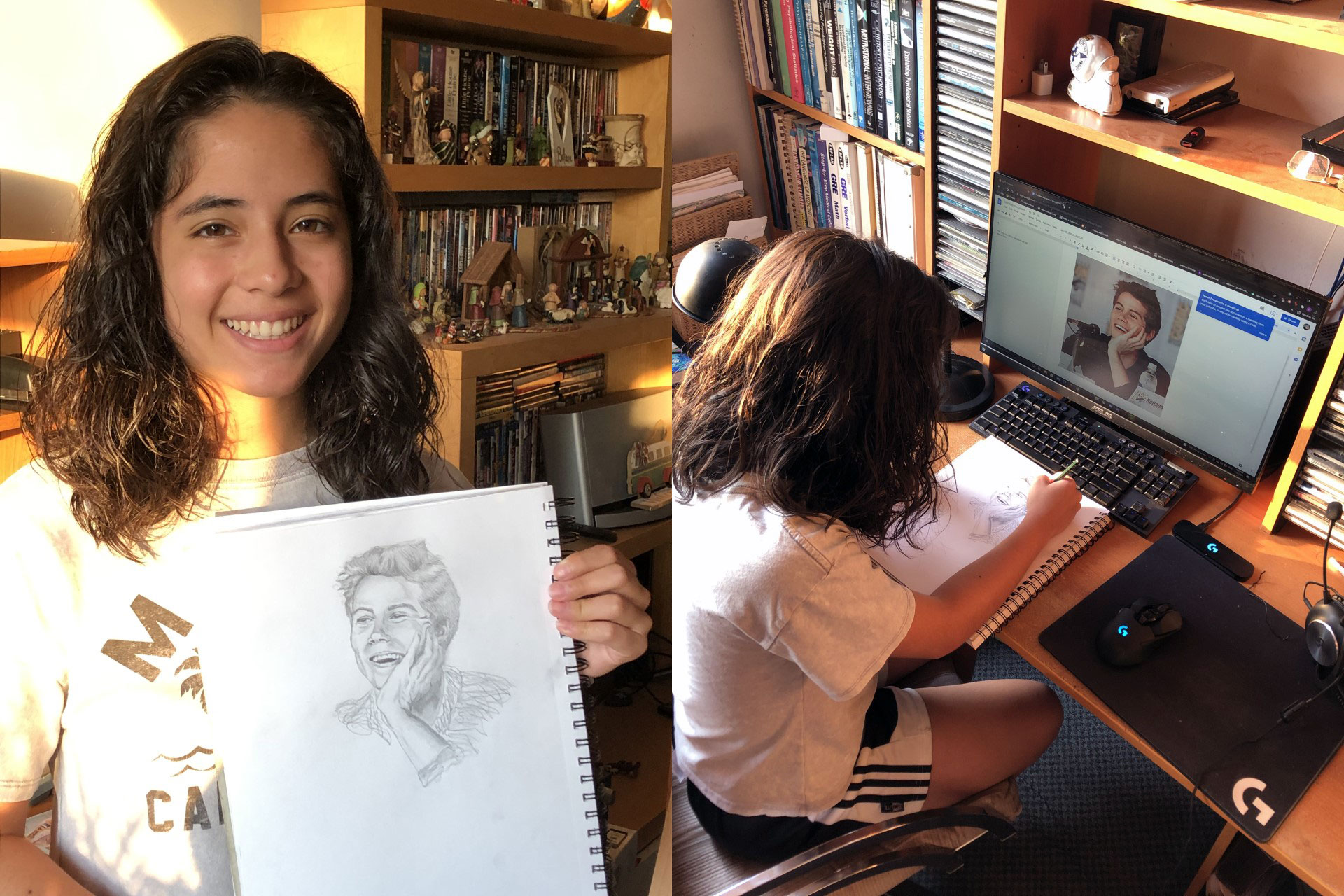 The freedom of experimentation in the PreCollege assignments and now her work on her portfolio for college applications have strengthened her creative interests. "It never occurred to me that art and storytelling can be a career," Gambini said. "The realization made me want to draw my own characters and tell my own stories. I had convinced myself that it was too late to change career paths especially since I wasn't an experienced artist. The pandemic gave me a lot of time to reflect on what I would want as a career if I wasn't scared of anything. I decided I would take time off after high school to improve my art and apply to art schools."
For Samantha Mae Nobles, PreCollege was similarly a chance to nurture her creativity through college-level courses and learn about new artistic styles and media. "I was introduced to art by my mother," she said. "My grandmother supported my aspirations by giving me a paint set every Christmas. I realized that art helped me express things that I couldn't or didn't want to verbally."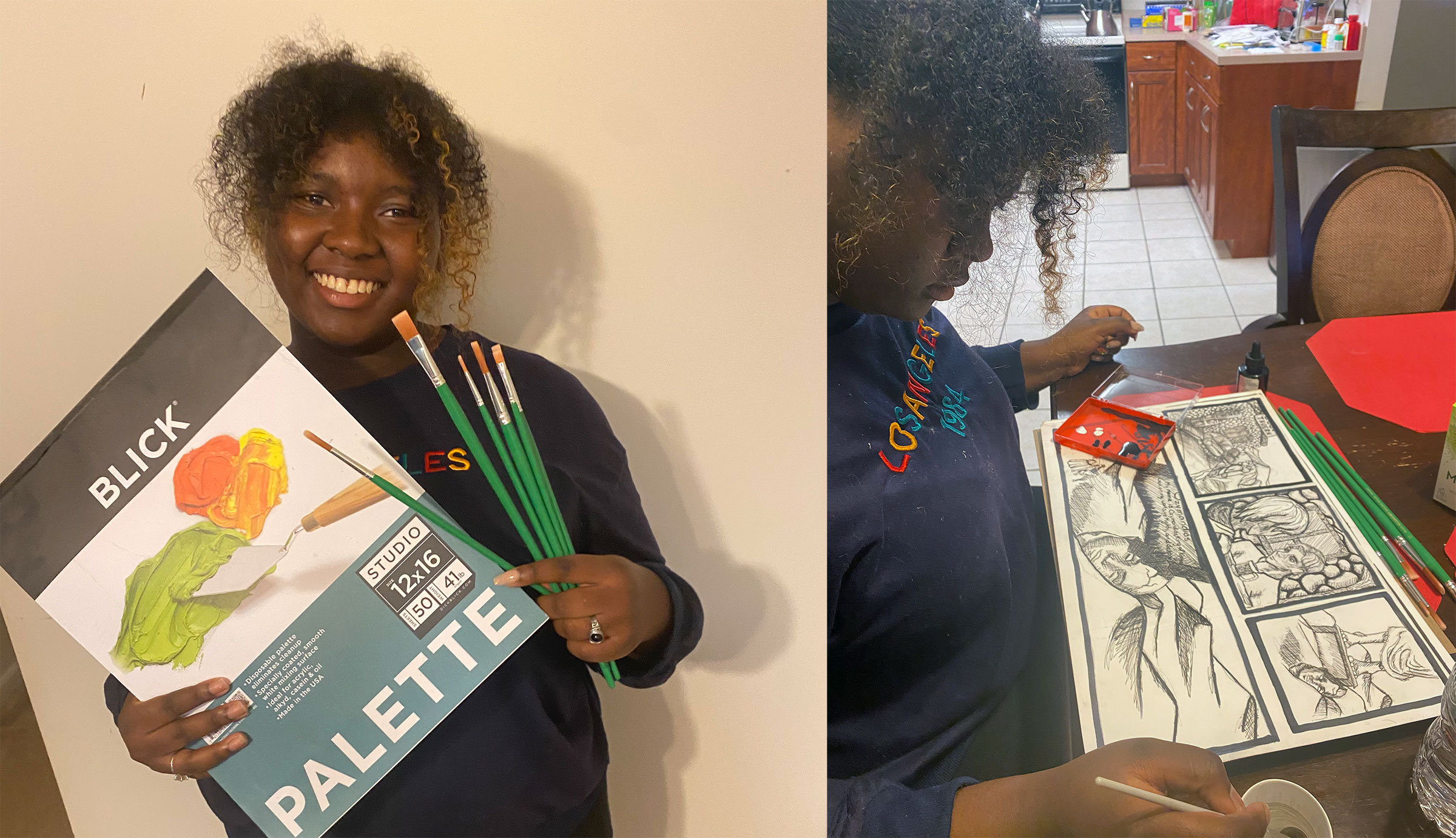 Nobles said that although her PreCollege courses were virtual, they felt immersive and welcoming. "Not only did I learn different ways of painting like abstraction and cubism, I got to experiment with these techniques," she said. "I was challenged, intrigued, and admired the way that my teachers taught me so much in a short period of time." She also explored a medium that was completely new to her: comics. "This class helped me in story-building and how to convey important information in a certain amount of frames," she said. "I plan on doing a lot more regarding comics."
Nakia Fofana studied filmmaking at PreCollege and was excited to find new ways to tell her stories. "Instead of being unmotivated and insecure about my work, I was bursting with energy and new ideas," she said. "There was always more work to do and ways that I could go further with my ideas, which was refreshing to feel."

Fofana plans on studying film in college so she can develop her skills and collaborate with like-minded creators. "I am inspired by the environment that surrounds me," she said. "I was born and raised in New York City and I enjoy people watching and observing the little things about others. It pushes me towards the slice of life aesthetic that focuses on telling real and raw stories of people."
Having experienced virtual learning in PreCollege and high school, each of the students has adapted their creative practices to new challenges while pushing their passions to new heights, something which BAP fosters for emerging artists throughout their studies.
"To be involved with a legacy like BAP is such an honor," Fofana said. "I feel like people must remember that paying it forward is equally, if not more, important than breaking those glass ceilings in the first place. I want to provide that same opportunity BAP gave to me to another young Black creative that has so many fresh ideas that would be of great benefit to the artistic world."
Visit The Black Alumni of Pratt on Pratt's website to learn more or to make a donation and read the previous stories on the Pratt.edu news page for more on BAP's 30th anniversary. Spotlights celebrating BAP history, scholars, and alumni have been posted on Pratt social media throughout The Black Alumni of Pratt's 30th anniversary year. Follow BAP on Instagram, Facebook, and Twitter.