This July, the 2020 Black Alumni of Pratt (BAP) PreCollege Summer Program Scholars joined high school students from around the world in learning from creative professionals. The annual program ordinarily takes place on Pratt Institute's Brooklyn campus and this year shifted online due to the pandemic to offer classes in art, design, architecture, creative writing, and other disciplines. Although the format changed for 2020, PreCollege maintained its rigorous academic experience through college-level coursework.
Jordan Anderson, Carissa Blackwell, and Danna Garcia Moreno were this year's BAP Scholars. They are all rising seniors from New York area high schools and were selected based on the strength of their portfolios for BAP's annual full scholarships for PreCollege for Black and Latinx students. These scholarships were started 28 years ago and are funded by contributions from donors to The Black Alumni of Pratt Endowed Fund. Many of the previous BAP Scholars have gone on to attend Pratt or other art and design colleges.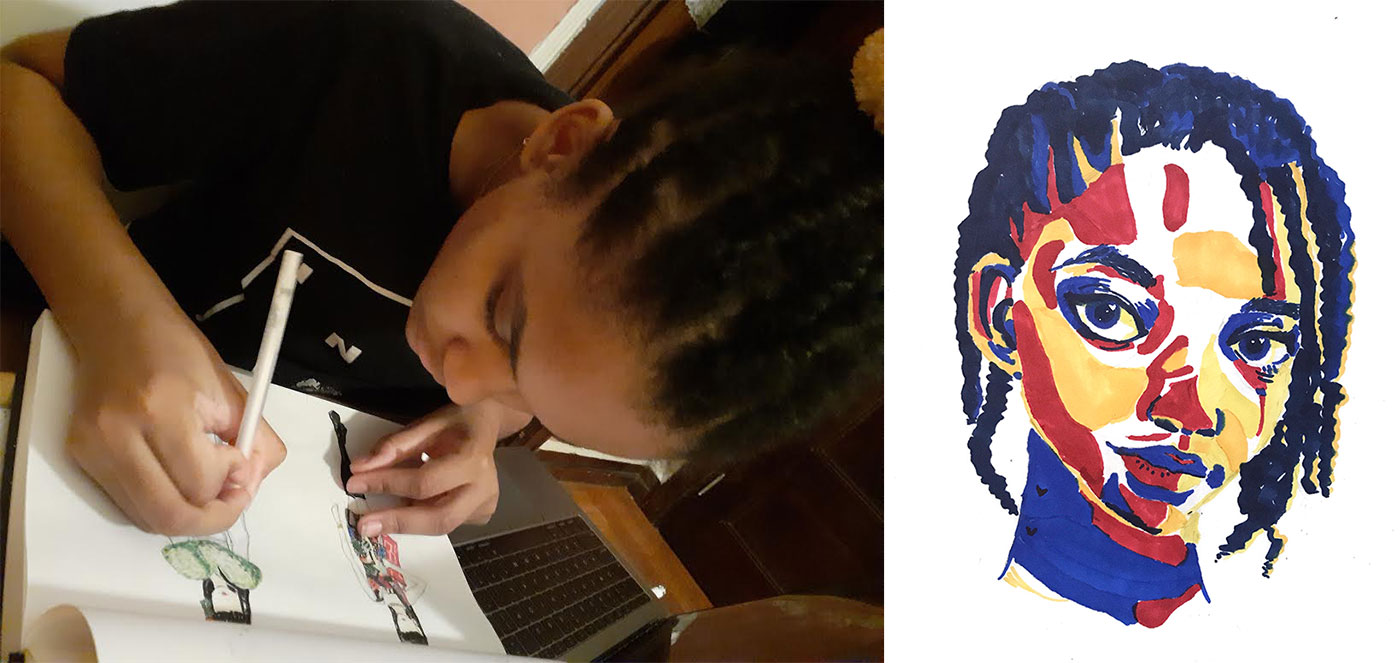 Ahead of this year's program, the BAP Scholars shared the creative interests that brought them to PreCollege. Jordan Anderson, who explored fashion design and portfolio development, also plays the cello and is interested in the potential links between disciplines. "I think that both performing and visual arts can be used to express and annunciate the feelings and ideas of the artist," she said. "Whether I'm engaging in cello playing or fashion design, I'm able to give a piece of myself to the audience."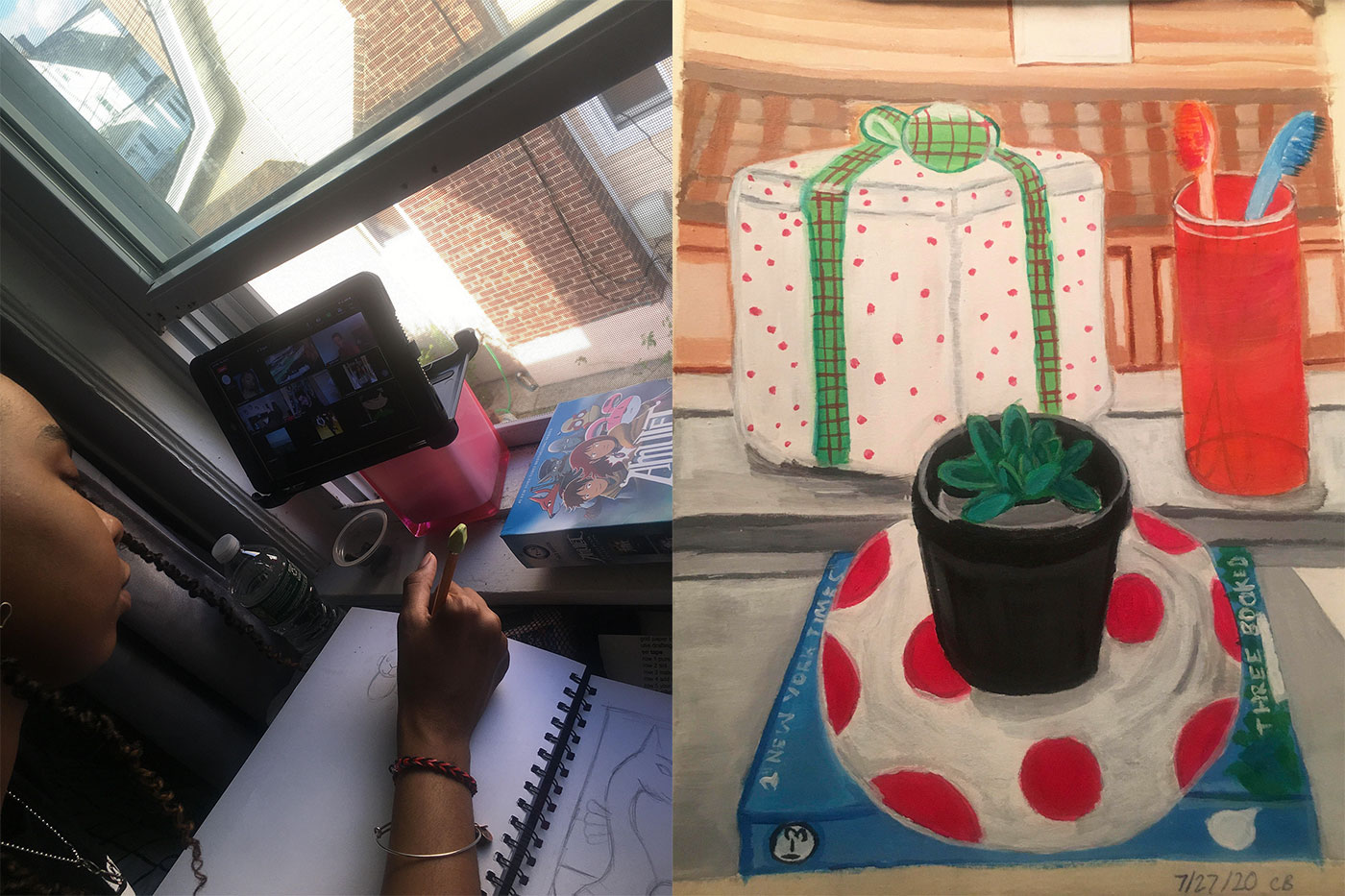 Carissa Blackwell, who concentrated on painting and drawing, is likewise considering a range of media for art. "Other than painting and sketching, I enjoy sculpting people or even figures," she said. "Because not only am I able to create my own vision in a 3D form, sculpting connects to my interest in being creatively versatile in many art forms."
Danna Garcia Moreno, who had a PreCollege focus on painting and drawing, was eager to devote a month to her artistic practice. "I could spend hours upon hours on a painting and not even notice time go by," she said. "It's a really great hobby that both helps my creativity and soothes any stress. Even if it's a class assignment, painting never feels like work to me."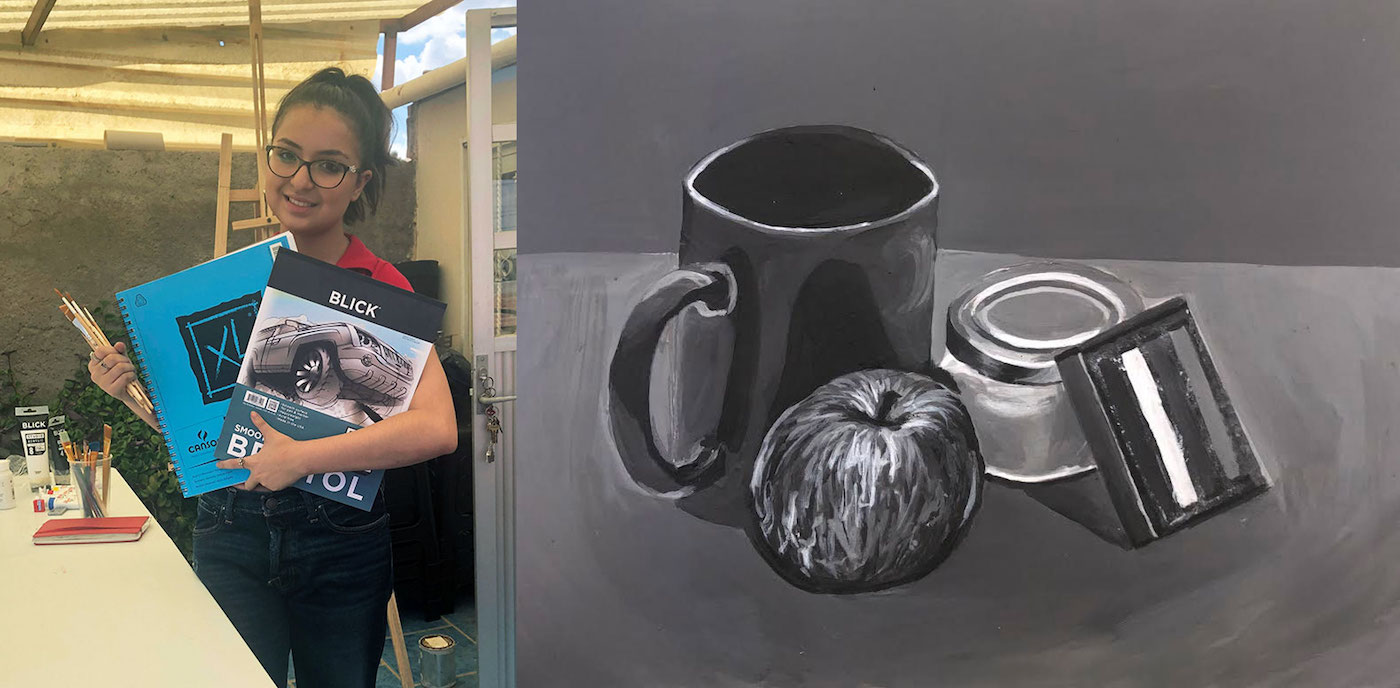 During the four weeks of PreCollege, the BAP Instagram followed the Scholars' progress in their courses held on Zoom as well as their participation in virtual tours of Pratt's campus and local cultural institutions including the Metropolitan Museum of Art and the Museum of Modern Art (MoMA). Their final assignments were also adapted to a virtual platform; for instance, Anderson sketched a small collection presented via screen share for her Explore Fashion Design course taught by Professor of Fashion Adrienne Jones.
"What I love about teaching in the PreCollege program is the connection I make with the students," Jones said. "They are so excited about learning about fashion and the fashion industry, which also excites and fuels me. There is so much that I want to teach them and show them—we never seem to have enough time."
Melanie Kozol-Carney, visiting associate professor of interior design, taught Explore Painting and Drawing and explained that while virtual teaching had its challenges, there were many opportunities for the students to learn from each other and share their work as a group. "I look forward to my summers with the PreCollege students at Pratt," she said. "They are at the beginning of their artistic journey, so this is a very exciting time in their lives."
PreCollege is focused on giving young artists and creatives the space to push boundaries and learn new skills as well as meet like-minded students, which was no different this year. "Virtual classes certainly make things interesting," said Shauna Burke, visiting assistant professor of fine arts, who taught Portfolio Development. "I tried to create a connection by allowing time for personal reflection, telling anecdotes, and asking students to comment on projects during class."
As these students enter a fall semester of high school or their first year of college where much of teaching may be virtual, these experiences making connections in an online classroom will be especially valuable in staying motivated with their creative passions.