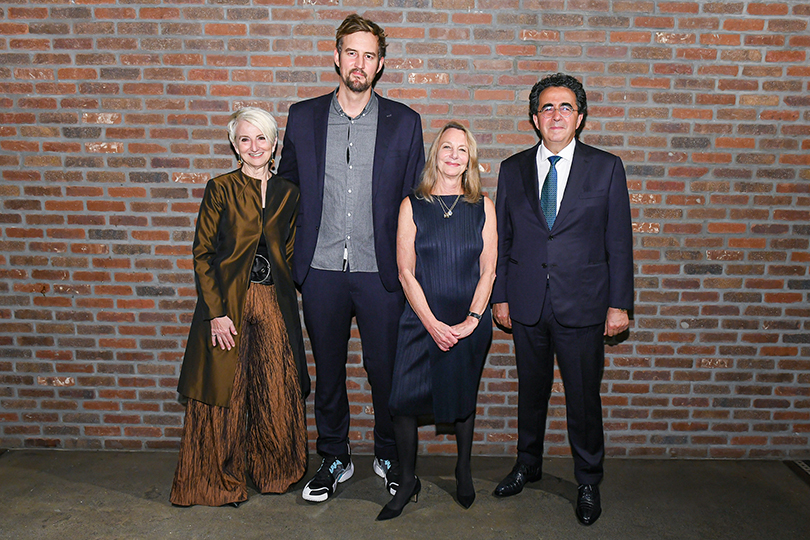 On Thursday, October 3, Pratt Institute's Legends 2019 was held at Weylin, the event space in the historic Williamsburgh Savings Bank in Williamsburg, Brooklyn. This year's honorees were architect, engineer, and artist Santiago Calatrava; Miguel McKelvey, Co-Founder and Chief Culture Officer of the We Company; and Paula Scher, graphic designer and Partner at Pentagram.
The annual gala benefits the Legends scholarship endowment which provides vital support to Pratt students based on need and merit. Approximately 80 percent of Pratt students receive financial aid to pursue their education. Honorees selected for the Legends awards are distinguished leaders and creative icons whose dedication to work and drive embody what Pratt seeks to instill in its students.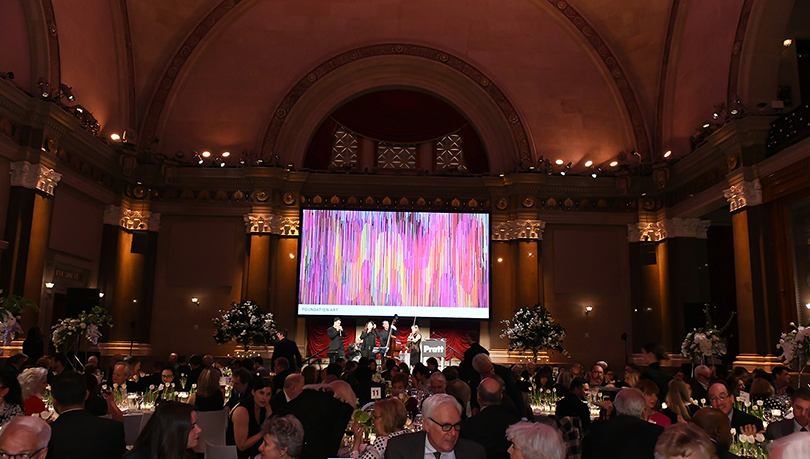 Following a cocktail reception, Pratt Board of Trustees Chair Bruce Gitlin welcomed guests into the domed hall of the former bank building and expressed the importance of the event. "Legends is Pratt Institute's single largest scholarship fundraiser," he said. "The scholarships made possible by your generosity tonight will allow Pratt students to accomplish great things, both within the Institute and out in the larger world."
He then introduced Pratt Institute President Frances Bronet who emphasized the value of making a Pratt education accessible to students through scholarships. "We cannot anticipate what the career landscape of the future will look like," she said. "The people who will be best prepared to navigate this unknown terrain and to shape it are those who are adaptive, resourceful, deeply skilled, willing to take risks, partner well, and be bold. At Pratt, we prepare our students to be those individuals."
The 2019 Legends Student Speaker Evalina Sundbye, BFA Photography '20, then described her own experience at Pratt. "Scholarship donations have the positive and transformative power to alter the course of an entire life," she said, adding that her time on campus led her to find confidence in her artistic voice as well as a community of like-minded creators. "My classmates tackle topics ranging from climate change to virtual reality, New York to sexual assault, religion to AIDS, performance art to black history. The list goes on and on, a list that continues to amaze me."
Eli Rodriguez, Vice President and Chief of Staff at Sotheby's, then hosted a call-to-action in which audience members pledged scholarship donations.
The awards, designed by Stacey Chen, BID '20, working with faculty advisor Alvaro Uribe, BID '10 and Adjunct Associate Professor of Industrial Design, were then brought to the stage. Fabrication of the sculptural metal objects, their design a take on an infinity sign inspired by spirals and asymmetrical forms in nature, was showcased in a film by Grace Zhang, BFA Film '20.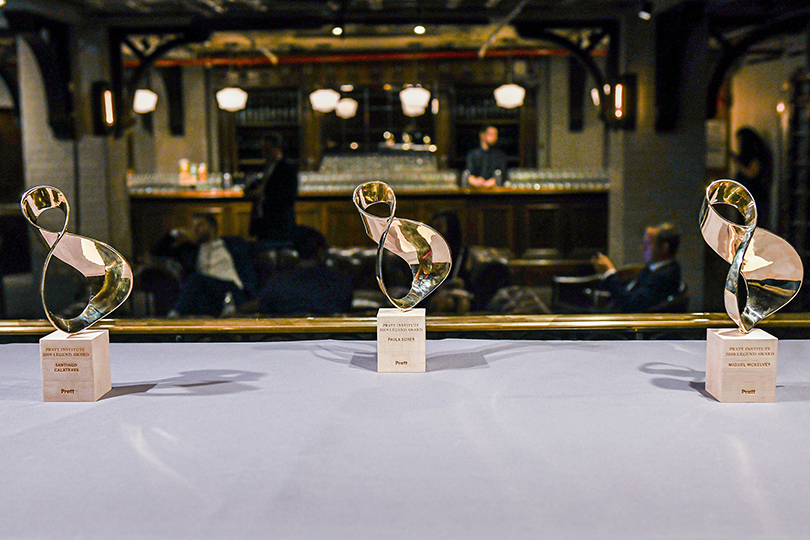 Justin Davidson, New York Magazine's classical music and architecture critic, presented the 2019 Legend Award to Santiago Calatrava. The architect's celebrated designs include the expansion of the Milwaukee Art Museum and the World Trade Center Transportation Hub in New York. In 2012, he received an honorary doctorate from Pratt and his monumental sculpture "S7" is installed on the Brooklyn campus. "One of the forces of architecture is to transmit positive messages to other people," he said. He recalled the first time he came to Pratt to give a talk and was struck by the work of the students. "I thought, what a wonderful place it is to experience this desire to dignify technique by raising it up into art."
Michel Rojkind, founder of Rojkind Arquitectos, presented the 2019 Legend Award to Miguel McKelvey. The entrepreneur's start-ups include the We Company where he is the Co-Founder and Chief Culture Officer. "I feel a great obligation to try to bring design, bring great spaces, bring the opportunity for humanity to bloom, for connection to be possible, for all of us to aspire to be the best people that we can be," he said. "And that happens in well-designed spaces. For those of you who are students, you also have that obligation in whatever you do, to lift people up and to change the future of humanity."
Debbie Millman, designer and host of the podcast Design Matters, presented the 2019 Legend Award to Paula Scher. Scher is an acclaimed graphic designer who since 1991 has worked as a principal in the New York office of the international design consultancy Pentagram. She spoke of her gratitude for an arts education and remembered the advice of one of her mentors, Polish illustrator Stanislaw Zagorski, who said that "anybody who really wants to do this thing, can." She added, "I think that that's true, that if you really want to do something, you can, but it helps if you can go to art school […] And I think that the more people who can go to art school, the better our planet is going to be."
Present Bronet then gave the closing remarks. "As you heard tonight, your support for scholarships makes an amazing difference," she said. "Knowing the transformational power of a Pratt education and how crucial scholarship dollars are to our work and to our students, thank you all for your participation tonight and for your generous support of Legends."
Images (all photos by Andrew Werner): Pratt Institute President Frances Bronet, Miguel McKelvey, Paula Scher, and Santiago Calatrava at Legends 2019; Legends 2019 at Weylin; The Legends 2019 awards designed by Stacey Chen, BID '20