COVID-19 has quickly changed the way we study, teach, and create. As students, faculty, staff, and alumni in the Pratt Institute community are now working and learning remotely, here are some tips on maintaining a daily creative practice that is positive and productive.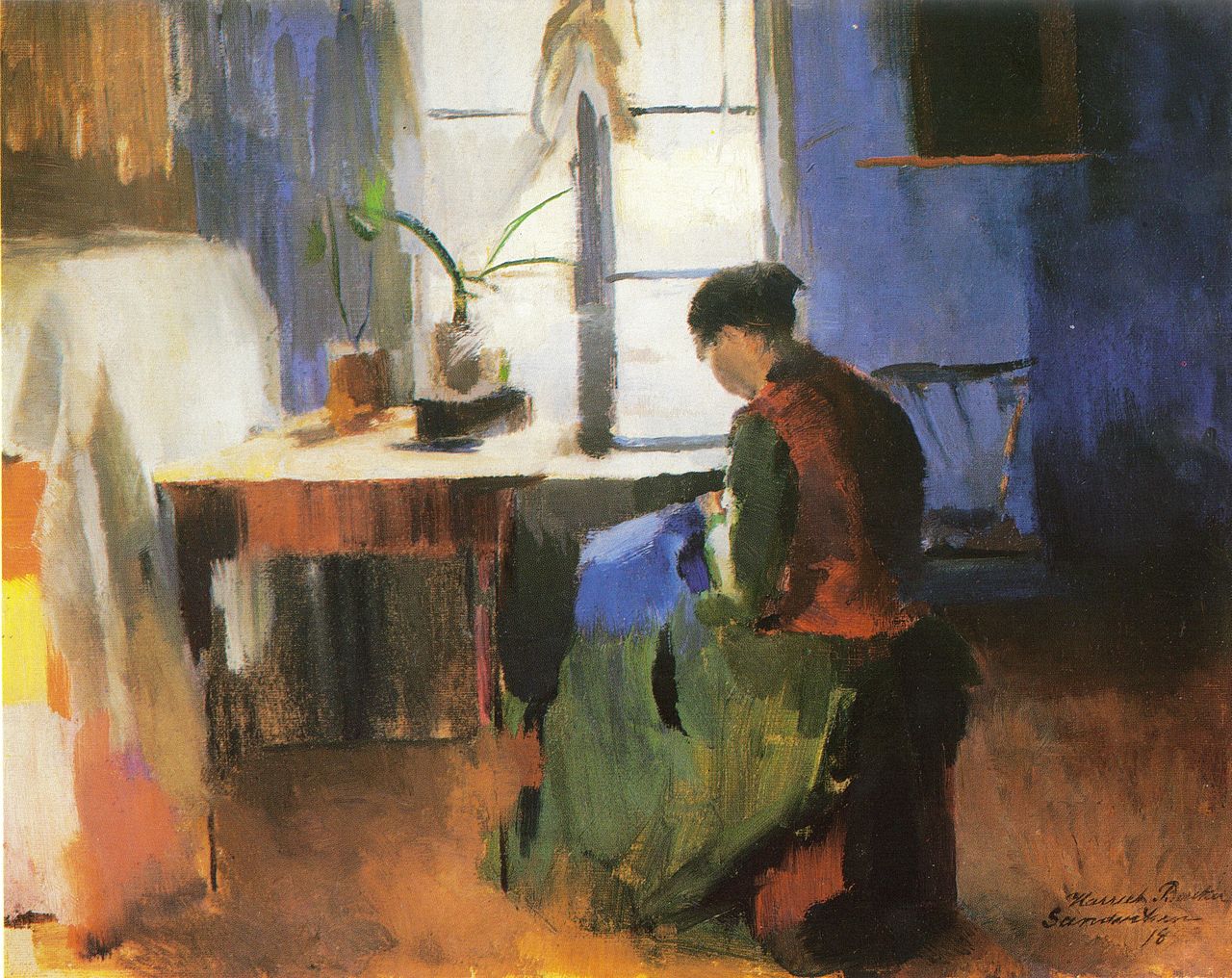 Harriet Backer, "Sewing Woman" (1890), oil on canvas (via Wikimedia)
COVID-19 has quickly changed the way we study, teach, and create. As students, faculty, staff, and alumni in the Pratt Institute community are now working and learning remotely, here are some tips on maintaining a daily creative practice that is positive and productive.
1. Have a Daily Routine
Keeping the structure of your typical day is important, from waking up at a set hour and getting dressed to going to sleep at a regular time. Small rituals to start or end the day, whether it's having a coffee or closing your computer for the night, can reinforce this structure. Making a daily or weekly schedule with blocks of time for work, study, and breaks can help with productivity and let you concentrate on the things in your life that you can control when so much is now unpredictable.
2. Create a Dedicated Studio or Study Space
It can be tempting to make your bed or couch your new studio or desk, but having a space that is dedicated to your practice—even if it's just half of the kitchen table—is crucial for productivity. Make it special: bring over a favorite plant, candle, or coffee mug, and make sure your chair is comfortable. And if you need to move around to clear your head, the couch will be clear of work clutter for a change of scenery.
3. Focus on the Process Instead of the Outcome
Projects may have been disrupted and work left incomplete during the recent moves and relocations. It may be difficult to realize what you originally envisioned. Focus on continuing the process of creative thinking instead of a particular outcome. This is an opportunity to innovate and rethink what your practice can be, even when everything has changed.
4. Set Goals
When you're not leaving your home except for essential reasons, it might seem like you'll have a new bounty of time for dream projects. Being realistic about your goals can be crucial for positivity. Your workspace, classroom, or studio has changed; distractions abound from the news, your phone, the upstairs neighbor who has decided to rearrange all their heavy furniture. This is a new experience. Be kind to yourself and communicate with your professors, classmates, and coworkers.
5. Stay Connected While Staying Apart
The endless scroll of Instagram, Facebook, and Twitter can be overwhelming, but social media, when used purposefully, can also help keep us connected while we're staying apart. The official @PrattInstitute Instagram is sharing work from across the Institute and the creative ways the community is collaborating remotely, such as KT Mitts, BFA Fashion '20, who used Instagram stories to throw an hour-long self-isolation dance party in her living room, modeling garments from her own and her classmates' thesis collections. Elsewhere the @SocialDistanceGallery is hosting BFA and MFA thesis shows canceled by the pandemic from schools across the country.
Although your classmates, coworkers, student clubs, studio mates, or other social groups may not be physically present, digital interactions can reinforce those bonds. Apps like Skype, FaceTime, Google Hangouts, Zoom, Slack, Snapchat, Discord, and Marco Polo provide platforms for regular check-ins.
6. Practice Mindfulness
Take time to check in with yourself. Starting a daily diary, sketchbook, or blog can be a way to reflect on these changing times. For inspiration, visit the online journal of Maria Sieira, Adjunct Associate Professor-CCE of Graduate Architecture and Urban Design (GAUD), who began a visual diary on the challenges and rewards of teaching remotely.
Mindful Pratt is now offering virtual resources including breath breaks on Zoom, an April 3 workshop on stress reduction for faculty and staff, a wellbeing calendar, and a list of resources for mindfulness and contemplative practice. Their 10-week meditation incubator is being continued online for the remainder of the semester.
Reach out if you need someone to talk to. Pratt's Counseling Center is available by phone at 718.687.5356 and email at therapy@pratt.edu. While the Center's physical location is closed, video sessions are offered through a secure platform. See the Center's page for the most up-to-date information.
7. Use Your Resources (and Find New Ones)
You have a community at Pratt; this is the time to stay engaged as we move forward together in a new format of teaching, learning, and creating. The whole world is also currently experiencing this upheaval. Checking out how other creatives are adapting, such as Artsy's feature on artists staying creative through COVID-19 and Metropolis's feature on how architects are continuing their practices remotely, can offer encouragement.
This is also an opportunity to find new resources. Creative Capital has a thorough list of resources for artists of all disciplines impacted by COVID-19, including emergency relief funds, grants, open calls, and information on remote-friendly employers. Kickstarter has a roundup of emergency grants, freelance resources, legal aid, and more.
8. Digital Libraries Are Your Friends
We miss browsing the stacks of Pratt Libraries, but many research resources are accessible remotely. Several digital collections from Pratt Libraries are available, including thousands of images on Artstor and archives of campus publications like the Prattler, Pratt Institute Monthly, and Prattonia.
Other digital libraries offering a wealth of free resources for research and ideas include the Internet Archive, NYPL Digital Collections, JSTOR Open Access, Project Gutenberg, David Rumsey Historical Map Collection, MetPublications, and the Biodiversity Heritage Library. Want to take a moment to aurally escape? The Macaulay Library from the Cornell Lab of Ornithology has thousands of archived bird songs from around the world.
9. Visit a Virtual Museum or Gallery
Museums and galleries are temporarily closed to visitors. Still, that doesn't mean you should starve your eyes of art and design. Thousands of institutions from around the world have virtual tours and online exhibitions on Google Arts & Culture, from the Rijksmuseum's exploration of Johannes Vermeer's "The Milkmaid" to the Metropolitan Museum of Art's examination of how Coco Chanel changed fashion. The Louvre is also hosting online tours, as are the Vatican Museums, while the Texas-based arts publication Glasstire is showcasing "five-minute tours" of galleries and museums in the state.
10. Look For Inspiration Beyond Your Screen
There is no shortage of digital distraction, yet it's important to take some time to get offline and discover inspiration beyond your screen. Flip through the books on your shelves, meditate, experiment with the supplies you impulse-bought at Blick. Don't be afraid to get bored; it can help ignite creativity.
11. It's Okay to Take a Break
Would your day usually involve reading on the train or listening to a podcast as you get to and from campus? Would you take a break to pet a Pratt cat or detour through the Pratt Rose Garden on the way to class? It's okay to still give yourself that space to decompress. Walk around the block or in the park if you're able; play a game, practice an instrument, learn to fold an origami crane, listen to music curated by Pratt Radio, or do anything that isn't part of your work or study to clear your mind.
And don't forget to get up and move. Pratt Rec is sharing home workouts and an exercise plan to go from "couch to 5k" on @PrattRecWell, so you can stay active even while staying at home.