Fine Arts Visiting Artists Lecture Series: Korakrit Arunanondchai
October 22, 2019 7:00 PM – 9:00 PM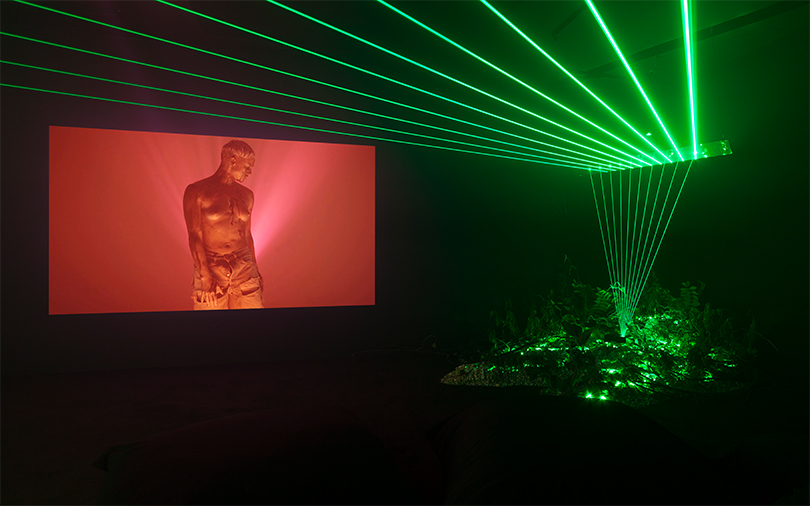 Korakrit Arunanondchai (b. 1986, Bangkok, Thailand) earned his BFA from the Rhode Island School of Design in 2009 and his MFA from Columbia University in 2012. A visual artist, filmmaker, and storyteller, Arunanondchai employs his versatile practice to tell stories embedded in cultural transplantation and hybridity. His body of work merges fiction with poetry and offers synesthetic experiences engaged in a multitude of subjects primarily based on lives of family, friends, and colleagues as much as local myths. Arunanondchai is an avid collaborator who has worked on videos, performances and music together with an extensive list of people. Arunaondchai was subject to numerous institutional solo shows including Kiasma (Helsinki), S.M.A.K. (Ghent), UCCA (Beijing), Palais de Tokyo (Paris) and MoMA PS1 (New York) among others.In 2019 his work was included in the 58th International Art Exhibition of La Biennale di Venezia as well as the Whitney Biennial. In early 2018, Arunanondchai co-founded Ghost Foundation, a non-profit organization aimed to support a video and performance art series in Thailand entitled "GHOST". He curated its inaugural series, Ghost:2561, during 11-28 October 2018, in Bangkok Thailand. Korakrit Arunanondchai works between New York and Bangkok
Each year Pratt Fine Arts invites contemporary artists to campus for a public lecture and to conduct studio visits with fine arts graduate students. This Visiting Artists Lecture Series (VALS) is coordinated by graduate student leaders. The aim is to provide our students with exposure to a wide array of artists working in a variety of fields at various stages in their career.
Pratt Institute's Department of Fine Arts 2019/2020 Visiting Artists Lecture Series was made possible in part by a generous grant from The Robert Lehman Foundation.
Additional support provided by Locanda Vini e Olii.