Fine Arts Visiting Artists Lecture Series: Ibrahim Mahama
January 28, 2020 7:00 PM – 9:00 PM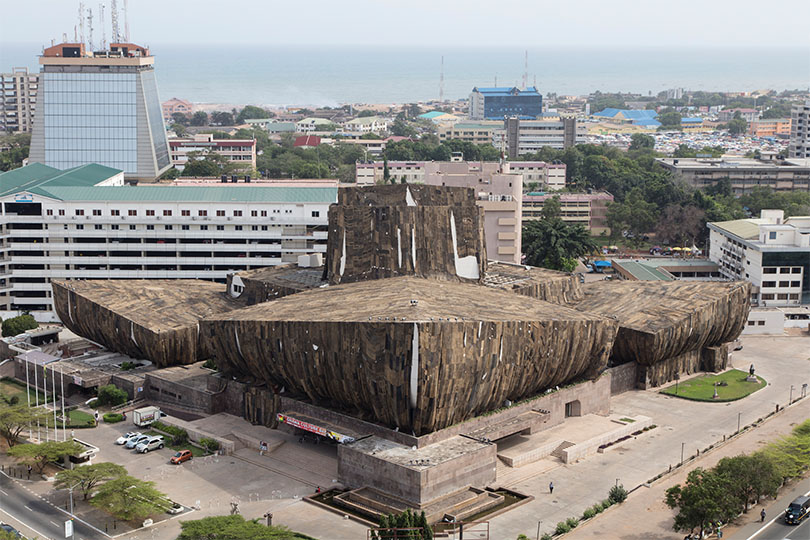 Ibrahim Mahama (b.1987) in Tamale Ghana is an artist who lives and works in Accra, Kumasi and Tamale, Ghana. He started his practice through his interest in the history of materials and architecture. Failure and delay through specific forms always inform his choice of sites which believes the works do not only occupy but are also occupied within the works/objects. Residues and points of chaos registered as marks within the forms he selects, they present us alternative perspectives of looking into the materials/Labour conditions of society. Form is important. His work has included objects from jute sacks used to transport commodities to the point of decay and later sewn together with a network of collaborators under specific Labour conditions which is then superimposed on architecture. The politics of the hand and it's parallel relation with architectural forms become a lot more evident. His most recent work, a straight line through the carcass of history has also dealt with forms related to the second world war and bacteria life. His work has been included in the 56, 57 and 58 Venice Biennale, documenta 14 Athens and Kassel, Orderly Disorderly, Accra, Images An Age of Our Own Making, Denmark, the island is what the sea surrounds, valletta 18, Malta and Spectacles Spectations, Kumasi Ghana and Labour of Many at the Norval Foundation, Cape Town. He finished a year residency with the DAAD in Berlin in 2018. His current interests are using specific architectural forms with history in the formation of spaces inspired by the potentialities and failures of modernity.
Each year Pratt Fine Arts invites contemporary artists to campus for a public lecture and to conduct studio visits with fine arts graduate students. This Visiting Artists Lecture Series (VALS) is coordinated by graduate student leaders. The aim is to provide our students with exposure to a wide array of artists working in a variety of fields at various stages in their career.
Pratt Institute's Department of Fine Arts 2019/2020 Visiting Artists Lecture Series was made possible in part by a generous grant from The Robert Lehman Foundation.
Additional support provided by Locanda Vini e Olii.