Fine Arts Visiting Artists Lecture Series: Alexis Rockman
September 24, 2019 7:00 PM – 9:00 PM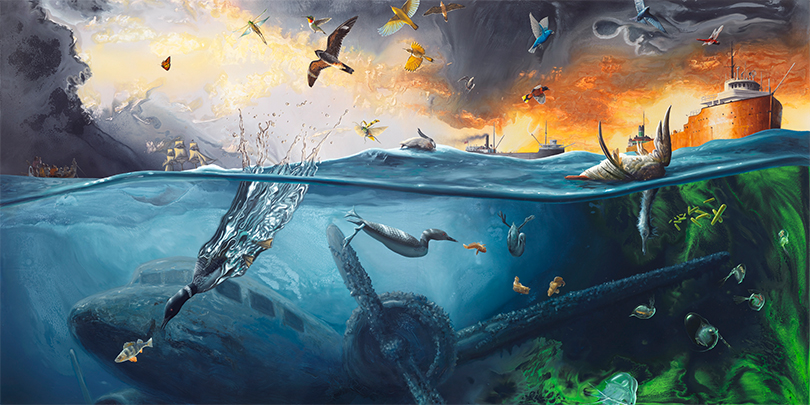 Born in 1962 and raised in New York City, Alexis Rockman has exhibited extensively worldwide since 1985. He has been the subject of many international solo and group exhibitions, including a major retrospective organized at the Smithsonian American Art Museum. His work is also included in public and private collections around the world, and he has held a number of exhibitions including a mid career survey Alexis Rockman A Fable for Tomorrow at the Smithsonian American Art Museum, Washington, DC (2010; traveling to the Wexner Center for the Arts, Columbus); East End Field Drawings at the Parrish Museum of Art in Water Mill, NY ( 2015). The Great Lakes Cycle, Grand Rapids Art Museum; Chicago Cultural Center; Weisman Art Museum, Minneapolis; Flint Institute of Art, MI; The Haggerty Museum, Milwaukee Museum of Contemporary Art, Cleveland (2018-20) His work is represented in public and private collections, including the Brooklyn Museum, New York; Carnegie Museum of Art, Pittsburgh; Solomon R. Guggenheim Museum, New York; Moscow Museum of Contemporary Art; Whitney Museum of American Art, New York; and Yale University Art Gallery, New Haven. His forthcoming monograph, Alexis Rockman: Works on Paper will be published by Damiani in 2020. Rockman lives and works in New York City.
Each year Pratt Fine Arts invites contemporary artists to campus for a public lecture and to conduct studio visits with fine arts graduate students. This Visiting Artists Lecture Series (VALS) is coordinated by graduate student leaders. The aim is to provide our students with exposure to a wide array of artists working in a variety of fields at various stages in their career.
Pratt Institute's Department of Fine Arts 2019/2020 Visiting Artists Lecture Series was made possible in part by a generous grant from The Robert Lehman Foundation.
Additional support provided by Locanda Vini e Olii.