Visiting Artist Lecture Series Fellows 2023-24: Frank WANG Yefeng
September 19, 2023 6:00 PM – 7:30 PM
Pfizer Building, 630 Flushing Avenue, 7th Floor, Brooklyn, NY 11206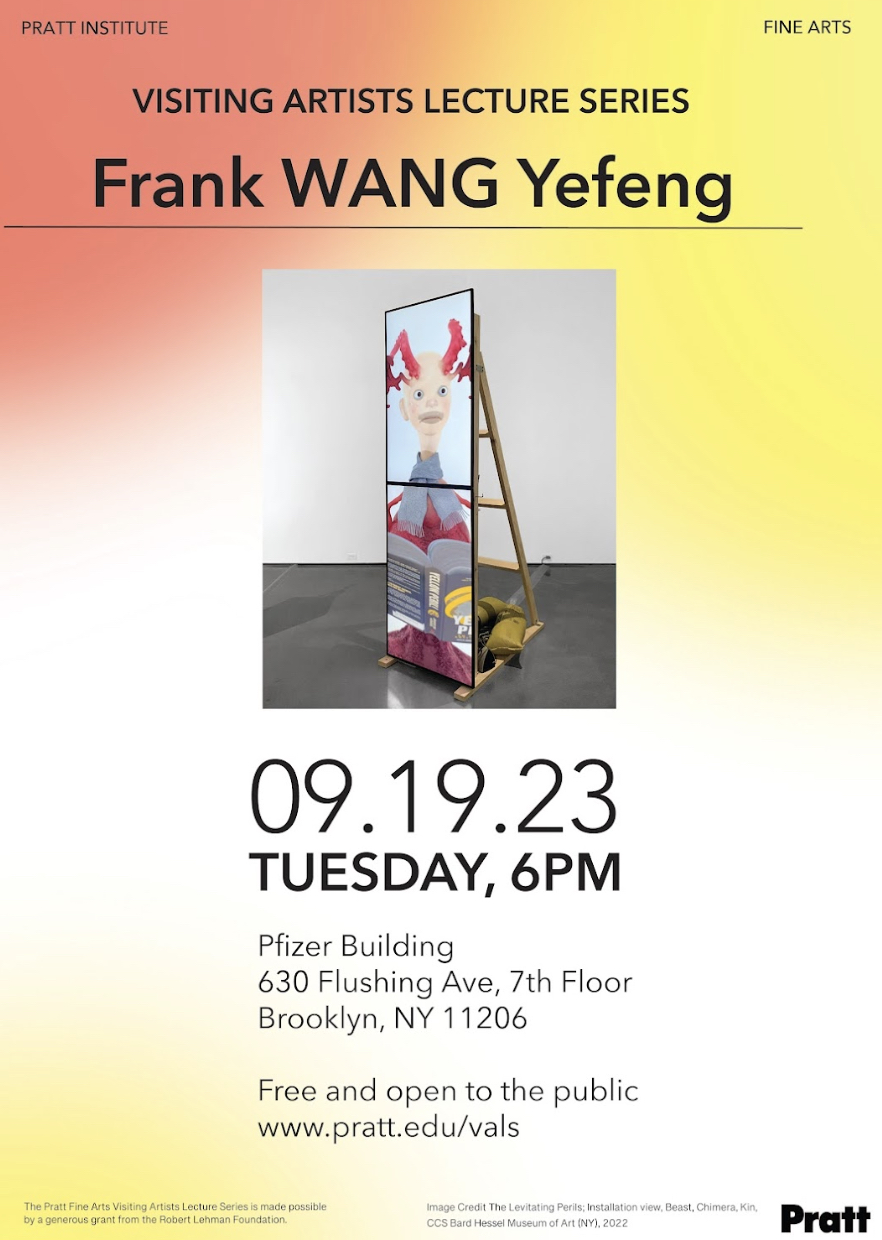 Frank WANG Yefeng Visiting Artist Lecture on September 19, 2023 at 6pm
Residency: September 11 – October 6, 2023
VALS Fellows is an expansion of our visiting artist lecture series. For the new season, Pratt's graduate student coordinators invited four contemporary artists to participate in a month-long residency which includes a public lecture, studio visits, and lunchtime discussions. The aim is to provide our students with exposure to a wide array of artists working in a variety of fields at various stages in their careers. The new VALS Fellow format will provide an opportunity for a deeper engagement with our community.
Recent and past visiting artists include: Jeffrey Gibson, Baseera Khan, Abigail D. Deville, Edgar Heap of Birds, Jennie Jieun Lee, Shazia Sikander, Elektra KB, Nina Katchadourian, Wardell Milan, Wendy Red Star, Narcissister, Pradeep Dalal, James Hyde, Schezerade Garcia, Rochelle Feinstein, Lavar Munroe, Lorna Simpson, Rico Gatson, Nicole Eisenman, Tom Sachs, Aura Satz, Leigh Ledare, Judith Bernstein, Dan Walsh, Kalup Linzey, Keltie Ferris, LaToya Ruby Frazier, Trenton Doyle Hancock, Diana Al-Hadid, Rashaad Newsome, Dora + Maja, Nancy Grossman, Michael Berryhill, Wafaa Bilal, and Catherine Opie.
The Pratt Fine Arts Visiting Artists Lecture Series is made possible by a generous grant from the Robert Lehman Foundation.