The Naming of Things: Selections from the NYPL Picture Collection
Custom10:00 AM – 9:00 PMJanuary 7 – January 7, 2019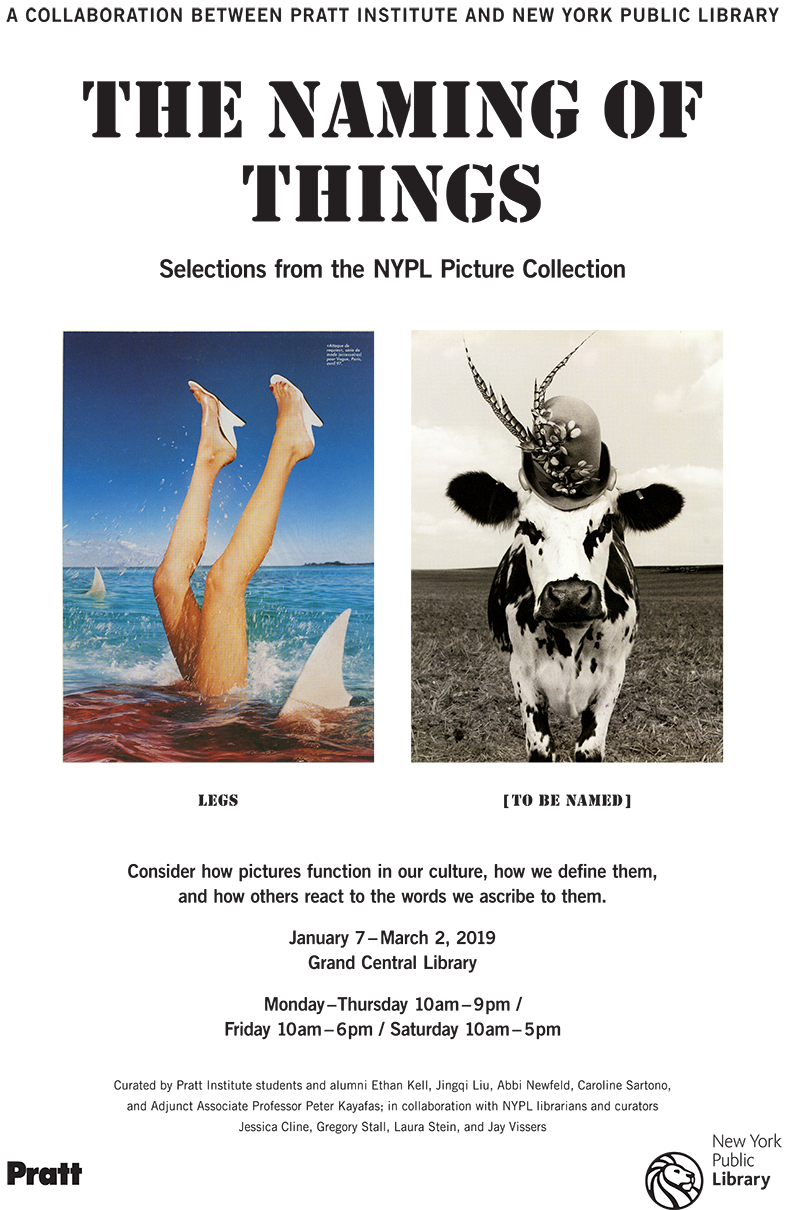 A collaboration between Pratt Institute and New York Public Library
Conceived and curated by Pratt Institute students, this exhibition explores the subjective nature of the indexing process at the New York Public Library Picture Collection. The Picture Collection consists of more than 1.5 million circulating images organized by category, individually catalogued by library staff. With over 12,000 subjects to choose from, decisions about where images belong have broad but subtle implications for how users interact with these materials. Since the collection's creation in 1915, millions of patrons have used the Picture Collection for personal study, inspiration, or simple enjoyment.
In this exhibition, visitors will learn about the process by which librarians at the Picture Collection have used their personal judgment to catalog printed matter for more than a century, as well as have an opportunity to help name a selection of un-catalogued objects. The nature of the cataloging process, essentially subjective from the point of view of individual staff members, allows for both predictable and delightfully unpredictable results. Of the thirteen items presented here at the Grand Central Library, six have been catalogued ("named") and seven have not ("to be named"). The iPad located near the center of the room has an interactive app allowing audience members to participate in the naming of these items. Collected in real time during the run of the exhibition, aggregate data for each of the seven un-named items will be presented to NYPL staff for consideration in cataloging each item for future use. By engaging in the cataloging process that the library staff has employed for more than a century, audience members will gain a greater appreciation for how images function in our culture, how we define them, and how others react to the definitions we ascribe to them.
Curated by Pratt Institute students and alumni Ethan Kell, Jingqi Liu, Abbi Newfeld, Caroline Sartono, and Adjunct Associate Professor Peter Kayafas; in collaboration with NYPL librarians and curators Jessica Cline, Gregory Stall, Laura Stein, and Jay Vissers.
Jan 7–March 2, 2019
Monday–Thursday, 10 AM–9 PM
Friday 10 AM–6 PM / Saturday 10 AM–5 PM