School of Information Ethics & Technology Forum with Sherry Turkle
November 5, 2021 3:00 PM – 5:30 PM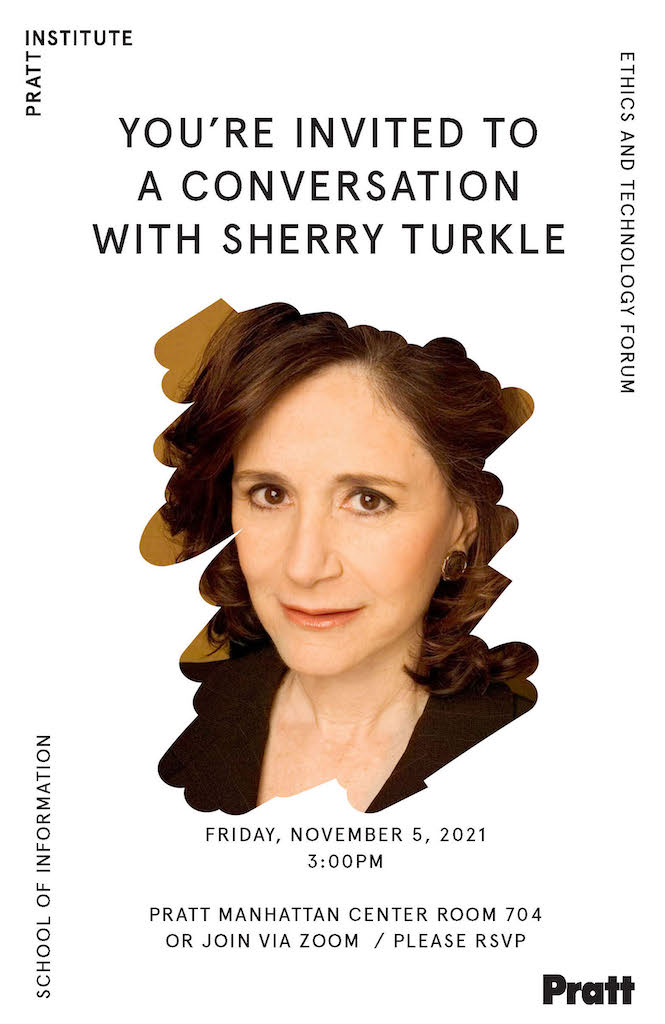 You are invited to the Pratt Institute School of Information Ethics and Technology Forum with Special Guest Sherry Turkle. Open to the Pratt Community. To attend via Zoom or in-person on Friday, November 5 at 3pm, please access with your Pratt Google Account the following page to RSVP.
About Sherry Turkle
Sherry Turkle is the Abby Rockefeller Mauzé Professor of the Social Studies of Science and Technology in the Program in Science, Technology, and Society at MIT, and the founding director of the MIT Initiative on Technology and Self. Professor Turkle received a joint doctorate in sociology and personality psychology from Harvard University and is a licensed clinical psychologist. Professor Turkle writes on the "subjective side" of people's relationships with technology, especially computers. She is an expert on culture and therapy, mobile technology, social networking, and sociable robotics.
Her newest book, The Empathy Diaries: A Memoir (Penguin Press, March 2021), ties together her personal story with her groundbreaking research on technology, empathy, and ethics. Her previous book, the New York Times bestseller, Reclaiming Conversation: The Power of Talk in a Digital Age (Penguin Press, October 2015), investigates how a flight from conversation undermines our relationships, creativity, and productivity.
Previous works include four other books about evolving relationships in digital culture (Alone Together: Why We Expect More from Technology and Less from Each Other; The Second Self: Computers and the Human Spirit; Life on the Screen: Identity in the Age of the Internet; and Simulation and Its Discontents), and one book about the history of psychoanalysis, Psychoanalytic Politics: Jacques Lacan and Freud's French Revolution. Turkle has also edited several collections on how we use objects to think with, particularly in the development of ideas about science. These include Evocative Objects: Things We Think With; Falling for Science: Objects in Mind; and The Inner History of Devices.
Profiles of Professor Turkle have appeared in such publications as The New York Times, Scientific American, and Wired Magazine. She has been named "Woman of the Year" by Ms. Magazine and among the "40 under 40" who are changing the nation by Esquire Magazine. She is a recipient of a Guggenheim Fellowship, a Rockefeller Humanities Fellowship, the Harvard Centennial Medal, and is a member of the American Academy of Arts and Sciences. Professor Turkle is a featured media commentator on the social and psychological effects of technology for CBS, NBC, ABC, CNN, the BBC, and NPR, including appearances on such programs as Nightline, The Today Show, Good Morning America, Frontline, Dateline, 20/20, and The Colbert Report.
About the Conversation
Dr. Turkle will be joining us via Zoom. Attendees can also join via Zoom or in-person with Dean Anthony Cocciolo at Pratt Manhattan Center room 704. After an introduction by President Frances Bronet, Dean Anthony Cocciolo and Prof. Debbie Rabina will host the conversation with Prof. Turkle about her ideas that span her career and personal story told in The Empathy Diaries: A Memoir. They will then open it up to attendees for questions and discussion. A reception will follow in the 7th floor lobby for in-person attendees.
About the School of Information Ethics and Technology Forum
As New York evolves to become a major tech hub, and more students seek employment in technology companies, the School of Information must not only teach the knowledge and skills students need, but also imbue students with an ability to be critical, reflective, and thoughtful about their role and their employers' roles in the world. The annual School of Information Ethics and Technology Forum brings thought leaders to discuss the most pressing issues on this topic with the Pratt Institute community. Past speakers include Tim Wu.
About the Hosts
President Frances Bronet is the 12th President of Pratt Institute.
Dr. Anthony Cocciolo is Dean of the School of Information at Pratt Institute. His research and teaching is in the area of archives and digital preservation.
Dr. Debbie Rabina is Professor at the School of Information at Pratt Institute. She teaches courses in Information Policy, Information and Human Rights, Government Information and more.