School of Information Ethics & Technology Forum & User Experience Launch Party
September 16, 2022 4:30 PM – 6:30 PM
PMC 201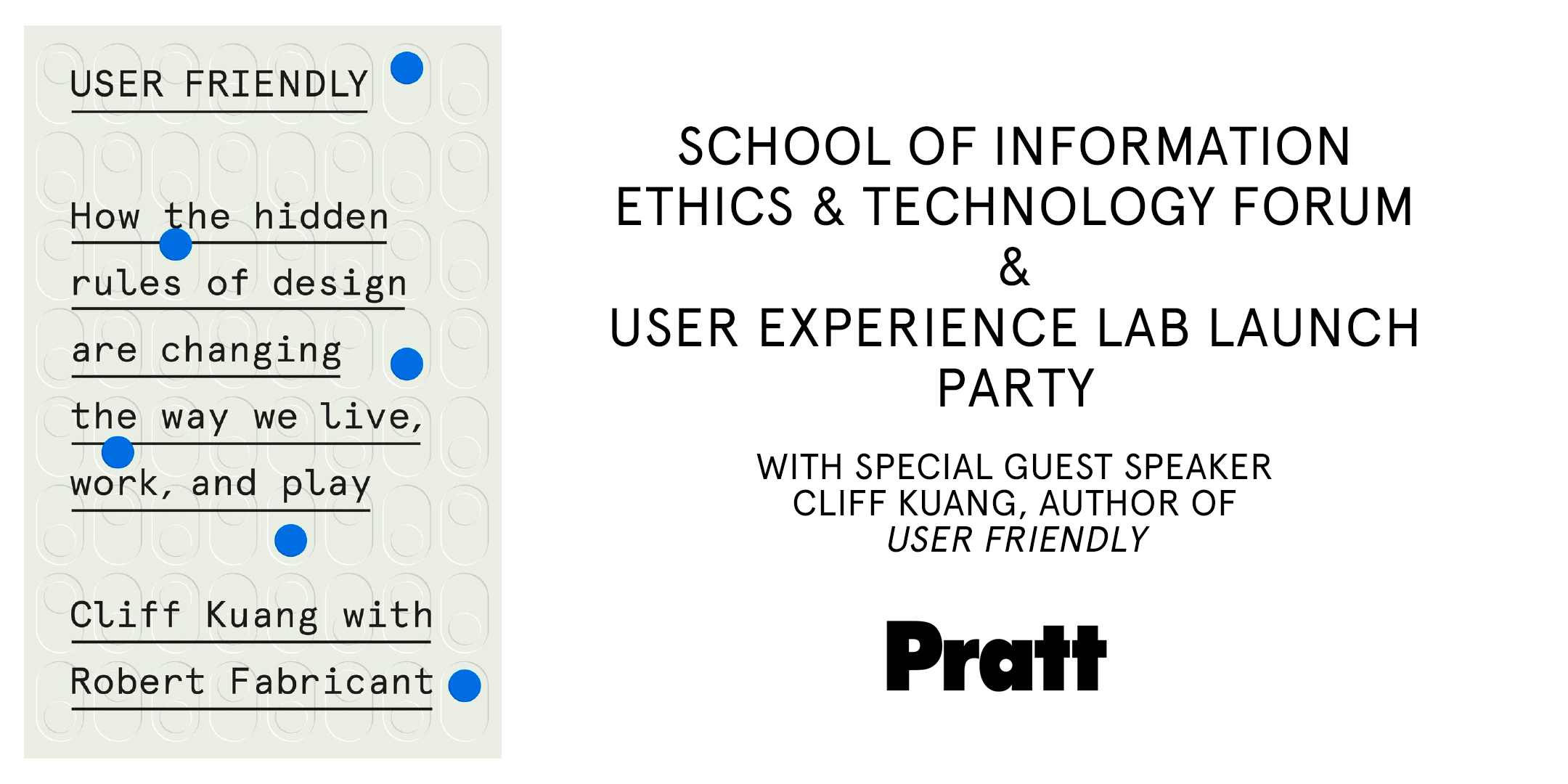 With Special Guest Speaker Cliff Kuang, Author of User Friendly.
About Cliff Kuang
Cliff Kuang is a user-experience designer at Google, where he works on future concepts for many of the company's flagship products. He is also the author of User Friendly: How the Hidden Rules of Design Are Changing the Way We Live, Work, and Play, which the New York Times called "a tour de force, an engrossing fusion of scholarly research, professional experience and revelations from intrepid firsthand reporting." The book was also named an Amazon Best Book of the year, and has been published in 12 languages and counting. It is already taught widely in several universities around the world.
Previously, he was head of UX and product at Fast Company; the founder of Fast Company's design site, Co.Design; and an editor at Wired. Under his leadership, Co.Design won a National Magazine Award within two years of its founding, and became a source of insight and inspiration for a generation of designers. Over the course of his journalism career, he edited over 7,000 stories about design and technology.
His writing on the intersection of culture, technology, and business has also appeared in the New York Times Magazine, Bloomberg Businessweek, and The Economist, and he speaks frequently for audiences ranging from 100 to 10,000. He lives in Brooklyn, NY.
Introduced By Frances Bronet
Frances Bronet is the 12th President of Pratt Institute. She has served in leadership roles at Illinois Institute of Technology, University of Oregon, and Rensselaer Polytechnic Institute.  She is an architect by training with degrees from McGill University and Columbia University. 
About the Ethics and Technology Forum
As New York evolves to become a major tech hub, and more students seek employment in technology companies, the School of Information must not only teach the knowledge and skills students need, but also imbue students with an ability to be critical, reflective, and thoughtful about their role and their employers' roles in the world. The annual School of Information Ethics and Technology Forum brings thought leaders to discuss the most pressing issues on this topic with the Pratt Institute community. Past speakers include Tim Wu and Sherry Turkle.
User Experience Lab Launch Party
The talk by Mr. Kuang will be followed by a reception on the 6th floor of Pratt Manhattan Center where guests can enjoy wine and appetizers, and visit our new User Experience Lab that was renovated this past summer. Students will be on-hand to speak about the type of work that will take place in the lab, such as eye-tracking studies and more, including projects from Pratt's Center for Digital Experiences. We thank the L4 Foundation for their support for this lab. Thank you also to the Provost's Office, Office of Facilities Management and Office of Information Technology for making this lab possible.
To attend, RSVP is required at: https://www.eventbrite.com/e/ethics-technology-forum-with-cliff-kuang-and-ux-lab-launch-party-tickets-394738241707