SANTOS – Skin to Skin | Screening and Conversation
March 2, 2023 6:30 PM – 9:00 PM
Higgins Hall Auditorium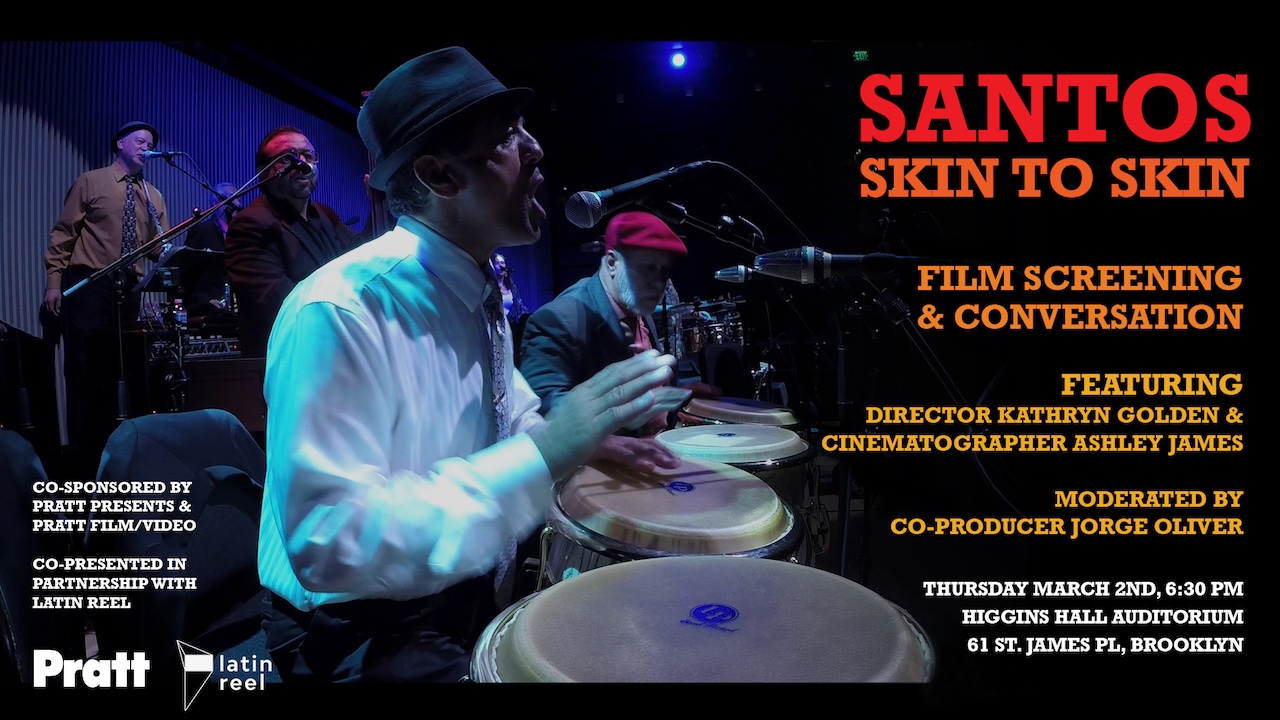 Featuring Director Kathryn Golden & Cinematographer Ashley James. Moderated by Co-producer Jorge Oliver
Free and open to the public in-person. Limited seating available. Reservations required.
Reception to follow.
Presented by Pratt Institute's School of Art, Film/Video Department, and Pratt Presents, this event will be live and in-person.
Pratt's School of Art, Film/Video Department and Pratt Presents are proud to host a special screening of SANTOS – Skin to Skin followed by a conversation with director Kathryn Golden and cinematographer Ashley James in conversation with co-producer Jorge Oliver (Pratt School of Art Dean).
About the film:
SANTOS – Skin to Skin is a documentary about community activist and seven-time Grammy nominee John Santos, a "keeper of the Afro Caribbean flame." In this illuminating documentary, Santos links the rhythms of his ancestors to contemporary struggles against urban gentrification, social inequality, and racial injustice.
The filmmakers follow Santos from rehearsals in his garage studio in Oakland, California, to performances at local community centers, gigs with congueros in Peñuelas, San Germán, Guánica, Puerto Rico, and concert stages around the United States.
Rich in unforgettable musical performances, SANTOS – Skin to Skin captures Santos playing alongside a stellar cast of international jazz musicians, including Eddie Palmieri, Raul Rekow and Orestes Vilató of Santana, Omar Sosa, Rico Pabón, Ernesto Oviedo, and Jerry Medina.
Sponsored by the Longfellow/Dulmage Fund
Supported by Pratt Presents & Pratt Film/Video
Co-presented in partnership with Latin Reel