PRATT SESSIONS 19: OBJECTS – GROUNDS – COMMUNITIES – Eric Bunge + Alessandra Cianchetta
February 27, 2020 6:30 PM – 8:30 PM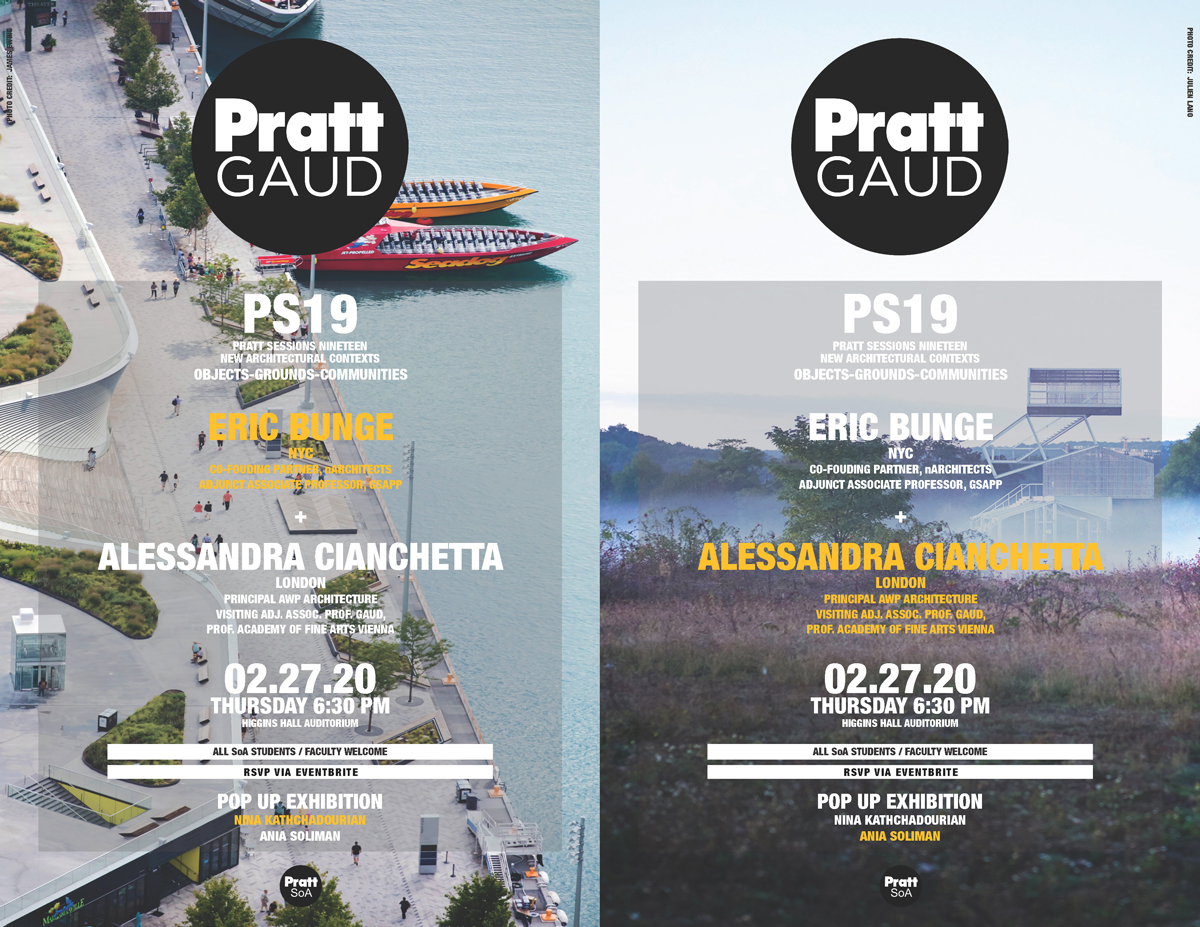 Please join the School of Architecture and Graduate Architecture and Urban Design in welcoming Eric Bunge and Alessandra Cianchetta for Pratt Sessions 19 on Thursday, February 27th at 6:30pm. This is the first session of the spring semester.
Bunge and Cianchetta are establishing themselves and their respective firms as important players in the cities of New York and London. The subtlety, attentiveness, and care of their work reflects their talents and intellectual interests as designers and educators. The session will situate their overlapping approaches as emerging thinkers and leaders who are invested in developing exploratory environments. Both are actively scrutinizing alternative relationships between architectural objects and architectural grounds: pushing those relationship's potential to script, choreograph and transform the patterns and rituals of the communities they engage. Through their projects, their presentations and the ensuing discussion, an investigation of Objects-Grounds-Communities will bring to light the intelligence and vicissitudes with which both participants break-ground. Bunge and Cianchetta bend and reconfigure our normative understandings of grounds, objects their anticipated relationships and scales.
In keeping with the Pratt Sessions series the event will include a PopUp Exhibition including representations of works by Nina Katchadourian and Ania Soliman.
Eric Bunge, FAIA, is a co-founding Principal of nARCHITECTS, and an Adjunct Assistant Professor at the Graduate School of Architecture, Planning and Preservation at Columbia University. Along with Mimi Hoang, he oversees the design and technical development of all projects in the office. Eric received a Master of Architecture from Harvard University and a Bachelor of Architecture from McGill University. Prior to founding nARCHITECTS, he trained in New York, Boston, Paris, Calcutta and London. Eric has also taught at Harvard University, Yale University, Parsons School of Design, R.I.S.D., UC Berkeley and University of Toronto.
Alessandra Cianchetta is an architect and urban designer (RIBA). She co-founded AWP Paris, working on myriad award-winning projects across the globe. Her recent brainchild Poissy Galore won the French Cultural building of the year 2018 award.
Cianchetta's work include master planning and design projects for high-profile urban regeneration projects, including the Paris Central Business District, as well as major commissions for private developers and public stakeholders across Europe and in the UK for cultural buildings, art venues and commercial buildings. Recent projects she has led include the observatory and Insects museum set in a park near Paris; office buildings for a private developer in Lausanne, Switzerland; the regeneration of Malmo Quay in Newcastle-Upon-Tyne; a 51 ha mixed-use masterplan for an Arts and Creative District set in a Unesco heritage site in Liverpool, and exhibition design for the Louvre and the Italian Embassy in Paris. In addition to practice Cianchetta has lectured worldwide and taught architecture studios at The Cooper Union, Columbia GSAPP (NY-Paris program), Cornell Universities (US), at the University of Westminster and the London School of Architecture (UK) at The Berlage (NL) and at the Akademie der Bildenden Kunste in Vienna (AT). She has also been a consultant for Strelka KB in Moscow (RU) and an adviser for the Future Cities Laboratory in Singapore. Regularly selected for high-profile international competitions worldwide, Cianchetta has collaborated with Foster+Partners and with RSH and partners for large scale projects in Italy. Her work has been selected for the Lisbon Architecture Triennale, the Venice Architecture Biennale, The Istanbul Biennial of Contemporary Art and the Chicago Architecture Biennial and has been featured in Le Monde, The New York Times, The Guardian and BBC News among other media.