Pratt Provocations: New Modes of Practice
October 7, 2020 6:30 PM – 8:30 PM
Online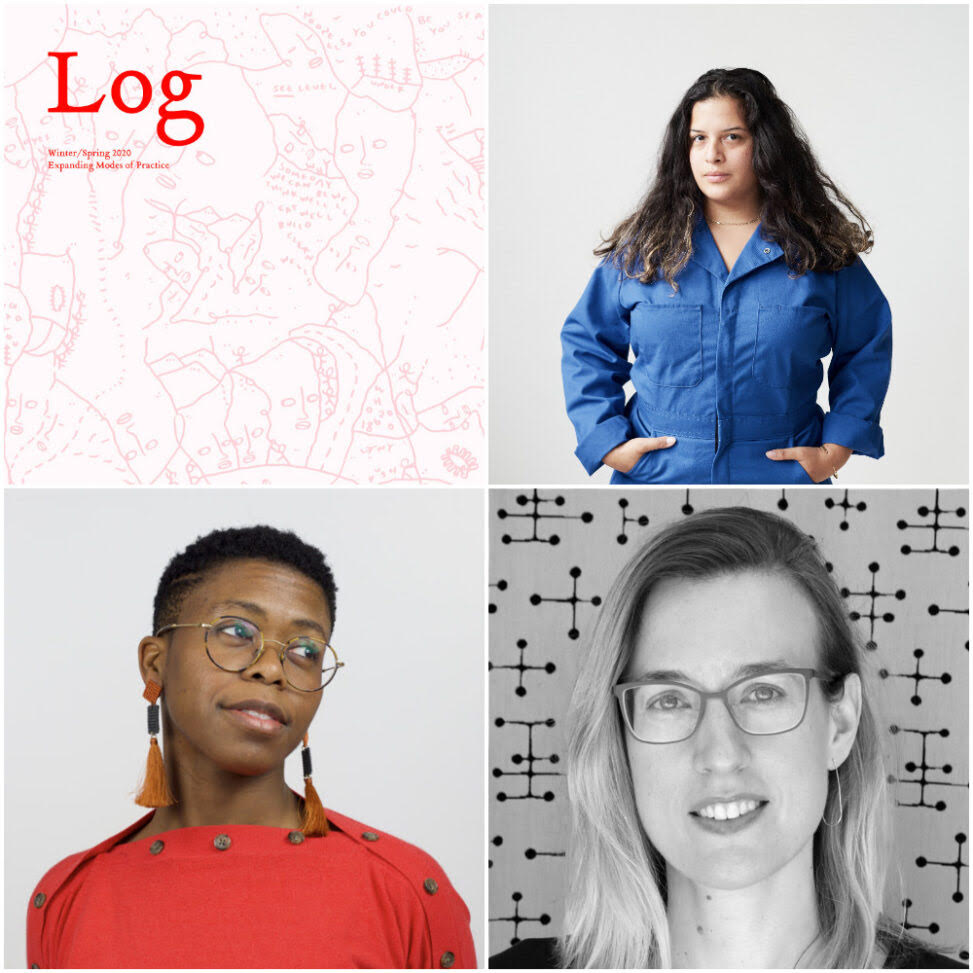 Architects Deborah M. Garcia, Jessica Myers, and Bryony Roberts will present recent projects, ideas, and work around practice in conversation with Pratt faculty member and Log editor Cynthia Davidson. The speakers all contributed to Log 48: Expanding Modes of Practice, about how the recent alignment of socio-environmental urgency and economic necessity opens up possibilities for restructuring the field of architecture, from experiments in social agency to transformations of the technical and logistical methods of architectural practice.
This event will be held on Zoom; please register to attend here
After registering, you will receive a confirmation email with a personal Zoom link.
The event will also be live-streamed on the Pratt SOA YouTube channel.
Deborah Garcia is a Los Angeles-based designer, writer, and curator. She holds a Masters of Architecture from Princeton University and a Bachelors of Architecture from the Southern California Institute of Architecture. She was a recipient of the Princeton University Butler Travelling Fellowship which took her to the corporate agricultural complex of the United States heartland where she was a resident at ARTFarm Nebraska, and was an invited participant for the 2019 Arctic Circle Expedition in the international territory of Svalbard, Norway. She was a co-curator of THE DRAWING SHOW at the A+D Architecture and Design Museum in 2017 and curator of One Night Stand for Art and Architecture-LA in 2016. She is the current Marion Mahony Emerging Practitioner Fellow at the MIT Department of Architecture.
Jess Myers is an urbanist, podcaster, and editor focusing on urban planning and architecture. Outside of her work as an assistant professor in the Rhode Island School of Design's Architecture Department, Myers is the editor of Taking Freedom, a social justice book series, forthcoming from a coalition of the Service Employees International Union, MIT's Community Innovators Lab, and the City University of New York (CUNY)'s School of Labor and Urban Studies. She also serves as the chapter co-steward for the Architecture Lobby's New York chapter. In the past, Myers has worked in diverse roles—archivist, translator, analyst—in both New York and Paris. Her personal interests and research engage multimedia platforms as a means to explore culture and urban space.
Bryony Roberts leads the design and research practice Bryony Roberts Studio, which integrates methods from architecture, art, and preservation to create community-based projects in the public realm. The practice has been awarded the Architectural League Prize and New Practices New York from AIA New York as well as support from the National Endowment for the Arts, the Graham Foundation, the MacDowell Colony, and the American Academy in Rome, where Roberts was awarded the Rome Prize for 2015-16. In tandem with her design practice, Roberts instigates research and publication projects about designing in response to social and cultural histories. She guest-edited the recent volume Log 48: Expanding Modes of Practice, edited the book Tabula Plena: Forms of Urban Preservation published by Lars Müller Publishers, and co-guest-edited Log 31: New Ancients. She has also published her research in the Harvard Design Magazine, Praxis, Future Anterior, and Architectural Record. Roberts earned her B.A. at Yale University and her M.Arch at the Princeton School of Architecture. She teaches architecture and preservation at the Columbia University Graduate School of Architecture, Planning and Preservation in New York.
Cynthia Davidson is an architecture editor and critic based in New York City. She is the founding editor of Log: Observations on Architecture and the Contemporary City, a tri-annual journal begun in 2003, and editor of the Writing Architecture Series books published by MIT Press. Both publication programs are projects of the Anyone Corporation, a nonprofit, architecture think tank she has directed since 1991. She was the founding editor of the architecture tabloid magazine ANY (1993–2000) and of the "Any" book series, which documented ten international architecture conferences that she organized in the 1990s on the condition of architecture at the end of the 20th century. Ms. Davidson has also written for a number of periodicals, including Architectural Record in New York and Arquitectura Viva in Madrid.