Photography Talk Series Fall 2020: Reiko Tomii in conversation with Alex Kitnick
October 7, 2020 7:00 PM – 8:30 PM
Online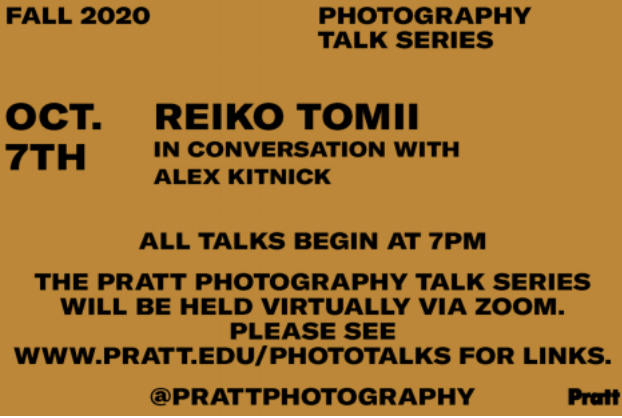 Reiko Tomii is an independent art historian and curator, who investigates post-1945 Japanese art which constitutes a vital part in world art history of modernisms. Her early works include her contribution to Global Conceptualism (Queens Museum of Art, 1999), Century City (Tate Modern, 2001), and Art, Anti-Art, Non-Art (Getty Research Institute, 2007).
She is co-director of PoNJA-GenKon (est. 2003), a listserv group of specialists interested in contemporary Japanese art. Under its auspices, she has organized a number of symposiums and panels in collaboration with Yale University, Getty Research Institute, University of Chicago, and other major academic and museological institutions. Her recent publication Radicalism in the Wilderness: International Contemporaneity and 1960s Art in Japan (MIT Press, 2016) received the 2017 Robert Motherwell Book Award. Based on the book, she curated Radicalism in the Wilderness: Japanese Artists in the Global 1960s at Japan Society Gallery in New York in 2019.
Alex Kitnick is an art historian and critic based in New York and Assistant Professor of Art History and Visual Culture at Bard College in Annandale-on-Hudson, New York. His book Distant Early Warning: Marshall McLuhan and the Transformation of the Avant-Garde is in production with University of Chicago Press. His writing has appeared in publications ranging from October to May.