Opening Reception: Reading Room
September 18, 2019 6:00 PM – 8:00 PM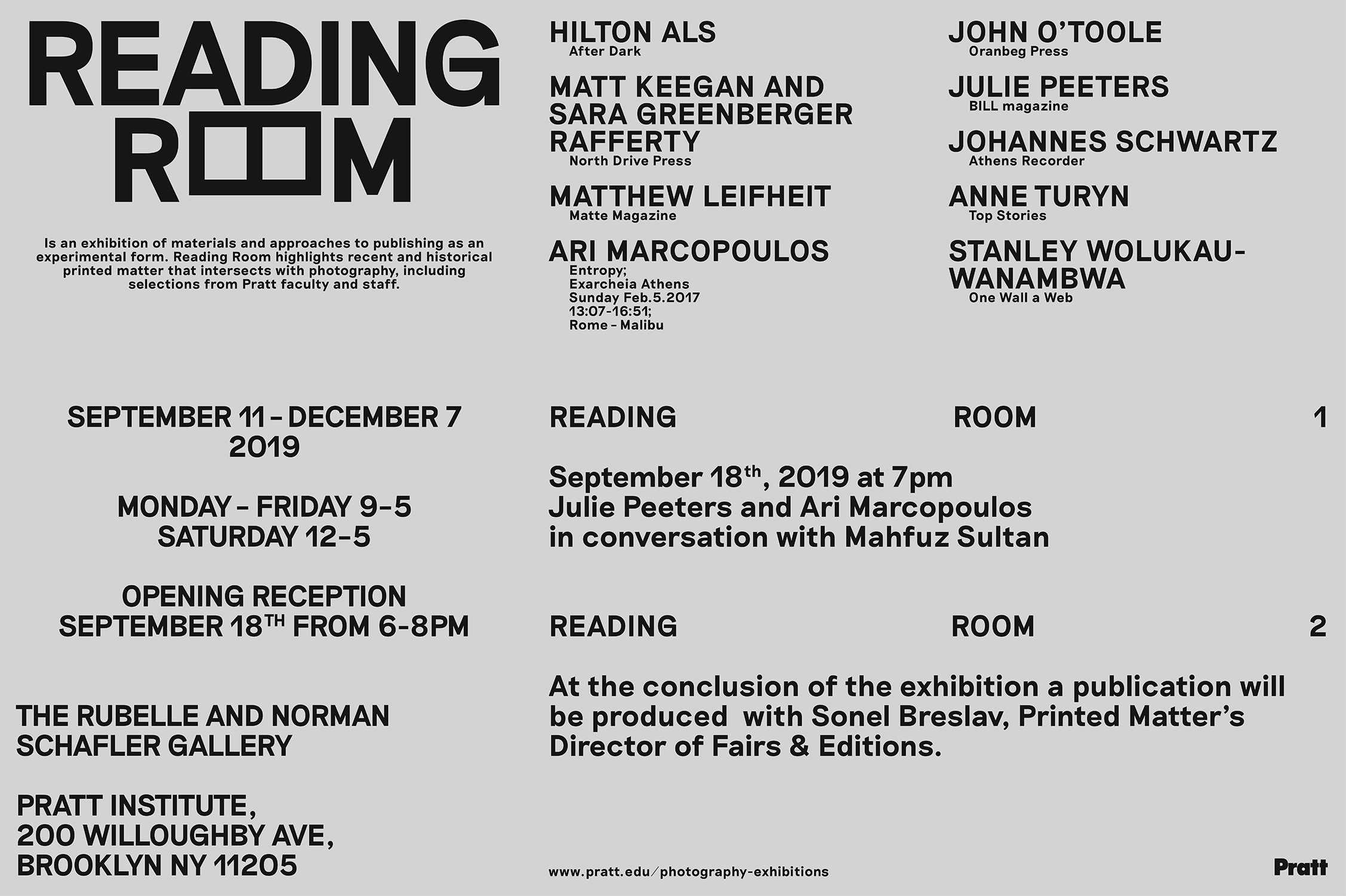 On View: September 11–December 7, 2019
​Opening Reception: September 18, 6–8 PM
The Rubelle and Norman Schafler Gallery and Pratt Institute's Photography Department present an exhibition of materials and approaches to publishing as an experimental form. Reading Room highlights recent and historical printed matter that intersects with photography, including selections from Pratt faculty and staff.
Join us on Wednesday, September 18th at 7pm for a special opening panel event in the gallery including exhibitors Julie Peeters and Ari Marcopoulous in conversation with Mahfuz Sultan.
Including projects: Hilton Als (After Dark); Matt Keegan and Sara Greenberger Rafferty (North Drive Press); Matthew Leifheit (Matte Magazine); Ari Marcopoulos (Entropy, Exarcheia Athens Sunday Feb.5.2017 13:07-16:51, Rome – Malibu); John O'Toole (Oranbeg Press); Julie Peeters (BILL magazine); Johannes Schwartz (Athens Recorder); Anne Turyn (Top Stories); and Stanley Wolukau-Wanambwa (One Wall a Web).
At the conclusion of the exhibition, a publication will be produced with Sonel Breslav, Printed Matter's Director of Fairs & Editions.
Organized by the Photography Department, School of Art: www.pratt.edu/photography-exhibitions.