Opening Reception: GenZ
November 11, 2019 5:00 PM – 7:00 PM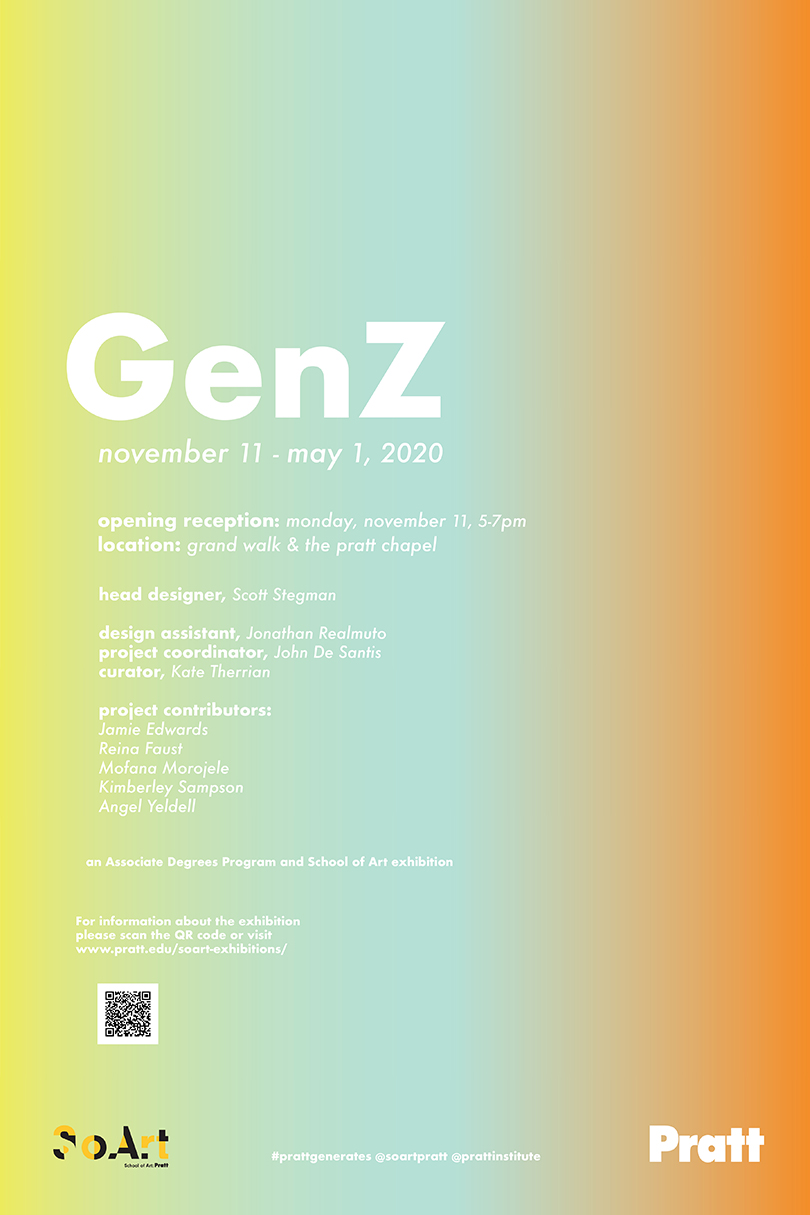 GenZ
November 11–May 1, 2020
Opening reception: Monday, November 11, 5-7 PM
GenZ is an outdoor exhibition centered in the heart of Pratt Institute's Brooklyn campus designed by AOS Graphic Design student Scott Stegman. The unique scale, 90 inches high and spanning widths up to 1300 inches, challenged Stegman to address the impact and significance of the featured works by Spring 2019 Associate Degree Program graduates in a larger than life arena.
This work was inspired by the movement around the Pratt Brooklyn campus and the generator itself. The design has no beginning or end. It seamlessly flows as the viewer walks around its boarders while mirroring their journey back to them.
Head Designer, Scott Stegman
Design Assistant, Jonathan Realmuto
Project Coordinator, John De Santis
Curator, Kate Therrian
  
Generator Project Contributors:
Jamie Edwards 
Reina Faust
Mofana Morojele
Kimberley Sampson
Angel Yeldell
Featured works by Spring 2019 Associate Degree Program graduates:
Tom Dowling – AOS illustration
Harrison Jude – AOS Graphic Design
Sarah Meadows – AOS Game Design/Interactive Media
Poppy Li – AAS Painting Drawing
James Huber – AAS Graphic Design/Illustration
GenZ is on view through May 1, 2020 and is open to the public.
An Associate Degrees Program and School of Art exhibition
#prattgenerates @soartpratt @prattinstitute