On Whiteness
March 28, 2019 6:00 PM – 8:00 PM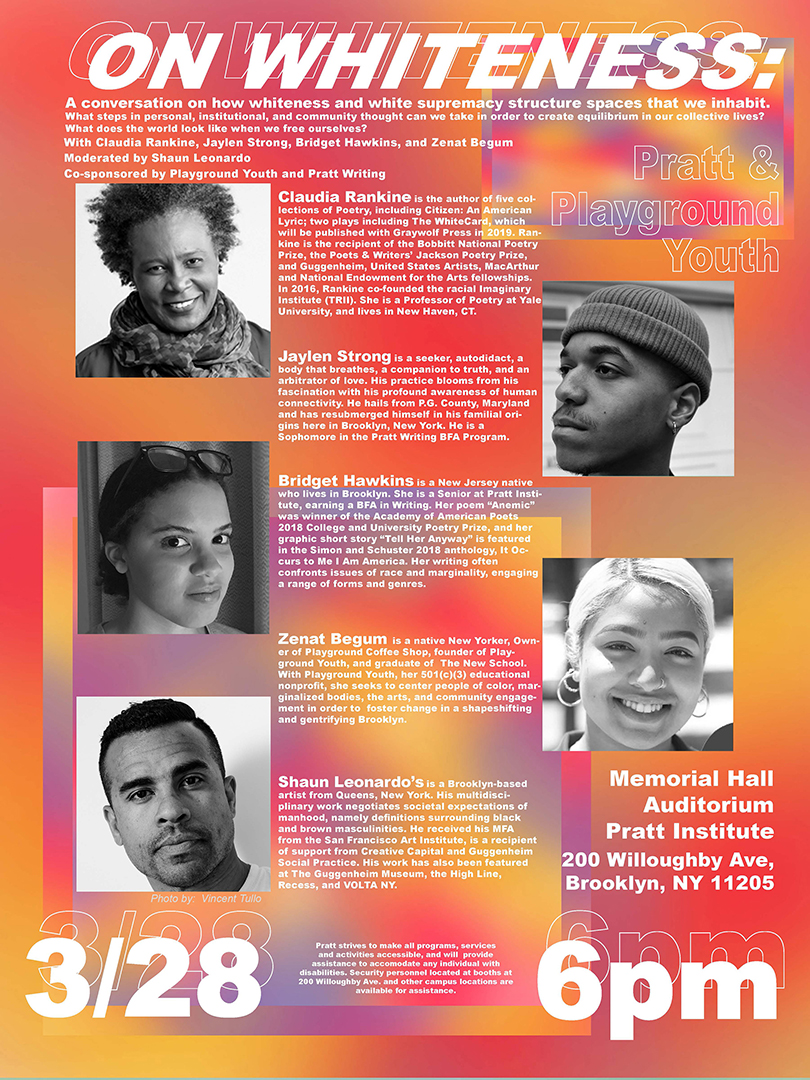 ON WHITENESS: A conversation on how whiteness and white supremacy structure spaces that we inhabit.
What steps in personal, institutional and community thought can we take in order to create equilibrium in our collective lives? With Claudia Rankine, Jaylen Strong, Bridget Hawkins, and Zenat Begum.
Moderated by Shaun Leonardo
Co-sponsored by Playground Youth and the Pratt Department of Writing.
Claudia Rankine is the author of five collections of Poetry, including Citizen: An American Lyric; two plays including The WhiteCard, which will be published with Graywolf Press in 2019. Rankine is the recipient of the Bobbitt National Poetry Prize, the Poets & Writers' Jackson Poetry Prize, and Guggenheim, United States Artists, MacArthur, and National Endowment for the Arts fellowships. In 2016, Rankine co-founded the racial Imaginary Institute (TRII). She is a Professor of Poetry at Yale University, and lives in New Haven, CT
Jaylen Strong is a seeker, autodidact, a body that breathes, a companion to truth, and an arbitrator of love. His practice blooms from his fascination with his profound awareness of human connectivity. He hails from P.G. County, Maryland and has resubmerged himself in his familial origins here in Brooklyn, New York. He is a Sophomore in the Pratt Writing BFA Program.
Bridget Hawkins is a New Jersey native who lives in Brooklyn. She is a Senior at Pratt Institute, earning a BFA in Writing. Her poem "Anemic" was winner of the Academy of American Poets 2018 College and University Poetry Prize, and her graphic short story "Tell Her Anyway" is featured in the Simon and Schuster 2018 anthology, It Occurs to Me I Am America. Her writing often confronts issues of race and marginality, engaging· a range of forms and genres.
Zenat Begum is a native New Yorker, Owner of Playground Coffee Shop, founder of Playground Youth, and graduate of The New School. With Playground Youth, her. 501(c)(3) educational nonprofit, she seeks to center people of color, marginalized bodies, the arts, and community engagement in order to foster change in a shapeshifting and gentrifying Brooklyn.
Shaun Leonardo is a Brooklyn-based artist from Queens, New York. His multidisciplinary work negotiates societal expectations of manhood, namely definitions surrounding black and brown masculinities. He received his MFA from the San Francisco Art Institute, is a recipient of support from Creative Capital and Guggenheim Social Practice. His work has also been featured at The Guggenheim Museum, the High Line, Recess and VOLTA NY.