GCPE Super Saturday Semester Share
May 6, 2023 12:00 PM – 5:30 PM
Online and ENG 307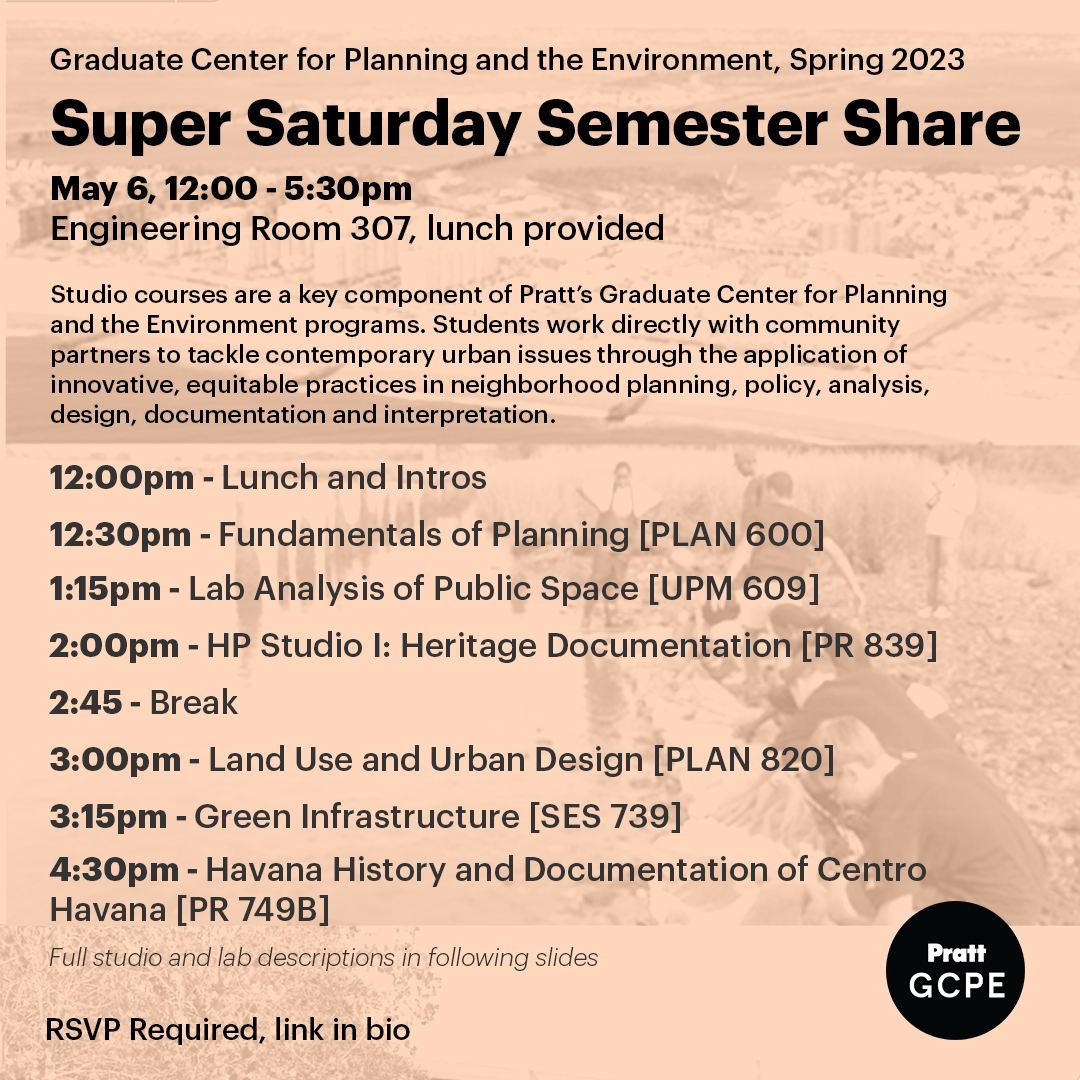 RSVP  required, in person & virtual
* lunch provided for in-person attendees, ENG 307
Studio courses are a key component of GCPE masters programs. Students work directly with community partners to tackle contemporary urban issues through the application of innovative, equitable practices in neighborhood planning and design.
12:00 PM – Lunch and Intros
12:30 PM – PLAN 600 – Fundamentals of Planning
Juan Camilo Osorio; Mercedes Narciso
Hunts Point, Bronx
THE POINT CDC
In collaboration with THE POINT CDC, the project documented and responded to neighborhood trends in Community District Bronx 02, and explored innovative strategies to address environmental justice priorities as they relate to the wellbeing of residents in the neighborhoods of Hunts Point and Longwood, with an emphasis on young people.
1:15 PM – UPM 609 – Lab Analysis of Public Space
Lida Aljabar; Emily Ahn Levy
Barton Avenue, Flushing, Queens
Asian American Federation
In this studio second sememster UPM students partnered with the AAF to support their work in managing and programming a new DoT plaza in this neighborhood of Queens. Adjacent to a LIR station, the new plaza will serve this largely Korean community in the surrounding neighborhood.
2:00 PM – PR 839 – HP Studio I: Heritage Documentation
Ward Dennis; Rebecca Krucoff
Greenpoint, Brooklyn
Several local organizations participated, no need to list them.
This introductory studio engages students in learning the research methods and strategies of heritage documentation. This semester, students documented individual buildings, blocks, and community histories in Greenpoint, Brooklyn. By conducting archival research, historic map and photo analysis, social history, and visual documentation, and interviewing community leaders from local organizations, they've identified the stories, themes and drivers of community change over time.
2:45 PM – BREAK
3:00 PM – PLAN 820 – Land Use and Urban Design
Mercedes Narciso; Jina Porter
Prospect Lefferts Garden, northern Flatbush, Brooklyn
Prospect Park Alliance
Building on the partnership formed between GCPE and the Prospect Park Alliance, the studio developed a cultural equity strategy to improve and advance the relationship between the Alliance and cultural and related organizations and establishments in the adjacent neighborhoods to the east and south of the park, study and address spatial connections, and seek opportunities for equitable community development in the neighborhoods.
3:45 PM – SES 739 – Green Infrastructure
Elliott Maltby; Jenna Dublin-Boc
The Hole, Brooklyn/Queens
East New York Community Land Trust
This studio investigates nature based design solutions aligned with current green infrastructure best practices, exploratory innovations, and community needs. Working with the East New York Community Land Trust and the community members of The Hole, the class envisioned how green infrastructure and creek daylighting can also address issues of environmental justice, equity and participatory planning.
4:30 PM – PR 749B – Havana History and Documentation of Centro Havana
Anthony Tung; Gabriel Vignoli
Havana, Cuba
CUJAE Architecture School, Havana
This 2-credit course studied Havana for several weeks in Brooklyn and then travelled to the city during the Spring break. Students undertook the documentation and analysis of historic buildings in Centro Habana where owners and residents have engaged in self-help building adaptation.
5:15PM end / last remarks
5:30 PM – THANK YOU!