Free COVID-19 Vaccination Clinic
Custom8:00 AM – 6:00 PMAugust 21 – August 21, 2021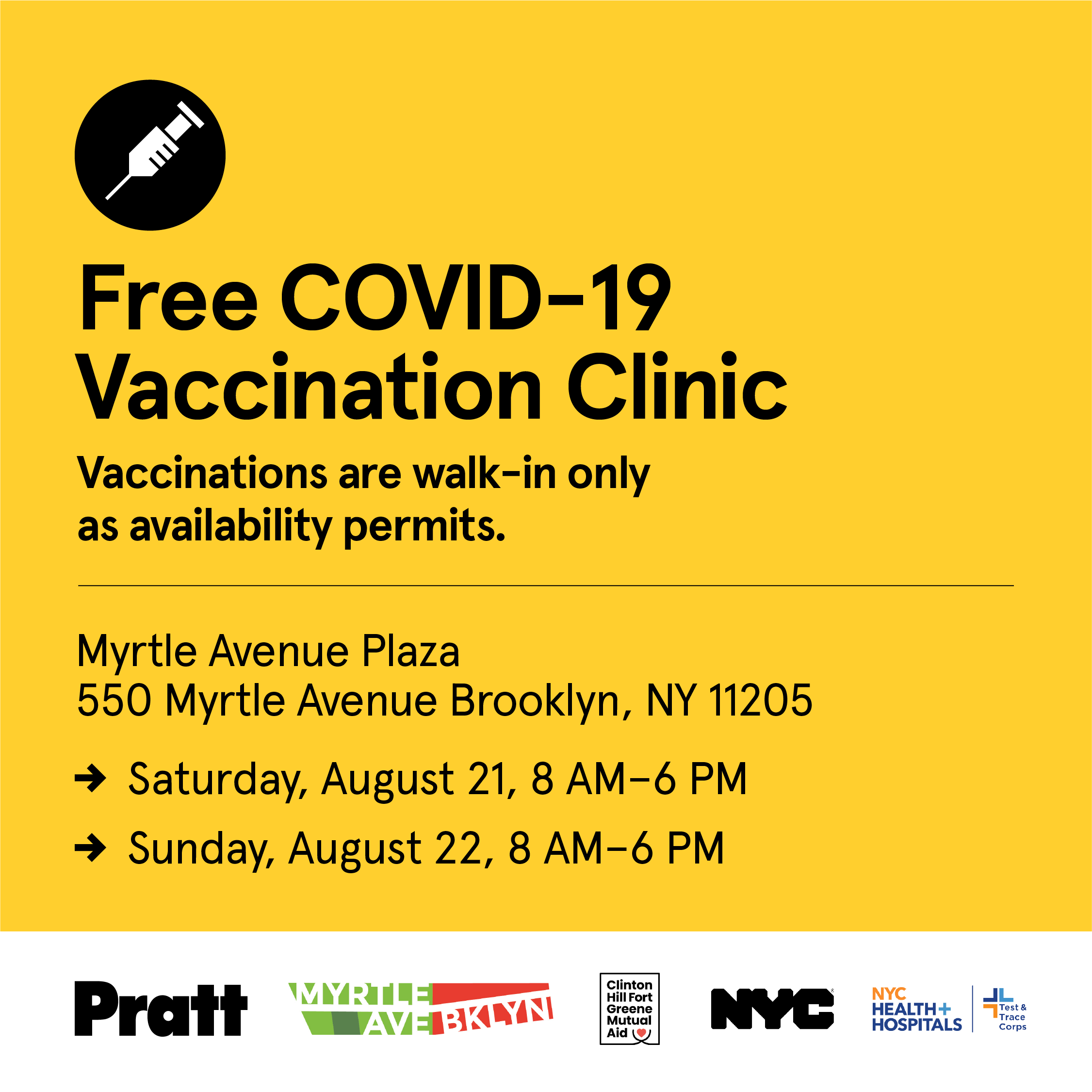 A free walk-in COVID-19 vaccination clinic will be at Myrtle Avenue Plaza, 550 Myrtle Avenue in Brooklyn, on Saturday, August 21, and Sunday, August 22, from 8 AM to 6 PM. The clinic is being hosted by Pratt Institute, the Myrtle Avenue Brooklyn Partnership (MARP), and Clinton Hill Fort Greene Mutual Aid in partnership with NYC Health & Hospitals and Test + Trace Corps. All vaccinations at the clinic will be free with no insurance required or asked and no appointments necessary.
Pfizer vaccinations will be available for anyone 12 and older. Patients 18 and older will need to proof of age, with documents and examples including but not limited to: driver's license or non-driver ID, IDNYC, state or government-issued birth certificate, consulate ID, current U.S. passport or valid foreign passport, permanent resident card, certificate of naturalization or citizenship, life insurance policy with birthdate, or marriage certificate with birth date. Patients under 18 will need a guardian present and consent from a parent/guardian. Eligibility is subject to change; for the latest information visit vaccinefinder.nyc.gov.
Anyone who receives a vaccination at the clinic will need to complete the two-dose Pfizer immunization. Patients will be scheduled for an appointment for the second dose at the nearest city-run vaccination center three weeks out from their first dose.
Language access services are available for registration materials in multiple languages and telephonic interpretation inside the van only. The clinic team cannot guarantee in-person interpretation.