Fine Arts MFA Open Studios
November 11, 2017 1:00 PM – 8:00 PM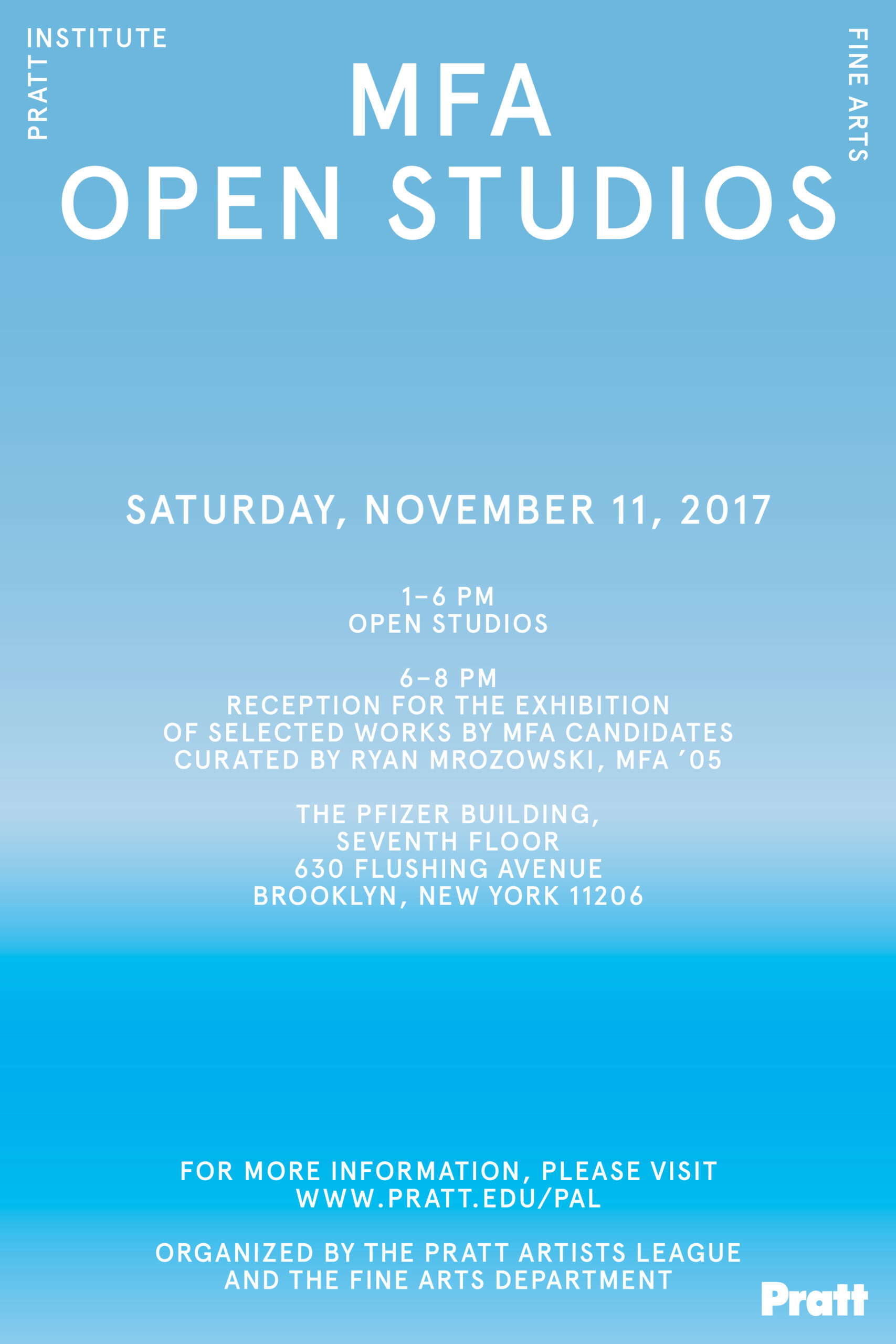 1-6 PM Open Studios
6-8 PM Reception for the exhibition of selected works by MFA candidates curated by Ryan Mrozowski (MFA '05)
For more information please visit: pratt.edu/pal.
Organized by the Pratt Artists League and the Fine Arts Department
MFA Open Studios are on the seventh floor of Brooklyn's Pfizer Building at 630 Flushing Avenue. Located only one mile from the Institute's beautiful 25-acre Brooklyn campus, the newly renovated 33,000-square-foot space features individual artist studios, fabrication shops, project rooms, classrooms, a split-level critique space, and a computer lab. Surrounded by the vibrant art communities of Williamsburg, Bedford-Stuyvesant, and Bushwick, the Pfizer location gives Pratt's MFA students access to over 100 art galleries showcasing emerging and well-established artists.
A primary goal of Pratt's MFA program is to encourage interdisciplinary conversations among faculty and students. Having studios, seminar rooms, and critique spaces in close proximity facilitates the cross-fertilization of ideas and approaches and creates a vibrant and stimulating environment where artists can flourish. Pratt's MFA degree is in Fine Arts rather than a specific discipline. Students build their program of study in consultation with a faculty mentor and departmental advisers. In addition to routine studio visits by faculty members and outside critics, the department's Visiting Artists Lecture Series invites internationally renowned artists to give public lectures. The graduate student group Pratt Artists League (PAL) also regularly hosts artists and critics for studio visits and other student-run programming and exhibitions. Pratt's Fine Arts faculty are distinguished by their achievements, having exhibited internationally and received major awards from institutions including the Guggenheim Foundation National Endowment for the Arts, Tiffany Foundation, Joan Mitchell Foundation, Skowhegan, Pollock-Krasner Foundation, Creative Capital, and Art Matters. Pratt's MFA students come from around the world and are selected for the program based on their promise and preparedness for the intensive and self-directed experience of graduate study.
---
Fine arts graduate information session
Saturday, November 11, 10–11:30 AM
Brooklyn Campus
Register now