FDN Talk / Anoka Faruqee and Odili Donald Odita
March 22, 2022 12:30 PM – 2:30 PM
Online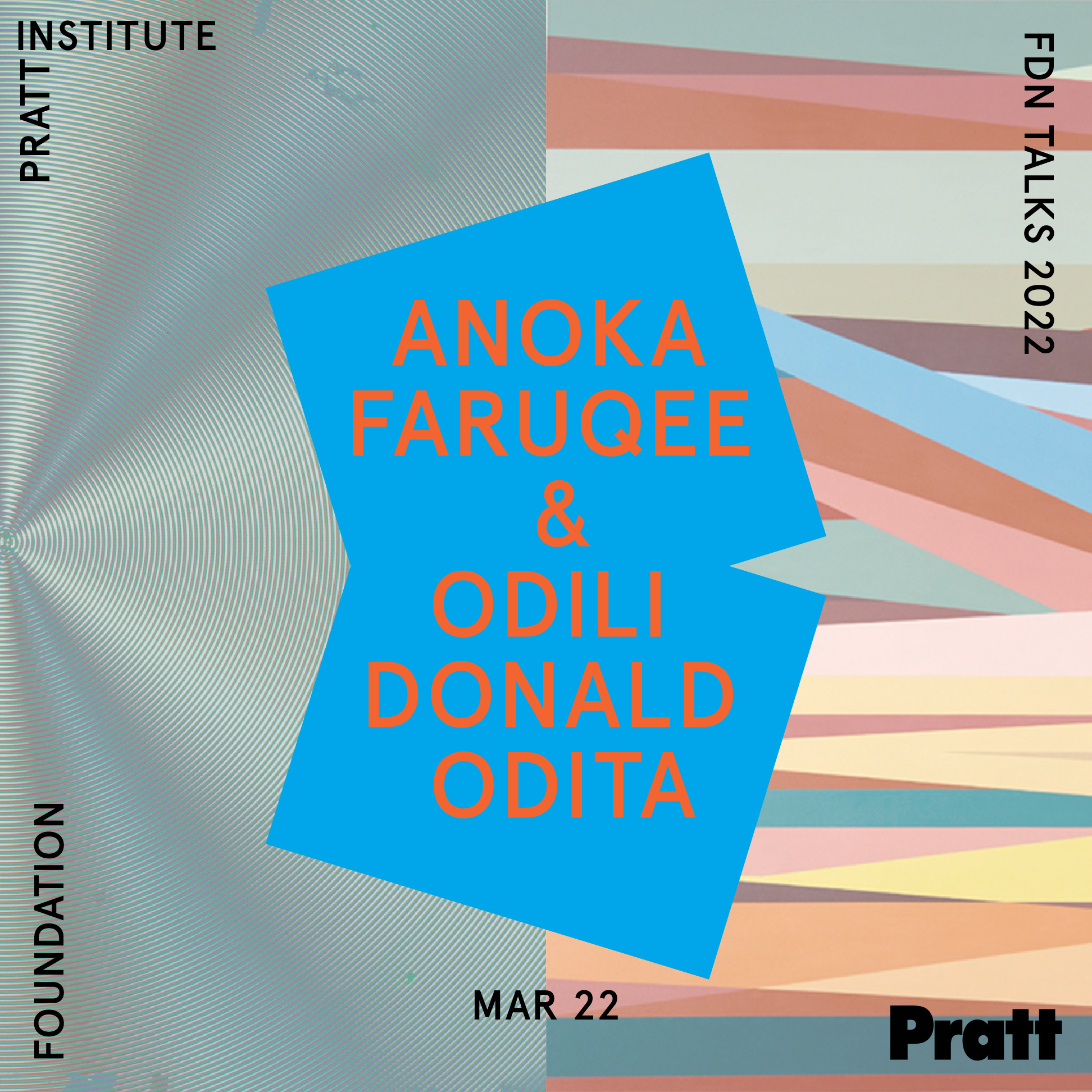 FDN Talk with Anoka Faruqee and Odili Donald Odita / Tuesday, March 22nd 12:30-2pm / via Zoom
Register here https://pratt.zoom.us/meeting/register/tJIuduGhqTgsGt0255zlBbYoUMUEiyJd614_
Anoka Faruqee will discuss recent paintings, co-authored with David Driscoll. She will address how their paintings integrate color, pattern, and geometry to create interference pattern in paint. Faruqee will share the range of art historical, natural, and technological influences, and describe how these intersections motivate the practice.
Anoka Faruqee earned a B.A. from Yale University in 1994 and an M.F.A. from Tyler School of Art in 1997. She has exhibited her work in the United States, Asia, and Europe at such venues at P.S.1 (Queens): Dhaka Art Summit (Dhaka); and Albright-Knox Gallery (Buffalo). In 2012, she began collaborating with David Driscoll and they have since exhibited their co-authored work at the Secession (Vienna); Björkholem Gallery (Stockholm); DeCordova Museum, (Lincoln); Koenig and Clinton (New York); and Hosfelt Gallery (San Francisco). Faruqee attended the Whitney Independent Study Program, the Skowhegan School of Art, and the P.S.1 National Studio Program. Grants include the Pollock-Krasner Foundation and Artadia. Ms. Faruqee has also taught at the School of the Art Institute of Chicago and California Institute of the Arts, where she was co-director of the art program. She is a professor of painting/printmaking at Yale University, appointed in 2011, serving as (co-)director of graduate studies in painting/printmaking since 2015.
"Color in itself has the possibility of mirroring the complexity of the world as much as it has the potential for being distinct.  What is most interesting to me is a fusion of cultures where things that seem faraway and disparate have the ability to function within an almost seamless flow. The fusion I seek is one that can represent a type of living within a world of difference.  No matter the discord, I believe through art there is a way to weave the different parts into an existent whole, where metaphorically, the notion of a common humanity can be understood as real." – Odili Donald Odita
Odili Donald Odita was born in Enugu, Nigeria and lives and works in Philadelphia. Odita is an abstract painter exploring color both in the figurative historical context and in the sociopolitical sense.  Odita has exhibited nationally and internationally in museums and art institutions including; Every Day: Selections from the Collection, Baltimore Museum of Art (2019- 2020); Black Refractions: Highlights from The Studio Museum in Harlem (Travelling, 2019-2020); Front International: Cleveland Triennial for Contemporary Art (2018); Prospect.4, The Lotus in Spite of the Swamp (2017-2018); Represent: 200 Years of African American Art, The Philadelphia Museum of Art (2015), among others.
Odita has been commissioned to paint large-scale wall installations that include; The Philadelphia Museum of Art (2021); The Virginia Museum of Fine Arts, Richmond (2020); Institute of Contemporary Art, Miami (2019); Newark Museum (2017); the Nasher Museum of Art, Durham (2015); Ezra Stiles College at Yale University, New Haven (2015); United States Mission to the United Nations in New York (2011); the New Orleans Museum of Art (2011); the 52nd Venice Biennale exhibition, Think with the Senses, Feel with the Mind, curated by Robert Storr. Odili Odita is a Professor in Painting, Drawing & Sculpture at the Tyler School of Art and Architecture at Temple University and is represented by the Jack Shainman Gallery, New York, and the Stevenson Gallery, Cape Town.