Emergent Poise : Pratt MFA 2020 Artist Collective Exhibition – Section IV
April 17 – April 29, 2021 12:00 PM – 7:00 PM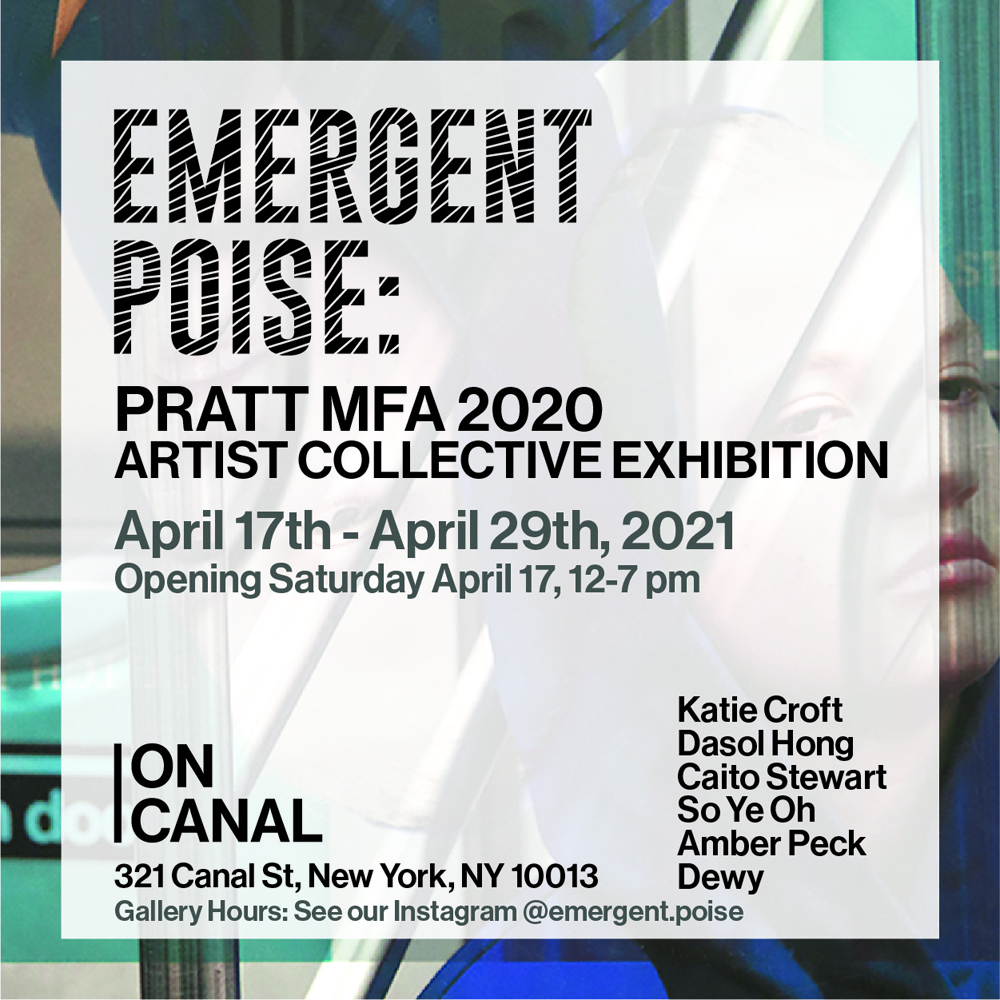 Announcing Emergent Poise: Pratt MFA 2020 Artist Collective Exhibition
NEW YORK (March 19, 2021) – The Pratt Institute MFA Class of 2020 is pleased to announce the opening of Emergent Poise, a group curated exhibition showcasing the work from their thesis projects and beyond. The exhibition will feature 22 artists curated into four sections, exploring ideas ranging from domestic life, humor, unstable digitization, and human connection as a response to new emergent realities in our world.
Sections I and II, Transcorporeality and Moisten Clay, will take place at Culture Lab LIC at The Plaxall Gallery from March 25th- April 25th, featuring the work of Stewart Bird, Jerry Chan, Jinyong Choi, Kosuke Kawahara, Kunkun, Emmett Metier, Jackie Slanley, Allie Stabile, Chao Wang, and Meirav Zaks. Transcorporeality examines the unstable acceleration of digitization, automation, and consumption. These artists use a hybridization of digital tools and physical material to reflect on increasingly catastrophic fears, creating mythologies that manifest prophecies of certain doom, or imagine fantastical alternatives. Moisten Clay addresses the physical and spiritual effect of quarantine, focusing on the invisible structures ordering the material universe. A sense of mobility, energy, and modernity intertwine within the work, and show how the artists turned into themselves as subject matter.
Sections III and IV, Persona and Assertion of Life, will take place at On Canal by Wallplay from April 3rd April 30th, featuring works from Katie Croft, Dewy, Evelyn Golden, Dasol Hong, Josh Meiller, Duff Norris, So Ye Oh, Rodrigo Jimenez-Ortega, Amber Peck, Na'ye Perez, Caito Stewart, and Alyssa Thornton. Persona investigates the idea of personification, whether it be images of constructing identity, abstraction of basic elements to capture the essence of a place, or objects that seem self-aware as sculptures or props. These works ask for a broader consideration of the function of art and images. Assertion of Life explores the struggles of womanhood and motherhood, a nostalgic longing for the past, and the processing of trauma. These highly personal, and often autobiographical works utilize easily recognizable everyday objects to draw the viewer in with the familiar.
Together, these four sections exemplify the Pratt MFA Class of 2020's diversity and earnestness toward their explorations. In light of the pandemic and cancellation of thesis shows, these 22 artists have remained resilient and poised within their artistic practices, and have emerged as individuals with a sharpened and distilled focus. This exhibition would not be possible without the generous support and contributions of the Pratt community, friends, and family.
For more information about the artists and the exhibition, please visit www.emergentpoise.net IG: @emergent.poise