Domestic Mutations in the Age of the Sharing Paradigm
Every 1 day9:00 AM – 5:00 PMFebruary 20 – March 14, 2020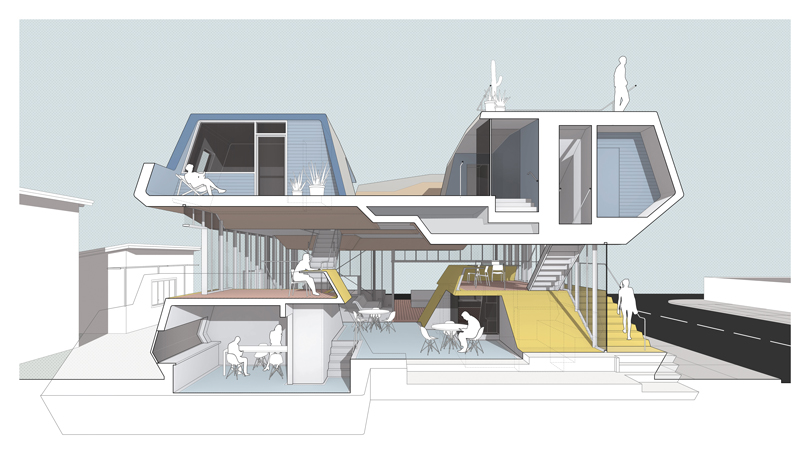 Domestic Mutations in the Age of the Sharing Paradigm presents Professor Lawrence Blough's architectural proposals for new types of collective living space influenced by emerging collaborative social and economic models. Contesting accepted delineations between work and leisure, nuclear family and post-familial life, four organizations are developed around different co-live and co-work scenarios.
Blough was the inaugural 2018-19 Structurist Fellow and recipient of a new Creative Research Grant from the University of Saskatchewan. The fellowship was recently established to propagate the legacy of The Structurist, an international, interdisciplinary journal founded in 1960 by Eli Bornstein that addresses art, architecture, ecology, culture and communication.
Blough is principal of GRAFTWORKS Design Research and professor at Pratt Institute School of Architecture. Before founding GRAFTWORKS in 1999, he worked in the offices of Peter Eisenman and was a senior associate at Architecture Theatre, a nonprofit architecture and urbanism foundation. His projects and collaborations have been widely published both in the U.S. and abroad and exhibited at institutions such as Kenderdine Gallery in Canada, Temple University, MoMA, Locust Projects in Miami, CAUE 92 in France and Yale University.
Exhibition Opening and Roundtable Discussion
Thursday Feb 20, 6:30–9 PM
Higgins Hall
With Hilary Sample, Mark Rakatansky, Dagmar Richter and Lawrence Blough
This exhibition runs from Thursday February 20 through Saturday March 14. It was made possible with generous support from University of Saskatchewan College of Arts & Science and Pratt Institute School of Architecture Dean's Office.